One Last Time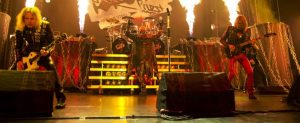 Ozzy Osbourne. Kiss. The Ramones. Ministry. And, of course, Cher. It's not a game of "one of these things is not like the other" (um, Ozzy?), but a list of artists from whom Judas Priest are straining to create some distance. Yes, the November 12th date in Hammond is part of the veteran British metal outfit's "Epitaph" farewell tour. But it's a not a retirement: they very well could come back.
Maybe.
Appearing: November 12th at The Venue at Horseshoe Casino in Hammond, IN with Black Label Society and Thin Lizzy.
"We've been touring for 40 years now," exhales guitarist Glenn Tipton, "and every tour takes at least 18 months out of your life. We didn't want to cause confusion with the initial announcement: we're not going to be doing anymore global tours. If a string of dates came along that made sense, we'd certainly consider them. We definitely have one more album in us, maybe more. So it's certainly not the end of the band, but we don't plan to do any enormous tours anymore."
You could say Priest backed themselves into such a disclaimer by not only being colleagues of offending unretirees, but by also naming themselves for one of history's most notorious double-crossers. Yet for Chicagoans and Midwesterners in flyover country, this could seriously be it. Since the dawn of press junkets, British and European musicians have traditionally flown to the U.S. only for handfuls of East and West Coast dates before returning home or continuing to Japan or Australia. The States on a whole are endangered, because even a jaunt to New York requires work visas and invasive body scans. It'd be so much easier to chunnel to Paris and then embark upon Europe on the band's newly favored conveyance: the coach.
"Our touring schedule is arduous," Tipton reflects. "It's enjoyable time, but now we prefer just a tourbus because of all the airport security. It's pretty tiring, really. We've always taken a break at the end of a tour. A lot of it's psychological, as well as physical. You get saturated with [music]. You write it, you record it, you perform it, you tour with it."
He's not complaining. In fact, you get the sense that Tipton gets more fatigued talking about nearly a half-century of mileage as he is the travel itself. In his own words, "The future's bright. It's looking good. There's always things to delve into." With the carefree attitude of an athlete looking forward to free-agency, Tipton, Rob Halford, Ian Hill, Scott Travis, and KK Downing's understudy Richie Faulkner outsourced the track selection of their most recent compilation, the 17-strong The Chosen Few (Epic). A veritable A-list of metal contemporaries and followers picked the selections, a roster of automatics and deep cuts from Slayer to Metallica, Osbourne to Alice Cooper, and David Coverdale to Lamb Of God's Randy Blythe, the latter pair of which each chose Priest's cover of Fleetwood Mac's "The Green Manalishi."
"As the years have gone by you obviously become more experienced as a songwriter," Tipton says. "On the other side of the coin, there were times where we'd write one thing and write another, and put those two together. And probably there's some bit of naivete there. But the actual fact is that naivete may have worked for us and done something quite unusual that you wouldn't have done if you [thought like] an experienced songwriter. You do gain experience at it, but whether that's a good thing I don't know. You just have to look at it."
He's reluctant to pick favorite sons – hence the manner in which they approached Chosen Few – but Tipton marvels at the sheer quantity the band amassed.
— Steve Forstneger
For the complete interivew, click the November issue's cover thumbnail, or grab a copy free throughout Chicagoland.