Timlollarpalooza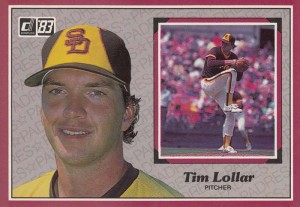 In keeping with last month's baseball-themed Pitchfork Festival preview, we've dedicated our Lollapalooza snippet to the playing days of former San Diego Padres pitcher Tim Lollar, who did his damnedest to help the Cubs win in '84 (4 IP, 2 HR, 4 BB). Lollar also wears the distinction of having been traded to the White Sox with prospect Ozzie Guillen for powder-loving hurler LaMarr Hoyt.
The story of 'Palooza '11 (represented this issue with a feature on Cults) is the continued courting of top-40 fans through headliners, who have always been in play but never so much with both Eminem and Colplay doing battle in Bigdollarpalooza. The question is, if scores of either's fans bought tickets, will they stick around for the other acts? Otherwise the subplot is the larger-scale infusion of electronic music, which – as the booking agents of the Congress and North Coast Festival have learned – really packs 'em in. Founder Perry Farrell's latest incarnation includes his wife Etty, for the imaginatively dubbed PerryEtty. At Palooza, they'll face off with Carl Craig, Girl Talk, Pretty Lights, Kid Cudi, Afrojack, Modeselektor, Skrillex, Chuckie, The Glitch Mob, Jay Electronica, and Daedelus.
Use A Coaster
By the time Labor Day weekend rolls around, we'll be so sick of our ball teams that it's really not worth it to weave our national craptime into this North Coast Festival bit. (No, really, the Sox will finally start hitting!) As Lollapalooza picks up more electronic acts, NCF has been backing up and frantically running its hands over the tables in hopes of a weapon to counterstrike: instead, it comes up with a joint and a Democratic Party trinket, courtesy rappers Wiz Khalifa and GOP lightning rod Common.
Dancing remains the program's forte (September 2nd to 4th in Union Park), featuring stalwart acts like David Guetta, Bassnectar, STS9, Fatboy Slim, Thievery Corporation, Rusko, Benny Benassi, Lotus, Neon Indian, and more, but also slips in Gogol Bordello, Of Montreal, Budos Band, and a local contingent including California Wives, Van Ghost, Hood Internet, and Team Bayside High.
Rupert Needs A Friend
If embattled media tycoon Rupert Murdoch were actually A-Teamer H.M. Murdock, he'd just storm out of Parliamentary hearings and do something zany in a Huey. But the 80-year-old mastermind already had cause to be sullen before the News Of The World hacking scandal: that being the $545 million loss his News Corp. sustained when it sold Myspace to Specific Media last month. Despite what anyone thinks of Murdoch or how he peddles his influence, his effectiveness and foresight (believing Americans would take to a fourth major network (Fox); how to steer politics from a 24/7 cable-news station) could not be questioned – until the Myspace disaster. Hailed as a visionary when he bought it in 2005, some analysts thought he'd use Myspace to challenge MTV (indeed, some Viacom executives were fired after the MTV parent failed to table a winning bid). Myspace quickly fell behind Facebook, however, getting dissed in the 2007 film Superbad and hemorrhaging ad revenues. It's still an effective home for musicians to reach fans, as long as your favorite's page doesn't scream at you, "Myspace is dead! Visit us on Facebook!"
– Steve Forstneger
As Exxxotic As They Wanna Be
Raunchy rap act 2 Live Crew have been chopped down to just two members, yet the show must go on – particularly at their regular gigs at the eXXXotica Expo. Last month, remaining reps Brother Marquis and Fresh Kid Ice stopped by the Donald E. Stephens Convention Center in Rosemont to headline the traveling exhibition that's rife with porn stars. While the duo resurrected controversial hits like "Pop That Pussy," a handful of the scantily clad eXXXotica girls joined 2 Live on stage and quickly took over the show. (A few audience members even got lap dances.) Rhyming gradually took second fiddle to the on-stage antics, but would we expect anything else from the group who put sex rap on the map and who fought obscenity charges in the process? 2 Live Crew are possibly the perfect fit for the eXXXotica stage even if they haven't had a hit in more than a decade.
– Max Herman