Q&A with Triumph's Rik Emmett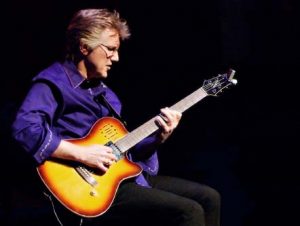 IE: What did your life look like throughout the '80s during the Triumph whirlwind?
Rik Emmett: I remember it being an exciting time and a pressure-filled time. We were a unique entity in managing ourselves and we had our own office, studio, and a pretty intense relationship with the record company. We hit when FM radio was at its peak and when MTV was launching and they embraced us early on. My wife and I had kids in 1982, 1985, and 1988, [the last of] which is when I gave my notice and left the band. I wouldn't have minded catching my breath, but I was blessed and lucky to have a career extend to multiple albums.
IE: What were your goals when you first branched out as a solo artist?
RE: When you're in a rock band, you make art by committee and sometimes you get out-voted. I've always felt art was kind of a personal thing and I wanted to take a certain level of risk where I was pushing myself and my audience. I also branched out on a slightly different level with clinics, workshops, and teaching on a college level. I just turned 58, and those are the kind of things that give your life substance and value. If I was still trying to chase what I was at 22, I'd be making a fool of myself.
IE: How are you able to stay so prolific, practically releasing a new CD every year?
RE: I think an artist has an obligation to work hard and be conscientious. Being eclectic and prolific is always important, and while I think it gets harder as you get older, one of the lovely things is developing partnerships. I'm involved with Dave Dunlop in The Strung Out Troubadours and did a CD called Trifecta with Pavlo and Oscar Lopez.
IE: What is the structure of your upcoming Strung Out Troubadours show?
RE: We're about three albums in and are planning another one now, so we cover a lot of territory. Of course, we cover the old Triumph material with our own little twist and we throw in a few cover tunes. We're avid guitar players from a rock background playing on acoustic guitars, and it has an informal quality to it that's a lot of fun.
IE: What are your favorite memories of playing in Chicago?
RE: I have so many early ones all the way back to the Aragon when Triumph was first getting known, then graduating to the Rosemont Horizon. And lately, I've been performing with Jim Peterik and World Stage, which is always fun because you get to make so many friendships with other artists.
Rik Emmett and Dave Dunlop (The Strung Out Troubadours) appear August 27th at St. Patrick High School (5900 W. Belmont) in Chicago. Proceeds benefit the St. Patrick High School Kids At-Risk Program (www.stpatrick.org).

– Andy Argyrakis