All Points 'Bulletin'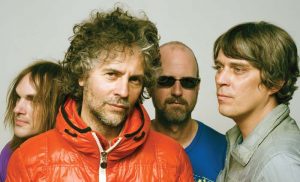 Normally about this time – two years removed from album release, marking up the skies while flying between festival appearances – Wayne Coyne would retreat into filmmaking.
Appearing: Thursday, July 7th and Friday the 8th at Aragon Ballroom, and Sunday, July 10th at Dave Matthews Band Caravan in Chicago.
For nearly a decade, he and The Flaming Lips worked tirelessly on Christmas On Mars, a no-end-in-sight struggle like Charlie Kaufman's Synecdoche, New York. The process became so consuming that it felt as if it had always been there, and now (it reached completion in 2008) it gives Coyne the sensation that his sunglasses are still on top of his head even though he removed them hours ago.
"Or when someone has their hand cut off and there's this ghost sensation of something being there," he cracks. "For so long I'd see locations and be like, 'I like it! I could shoot Christmas On Mars there! I could do that!' I think I'll always do that. Everyday, I think, 'What are we gonna do today?' And someone says, 'We made that movie.' I've dug a hole somewhere that will always be there."
The result is Coyne cooped up in a Newark hotel room on a layover, and you know he's going crazy. He says he's drawing. "It looks sunny and hot and an excellent summer day. But I'm not really part of it." He won't complain, however, because he has clear memories of how the Lips used to travel. Independent rockers in the late '80s weren't the most well-kept bunch, which often led to problems at international desks.
"The very first time we went to Europe and spent some time there," Coyne recalls, "there was that horrible, Lockerbie, Scotland plane crash. We had been in Europe for about six weeks and looked, you know, pretty homeless, beat-up, could be criminals, whatever. We were flying out of England, and we when we pulled into the customs agent it was late at night, we were tired, might not have been very friendly, and weren't aware of the process. And they kicked us out and made us re-enter the country three different times. We had to catch this plane flying out of England, but we couldn't get in. We realized little by little that they kept picking us out because we looked like 1988's version of weirdo terrorists."
Today, airport clerks recognize Coyne far and wide as the white leisure-suit clad, salt-and-pepper coiffed ringmaster who entertains festivalgoers with head wounds, friends dressed in rabbit suits, and by jumping into a clear plastic orb and crowdsurfing. If the days of looking like a Robocop castoff seem far away, this permutation of the Lips singer is still of recent vintage.
Fittingly for this year's tourdates, Coyne, Stephen Drozd, and Michael Ivins have been intermittently reviving the album that reintroduced them to the public at large: 1999's The Soft Bulletin. The band will perform it front-to-back at one of two Aragon Ballroom appearances (their recreation of Pink Floyd's Dark Side Of The Moon takes center at the ensuing Dave Matthews Band Caravan). Fans who checked out early will only remember their '93 hit "She Don't Use Jelly" and a freak appearance at "Beverly Hills 90210″'s Peach Pit. The rest of the music world sees Bulletin as the distillation of Coyne's infamous "parking lot" experiments and 1997's Zaireeka!, a four-disc album requiring each CD be played simultaneously on different stereos. Coyne remembers it as almost the end.
"When we were doing it," he reveals, "we really thought it was going to be the last record we made. At the time, we weren't very popular. We had an audience, but Warner Bros. was going through a lot of changes, and, though I'm not positive, I felt like we were going to be dropped after The Soft Bulletin was done. We weren't even positive that it was going to be released. We were recording in what we felt was a void of like, 'This is coming to an end.' We were fighting with all of our might, but we were also accepting the freedom of saying, 'If this is the last record we get to make, why don't we just do what the fuck we want?'"
Instead of some embittered kiss-off, The Flaming Lips made one of the tenderest, most beautiful albums in rock history. The sweeping opener, "Race For The Prize," follows some scientists charged with saving the planet. "Waitin' For Superman," a title since appropriated by a documentary on the failures of public education, tackles the emotional toll borne by superheroes. Loved ones nearly die from spiderbites, undetected injuries bleed, and it's all presented weightlessly.
"It didn't have any meaning other than the meaning it had for us when we did it," he explains. "But now when we do these songs like 'Feeling Myself Disintegrate' – people come up to me every night we play it and say, 'When my friend committed suicide, that song helped me understand it and not want to hate them.' And that's something you can't do when you're just writing a song. Songs take on meaning and become something, so now when we play it we understand there's this thing happening to people in the audience and they're reliving some horrible, powerful, life-changing experience. It's a big deal. I'm not saying it's a big deal like we're The Rolling Stones. I'm saying we would never play it and think they don't care about it anymore. We care. It can be an overwhelming moment, and I want it to be. I think music, when it's at its most powerful, it overwhelms us and we want it to. It's all those things that have happened in the 12 years it's been out. People come to this music and think it already has a meaning, and that's wonderful. We don't have to do it anymore." Sensing his tone, he quips, "It'd be horrible if it meant something we didn't like."
— Steve Forstneger
For the full piece, grab the July issue of Illinois Entertainer, available free throughout Chicagoland.