Bass Desires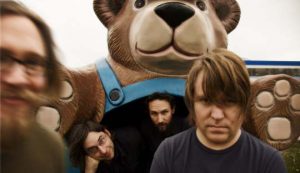 Will Johnson doesn't see it. Of course, he's tethered to his cellphone charger, so he lacks for range right now. But a binding characteristic among Texan musicians, specifically those from his former base/musical hotbed Denton? No. Not really.
Appearing: Sunday, July 3rd at Schubas in Chicago.
"It can show up in different ways," he concedes. "It's a pretty broad thing to ask. The geography, without a doubt, seeps into a lot of writers' work. But how it manifests itself in the end can be incredibly diverse. From anything like Trail Of Dead, Spoon, Sarah Cassidy, The Baptist Generals . . . there are some regional influences, but not a sound."
Johnson certainly doesn't pre-date rock music in Denton, though over he and Centro-matic's 15 years together they have watched it evolve from music-college nursery to arts mecca, all in the shadow of Austin's Brooklynization.
"There always has been kind of a family feel among that musical community," he explains. "I haven't lived there for a number of years now, so I haven't experienced it nearly as up-close as I used to. But, without question, over the 22 years that I've been around that town or lived there, there's been a really diverse, supportive community. So much of that has to do with the [University Of North Texas'] music school and that it's a very affordable state university. The economy is very good, and several venues are superb. A lot of bands stop there, even sometimes instead of bigger cities."
"Bigger" is one Texas identifier Johnson fails to ascribe to the music, so we'll do it for him. Though, in reference to Centro-matic, you probably wouldn't expect that mentality to involve "Big Bottom." Candidate Waltz (Thirty Tigers) might be jokingly dubbed the band's 294th album, but it's definitely the first to have been written entirely on bass guitar. Searching for a new rhythmic approach to the band's dusty indie-rock (think less-parabolic Jason Isbell with knee-crumbling harmonies), Johnson holed up in a hundred-degree kitchen with four strings and an amp.
"I wanted to try to write one or two songs on bass," he recalls, "but it became so fun and natural for me that I just kept charging along with it. Some of the rhythms changed and some of the vocal cadence versus the rhythmic cadence took a little practice, took a little work. Because it wasn't so strummy, it was more a lot of the notes are more choked. Working that out was a challenge, but a fun one. It was kind of open feedback, syrupy chords on this one, and a little more rhythm."
Candidate Waltz doesn't announce itself as a bassist's album – no popping, slapping, or trills. In fact, the move opened so much space that it makes it one of the more guitar-y injections into the Centro-matic catalog. "Iso-Residue" bounces like a Cheap Trick tribute, "Only In My Double Mind" pounds the same chord until the overtones spill across the carpet, and "If They Talk You Down" hammers with the strength of a factory piston. Meanwhile, those honeyed vocal harmonies guide each verse's emotional state, turning shock into venom on the chatty-crowd evisceration, "All The Talkers."
Johnson says, "It didn't feel like [there was a novelty element]. Everything was true. There was maybe one song that didn't make the record – I didn't write 30 songs this go-round, and then whittle it down. Just 12, and it felt very natural, very rhythmic. With bass, you've typically got these single-strings; you're dealing with notes instead of chords. And again, the notes created a lot of space for different vocal ideas, rhythms. I took a different path than I think I would have taken while writing on an electric or acoustic guitar."
For someone with such a high workrate, he never lacks for inspiration. Candidate Waltz could have easily risen from Johnson's multitude of gigs as a sideman, whether on Drive-By Truckers frontman Patterson Hood's solo tour, or sitting behind M. Ward, Conor Oberst, and Jim James' Monsters Of Folk project.
"I definitely believe in changing the atmosphere a lot," he says. "I think that's where you learn and you dig yourself out of certain comfort zones. I've always believed in that. It lends some perspective and puts some new wrinkles in your brain. Hopefully you come away with something and learn from it. Even if it doesn't work out, you're learning what works for you or not. Inevitably, those experiences – like the Monsters thing or the Patterson thing – any kind of collaboration it's hard not to come away with some inspiration from how these folks approach their music, how they see the song. If you can allow yourself to see the song from as many angles as possible, therein lies a really important part of learning about music." He's not afraid to be shocked into new habits, either.
— Steve Forstneger
For the full piece, grab the July issue of Illinois Entertainer, available free throughout Chicagoland.