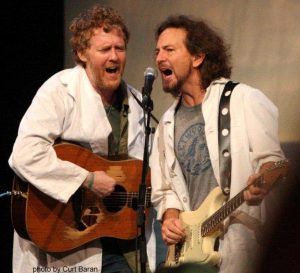 Dark and depressing are rarely, if ever, words that get appropriated when referring to the ukulele. The fragile instrument usually stirs visions of grass skirts and Hawaiian sunsets. But on his first, non-soundtrack solo effort (Ukulele Songs) Pearl Jam frontman Eddie Vedder searches the shadows beyond the palm trees, finding surprising sadness in the twine of his four-stringed foil.
The material is precisely as advertised: Vedder's voice assisted only by the little instrument that could. It's this release that brought him to the Chicago Theatre for the first of two sold-out nights, on June 28th. It's also the springboard for what promises to be a very busy year in the Pearl Jam camp. The band will celebrate it's 20th Anniversary by releasing a Cameron Crowe directed documentary, curate a two day festival Labor Day weekend at Alpine Valley and work to finish a new studio album.
Tuesday's performance certainly mimicked this approach. The performance occasionally checked the rearview mirror, all the while keeping its eye on the road ahead. The set opened with a cool half-dozen songs from the new record. "Can't Keep" (which originally appeared on Pearl Jam's Riot Act) was a blur of leaden-scrubbed strings and Vedder's emotionally plaintive wails. Then he launched into full-on King Of Pain mode, ably abetted by song titles like "Sleeping By Myself," "Without You," and a cello-assisted "Longing To Belong."
Throughout the evening, the former Evanston native played the role of congenial host, keeping the vibe campfire casual. He invited show opener Glen Hansard out to beef up "Long Nights" and "Sleepless Nights," and would later return the favor, dueting on the Swell Seasons' Oscar-winning composition "Falling Slowly." He even feigned mock jealousy, stating all he had "was a Golden Globe" (which Vedder won for his work on the Into The Wild soundtrack).
He also regaled with tales of life on the road, watching movies as a kid at Chicago Theatre (back when it was "a shithole . . . and I was a shithead."), and extolling his well documented love of the Chicago Cubs. Occasionally, he even deferred to his house guests, letting the audience take vocal solo's on Beatles covers ("Hide Your Love Away" and "Blackbird") as well as Pearl Jam classics ("Elderly Woman Behind The Counter In A Small Town," "Porch").
After the curtain dropped on a cover of Indio's "Hard Sun," the audience slowly filed out, only to spin on their heels as Vedder reappeared, uke in hand and delivered the standard "Dream A Little Dream." Usually, it's the party guests you can't get to leave. On this night, Vedder, beaming with gratitude, looked like a guy who never wanted the gathering to end.
— Curt Baran
Category: Featured, Live Reviews, Weekly