Water Log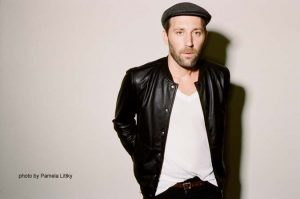 Like many Nashville musicians, Mat Kearney lost practically all his instruments and equipment in the 2010 flood, and while that could've easily spawned a negative attitude (not to mention a pile of bills), the singer/songwriter simply stripped his entire life down.
Appearing: Friday, July 29th at Aragon Ballroom in Chicago.
After all, an acoustic guitar was all he's really needed since moving to Music City from college in Eugene, Oregon, where he circled the open-mic circuit and built a following essentially by word of mouth. Though his story isn't entirely unique, the one element that separates Kearney from the twang pack is his affinity for rap, hip-hop, and groove-induced arrangements, which blend tightly with the sparse sound on his third major-label LP (and first for Universal Republic), Young Love.
"I woke up one morning in six feet of water, with my washer and dryer floating at home and my storage unit filled with ruined guitars and gear," he recollects. "It was hard to replace a lot of those things you're used to, but it was amazing at the same time because it wiped the slate clean. I didn't mind the challenge and basically said, 'Hey, it's a new record and a new everything.'"
On one hand, the sounds contained within Young Love are fresh and inventive, starting with the foot-stomping lead single, "Hey Mama," which sounds more like it was made in the Crescent City than Music City, while the album as a whole was framed around a rhythmic approach often ignored by his more pedestrian, porch-pop peers. Then again, fans who've been following Kearney since his indie years will find the latest round to resemble 2004's Bullets crossed with shades of 2006's breakthrough, Nothing Left To Lose (Aware/Columbia).
"I think I'm always trying to reinvent myself a little bit," continues Kearney. "Some people maybe would be content to make the same record over and over again and cater to just the people who bought their last record, but I'm always hungry to explore new lands while bringing your fans along with you. It's like asking, 'This is where I want to go, would you join me?' I'm staying true to who I am but exploring. On this record, I drew a line in the sand and wanted to do something very clear, intense, and in your face, which I feel like I accomplished. I'd love people to hear it played on the radio and that everybody would love it, but I have no idea how to control that, so I just had to put my head down to make a record I'd be willing to play in a friend's car and hope it keeps going after that."
The previous radio success Kearney alludes to dates back to the gold-selling "Nothing Left To Lose," which landed in the pop top 40 and adult top 10 and helped book him on Conan, Letterman, and Leno. After successive singles like "Undeniable" and "Breathe In, Breathe Out" rose to similar heights, Kearney turned in 2009's City Of Black & White (Aware/Columbia) for a more traditional foray into tunesmith territory, as demonstrated on the project's flagship track, "Closer To Love."
"Nothing Left To Lose was influenced much more by the hip-hop side and City Of Black & White was me wanting to do the opposite and sounding more like I was sitting around the living room with friends," he recalls. "As a kid growing up in the '90s, A Tribe Called Quest and De La Soul were always in heavy rotation in my car, but I also listened to a lot of Bob Dylan and Paul Simon. [Simon's] Graceland is one of the most influential records of my life, and one of the first I ever remember listening to. Somewhere in between all that, I stumbled upon this thing that wasn't rap in the sense of being anything street-sounding, but I was borrowing from that world and writing these very honest, gut-wrenching, heart-on-sleeve type of songs."
— Andy Argyrakis
For the full piece, grab the July issue of Illinois Entertainer, available free throughout Chicagoland.