The Place I Tried To Live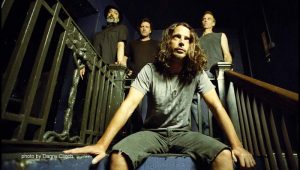 Through the phone line, you can practically hear Kim Thayil's eyes squint and roll a little up. He's drawing mental maps and can't quite picture Chicago's layout as his questions are answered.
Appearing: Saturday, July 16th at UIC Pavilion in Chicago.
"We're playing at UIC. Where is it?"
Basically the Eisenhower and Racine. A mile south and east of where Chicago Stadium was and the United Center is.
A light goes on. "I saw a Blackhawks playoff game at the Stadium. I wasn't much of a hockey fan – more into baseball. I know the Aragon's around and Park West is. Is the Uptown still around? I believe I saw The Tubes and UK Squeeze there. I remember there was a $5 show there, with UFO and Cheap Trick. I think that was the Uptown."
It's going to take the owners years to fix the Uptown.
"That's too bad. The Arie Crown? I saw Bowie there."
He could go on for days. Having spent his formative years here – he was born in Seattle, but grew up in Park Forest – Thayil wants to make sure Chicagoland gets by in his absence. Three decades ago, he and Hiro Yamamoto left the area for Seattle, where they would eventually found grunge-rock juggernaut Soundgarden. Up until the band's 1997 breakup, Thayil would return on tour and the occasional family visit, but has kept his home in the Northwest. The memories are still fresh, however.
"I saw The Cars at the Aragon, and maybe the Ramones. I know I saw the Ramones at the UIC student-union building."
Thayil's family set up in Park Forest, which was a planned community built after World War II on the borders of Cook and Will counties. The community's establishment of Rich Township High School (currently Rich East) would earn it an All-American City recognition in 1954. The school and village have produced an enviable roster, including actor Tom Berenger, Chicago Bulls three-pointer specialist Craig Hodges, Allman Brothers bassist Berry Oakley, playwright David Mamet, and three people who would light a match under Seattle music: Thayil, Yamamoto, and Sub Pop Records founder Bruce Pavitt. Hollywood High it weren't, however.
"[Hiro and I] were in the same alternative/progressive part of Rich Township called A.L.P.S.," he says, "which would stand for the Active Learning Process School. It was one of those schools – nowadays people think an alternative school is where problem students go as a last-ditch effort to resuscitate their academic career. But this is more like an experimental/progressive hippie school." The kind where kids aren't graded and they more or less do their own thing.
"Yeah," Thayil continues. "It's seminars and internships, or individual studies, which usually amounted to reading books, writing reports, and meeting with a facilitator. Bruce Pavitt was one of the first enrollees in that program, and years later his young siblings were close friends of mine."
But Thayil and Yamamoto's musical preferences didn't jive with what was happening in the Midwest. Punk's footholds were repeatedly recaptured by the police, jocks, cover bands, and the arcane restrictions of union contracts. Identity Crisis couldn't rock without a clear path ahead.
"I was in a band who made a single on Cirkle Records," he remembers, "but I don't think we're referenced [in the documentary You Weren't There] because we were way down in the south suburbs. But Cirkle had Epicycle from Evanston, The Imports from the University Of Chicago, I believe, and then Identity Crisis, from Park Forest. Everyone in our band was somehow related with dads and parents who worked out of the University Of Chicago, but we played only in suburban areas. We didn't play the city. I don't know if that was a function of age, or acclimating to the culture of the city, or the fact we weren't in a union."
The union issue – some clubs stipulated that only dues-paying members could perform – typified the Chicago experience for him. "Seattle was a lot easier [to break into]. Chicago was very union-dominated and, if I remember correctly back in the late '70s/early '80s, there were a lot of boogie-bar bands, some blues bands, a few hard-rock bands, and not too many punk bands. They had Naked Raygun, Articles Of Faith, The Effigies, Tutu & The Pirates. But there was some kind of weird feud between some of the punk bands. I remember back then reading about it in [fanzine] Maximumrocknroll. There were these little pockets when you had Urge [Overkill] and Smashing Pumpkins and Veruca Salt and Liz Phair. There's some crossover, but it's definitely pocketed and cliquish. Ghettoized."
His memory of where certain venues are becomes doubly strained by the experience of not being able to play anywhere.
"It was pretty bad," Thayil says. "I remember being advised by people, 'If you wanna get a gig, get a few covers.' What do you mean covers? Those are other peoples' songs. I don't wanna play other peoples' songs. We're busy learning our own songs. There was a place called Space Place that was an all-ages venue in some old warehouse. I remember reading about it in some smaller fanzines at the time. I think there was one called Coolest Retard, and I think there was out of somewhere else in the Midwest called Talk Talk. But there were few gigs throughout the Midwest if a band came, especially an international band. I believe Bauhaus played Space Place and that was a big deal. But, yeah, it wasn't very accessible. Geographically, it's a big area and it's dense, but it wasn't accessible. We played proms, sock hops, and we weren't playing any songs by Chicago or Styx. We were playing our own songs, and a few Ramones and Sex Pistols songs thrown in there. And we'd play parties, we'd arrange for something out in the park at a pavilion. We played that place out in Tinley Park, that juvenile-delinquent detention center [where Thayil volunteered]. We played for those kids. Various things like that."
The move back to Seattle was symbolic not only for the fact Thayil was born there, but it was a place where kindred outcasts could find gigs. Bear in mind, up to that point, the Emerald City wasn't known for its music. The past belonged to under-heralded Nuggets stalwarts like The Kingsmen, The Sonics, and The Seeds, while Jimi Hendrix could claim lineage, as would Heart, Queensryche, and that's about it.
"It was a little more youth-oriented and there are a number of universities directly in the city that had communities around them that were somewhat vital," he explains. "[An hour away] in Olympia, there's a college called Evergreen State that was a progressive/alternative school like the high school Hiro, Bruce, and I attended. But anyway, there were a lot more all-ages gigs and venues for original bands. The bands weren't all that great; there were a few pretty outstanding ones. But definitely a little more accessible in that regard. You didn't have to join the union to play."
Things appeared to happen pretty quickly in Seattle, and soon major-label signing binges touched off across the country. Soundgarden signed with A&M in 1989, the same year Alice In Chains joined Columbia. Nirvana joined DGC at Sonic Youth's urging in 1990, and by then the trail had been picked up. Pearl Jam were inked by Epic weeks after anointing themselves Mookie Blaylock – after the New Jersey Nets' point guard – and the Seattle binge was on. But those were some lean years, in a commercial sense, until '89.
"We moved out when we were 21 [in 1981], so we were college age," Thayil points out. "At that point, most of our youth/young adult/childhood was Chicago, so all the main rites of passage are Chicago. But all of the ones you establish for yourself as an adult – college degree, life partner, family, career, or, in this case, a rock band – that's all pretty much Seattle. So our roots were then set down here."
— Steve Forstneger
For the full piece, grab the July issue of Illinois Entertainer, available free throughout Chicagoland.