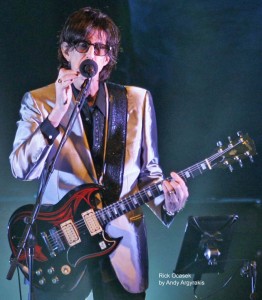 In spite of not being one of the most prolific bands in history, The Cars are certainly among the most influential, especially when it comes to the power pop, synth rock, and new wave. Everyone from Weezer to Fountains Of Wayne, No Doubt to Motion City Soundtrack have cited the band as primary influences, while critics continue to invoke them, and their hits compilations sell consistently. Thankfully, the core four surviving members aren't just letting their late-'70s to late-'80s output serve as their entire history, instead reuniting for the new Move Like This (Hear) and an intimate club tour before gearing up for Lollapalooza later this summer.
For those keeping score, this outing marks the much-anticipated return of frontman Ric Ocasek, who joins guitarist Elliot Easton and keyboardist Greg Hawkes (who jumpstarted The New Cars in 2005 with Todd Rundgren on vocals), along with drummer David Robinson. (Bassist Benjamin Orr succumbed to pancreatic cancer in 2000.)
Though this could've easily been a nostalgia-centered cash grab, the group dedicated about half the set to the new album, which, in the case of a lesser band, could've been tedious, but in this instance, found The Cars' classic pop sensibilities translating to present tense. Much of that relevance could be credited to Ocasek (who continues to be active as a producer) alongside frequent R.E.M. collaborator Jacknife Lee adding his two cents behind the boards.
Take for instance the new "Blue Tip," a warm synthesizer nugget that exploded with sputtering percussion and the leader's unmistakably quirky delivery, and "Hits Me," which allowed Easton's jarring guitars to take centerstage backed by the group's now signature handclaps: both could've easily stood neck and neck with The Cars' most celebrated material. The same could be said about the dusty garage rocker "Keep On Knocking" and the midtempo melodic cruncher, "Drag On Forever."
However, the main draw was the hits, and the band obliged with a sampler of key Ocasek cuts and the occasional Orr tune (though the terse, 90-minute night was by no means comprehensive). Despite the members' lack of stage presence, the party unfurled with the surging "Good Times Roll" and the fellow handclapper "Since You're Gone," before digging into the icy synths of "Touch And Go" and the carefree "You Might Think."
Additional examples of the group's impressive ability to bridge periods came during the enduring call-and-response romp "Let's Go," plus the full-throttled encores "Just What I Needed" and "You're All I've Got Tonight" that made the 24-year gap between tours all but disappear.
— Andy Argyrakis
Category: Featured, Live Reviews, Weekly