Quantum Of Solace
20th Century Fox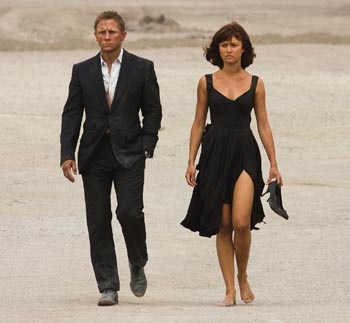 After years of stale plot lines and tired formulas (no offense, Pierce Brosnan), not to mention getting its British butt kicked by the superior Bourne series, the James Bond franchise got a much needed re-boot in Casino Royale. Starring Daniel Craig as a much more no-nonsense Bond, the series appeared to be in good hands.
With the release of Quantum Of Solace, that look appears to be a little dimmer. Sure, Craig heads down to the DMV to renew his license to kill, but he uses it in a muddled, unfocused effort.
Solace rates as a direct sequel to its predecessor, a first for the series. There have been references to earlier Bond outings in the past, but never continuations. Here, Solace takes up directly where Casino left off, and if you haven't seen the first one, you're going to be swimming upstream for most of the film.
After losing the girl in Casino, Bond sets out to find those responsible. Trouble for the audience is, we're never really given too much insight as to exactly who did what. However, Giancarlo Giannini as Bond's contact Mathis and Jeffrey Wright as CIA agent Felix Leiter provide a nice through-line.
Of course there are the Bond babes as well, with Olga Kurylenko as the eye candy, and Gemma Arterton as Strawberry Fields (no Pussy Galore, but it's a start), the uptight agent sent to bring Bond back into the fold. Naturally, she has a one-way ticket to the bedroom, and ends up as the film's clever homage to Goldfinger.
Almost as an answer to Bourne, the film packs in more chase scenes than usual, and they're all well done — particularly the opening. However, in trying to up the action ante, they seem to have lost some of the things that made Bond films special. Hopefully for the third go-round, they'll find it in their hearts to bring back Q and his gadgets, and would an appearance by Moneypenny be too much to ask?
The two disc set contains the music video for the film's theme song by Jack White and Alicia Keys, and a whopping seven behind-the-scenes features.
Film: **1/2 Features: ***1/2
Marley & Me
20th Century Fox
It's generally believed that people fall into two categories: those who find adorable, lovably rambunctious mutts and oh-look-what-the-baby-did moments more soul-fulfilling then any religion ever could, and those who think spending a single moment with a big, crotch-sniffing dog or squalling brat is akin to summering in Dante's seventh circle. For those that fall into the first category, Marley & Me is pure porn for puppy people. Those firmly entrenched in column two . . . well, abandon hope, all ye who enter here.
In an effort to thwart the inevitable discussion of whether to have children, newlywed John Grogan (Owen Wilson) gets a puppy for the missus (Jennifer Aniston). Since they decide to take the cheapest dog available, the reprecussions are inevitable. Marley the pup never grows out of his habit of chewing and peeing on everything within reach, especially after a disatrous training session with an almost unrecognizable Kathleen Turner.
The couple do go on to have children, but there through it all is Marley. Anyone who has ever had a beloved pet will no doubt relate to the inevitable ending of the film.
Marley could have easily slipped into a simple dog-does-wacky-things flick, but the story and performances raise the bar. Based on the book of the same name by the real John Grogan, director David Frankel rarely lets it drift into schmaltz territory. Aniston gives her patented cute-as-a-button performance, and Wilson flashes his Ed Grimley smile at just the right times.
The disc comes loaded with features, including beaucoup deleted scenes and a gag reel, plus segments on the trials and tribulations of filming more than 20 different dogs for the title role. There are also features for dog lovers only — most of which are product tie-ins with Purina.
Film: *** Features: ***1/2
Also available . . . Muddy Waters: Live At ChicagoFest chronicles the blues legend's 1981 performance at ChicagoFest, which would become the Chicago Blues Festival three years later. Recorded a mere two years before his 1983 death, Waters couldn't be in better form. Roaring through such classics as "Mannish Boy," "I'm A King Bee," and "Got My Mojo Working," Live At ChicagoFest is both a joyous celebration of blues history and a bittersweet reminder of the great loss soon to come.
— Tim Hiatt