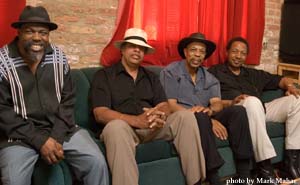 Listening to Chicago Blues: A Living History (Raisin), a two-CD set that covers 1940 to the present and features an all-star band of blues traditionalists including Billy Boy Arnold, John Primer, Billy Branch, and Lurrie Bell, led me to think about Jimi Hendrix. A space-age bluesman, Hendrix took the genre in a new direction. He was the bridge between the old and new, the ultimate trajectory for the blues in the 21st century. Hendrix opened the door, but the huddled blues brigades were hesitant to follow.
But I digress. Chicago Blues: A Living History is a well-conceived collection of material, thanks to producer Larry Skoller's idea to let a contemporary group of traditionalists mine the past. Arnold, Primer, Branch and Bell are backed by the Living History Band, which features Skoller's brother Matthew (harmonica), guitarist Billy Flynn Felton Crews (bass), Kenny Smith (drums), and keyboardist Johnny Iguana. Special guests include guitarist Carlos Johnson and vocalist Mike Avery.
Disc One chronicles the heyday of early Chicago blues, featuring songs by harmonica great John Lee "Sonny Boy" Williamson I ("My Little Machine"), Tampa Red ("She's Love Crazy"), Big Bill Broonzy ("Night Watchman Blues"), Big Maceo ("Chicago Breakdown"), Muddy Waters ("Feel Like Going Home"), and others.
Disc Two covers 1955 onward, beginning with Mel London's "Sugar Sweet" and including songs by Jimmy Reed ("I Can't Stand To See You Go"), Sonny Boy Williamson II ("Your Imagination"), Junior Wells ("Hoodoo Man Blues"), Earl Hooker ("Hooking It"), Magic Sam ("Out Of Bad Luck"), and more. Disc Two ends with Buddy Guy's "Damn Right, I've Got The Blues."
Unlike most compilations, Chicago Blues: A Living History blends the present and the past in a unique fashion. Folks new to the music can take a trip back in time, guided by a legendary group of musicians who are keeping the tradition alive.
BOXED SET: The Jeff Healey Band's Legacy: Volume One (Arbor/Castle Hill) is a two-CD-plus-DVD retrospective of the guitarist/vocalist, who passed away a year ago at age 41. And speaking of Hendrix, Healey was an underrated torchbearer who carried the legacy in the most creative, passionate, and distinctive way.
Disc One, subtitled "The Video," is a DVD featuring a wealth of live footage, from Healey's early years playing at the legendary Grossman's Tavern in Toronto to scenes from the band's last music video, "I Tried." Healey's popularity skyrocketed in the 1990s as evidenced in footage of his "Late Night" appearance with Paul Shaffer and jamming with The Rolling Stones, Tina Turner, Eric Clapton, and Stevie Ray Vaughan. The interview footage is one of the documentary's most compelling parts (the performance footage needed some editing, as some of the same songs are featured at different venues). Healey comes across as a very down-to-earth, intelligent, and humble person. Blindness was a fact of life for him, and thus something he dealt with. It was the press who sought to sensationalize it. One British rock critic wrote that Healey's blindness was a "public relations man's dream." Healey's frustration at the whole thing is evident when he talks about interview questions relating to his blindness: "So-me questions that come out of nowhere are, 'When did you did you discover you were blind?'"
Or the extre-mely callous ob-servation by one writer, who rather stupidly intoned, "So, I guess you can't appreciate the films you've done [Healey appeared in Roadhouse] seeing you can't see it."
"Idiotic people," Healey says, asking "ignorant questions."
Disc Two, "Singles," is an 18-song compilation of Healey's greatest hits, such as "See The Light," "Confidence Man," and "Angel Eyes." Disc Three collects unreleased live tracks, and songs from Discs One and Two are duplicated, which gives the entire package a somewhat thrown-together feel, as if the folks at Arbor said "Let's get everything we can on Jeff Healey and just put it out there." Standouts on the live CD include "While My Guitar Gently Weeps," featuring a guest appearance by George Harrison, and "I Think I Love You" with Mark Knopfler. It would have been sufficient to release a two-disc compilation, with the DVD and the live CD. "Singles" is redundant.
Remembering John Cephas: Guitarist and singer "Bowling Green" John Cephas of the acoustic duo Cephas And Wiggins passed away March 4th of a pulmonary embolism at his home in Woodford, Virginia. He was 78-years old.
Cephas and his partner Phil Wiggins are the leading exponents of Piedmont Blues, a gentle thumb-and-finger picking style created by musical forbearers Rev. Gary Davis, Blind Willie McTell, Tampa Red, and others in the Piedmont region of Virginia. Unlike the often stark and haunting blues from the Delta, Piedmont blues is rhythmic and melodic, with the thumb creating a steady, loping bass as the melody is simultaneously picked out on the treble strings. Cephas' propulsive basslines, complex picking, and mellow gospel-inspired baritone voice was the perfect complement to Wiggins' blues- and gospel-inspired harmonica. They rocked the Chicago Blues Festival on many occasions – I never missed a performance. I met Cephas when I worked at Flying Fish Records in the '90s, and he was an intelligent and humorous man. I will miss his playing immeasurably.
– Beverly Zeldin-Palmer
Category: Columns, Monthly, Sweet Home