File 2009
Not Quite Better Than The Real Thing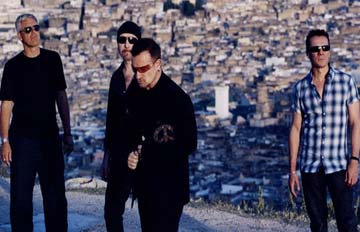 Under a shroud of secrecy not seen since the Bush Administration . . . O.K., that may be a bit of an exaggeration, but on Tuesday, March 11th, U2 — arguably the biggest band on the planet — were ushered onto the famed Metro's stage. Unfortunately, the reason wasn't an intimate performance from an act accustomed to playing soccer stadiums; it was to participate in a live-radio broadcast hawking their excellent new album, No Line On The Horizon, in front of a few hundred contest winners and a host of industry people.
"It's a shame that we're here and we don't have guitars," said The Edge. It was one of the more profound statements of the evening, especially considering the following night U2 would host a similar event in Boston and play four songs for those in attendance. The band members picked tracks they deemed critical to their development (Van Morrison's "Brown Eyed Girl," The Waterboys' "Whole Of The Moon," and Leonard Cohen's "Hallelujah" to name a few). Between selections, they participated in an impromptu Q&A with audience members, moderated with biting sarcasm by Garbage's Shirley Manson.
Questions ranged from innocuous ("What's your favorite song on the new album?") to ridiculous (Will drummer Larry Mullen Jr. ever get married?), and finally worthy when someone grilled the group on a ticket-sale fiasco that shut out numerous fan club members from getting the best seats last tour.
After an hour, it was over. The band hung around for an additional 30 minutes, shaking hands and signing autographs. But considering all the historic performances that have taken place on that stage, one couldn't escape the feeling that tonight was less a special event than an hour-long commercial, and more of a missed opportunity.
— Curt Baran
The Argument: The Hits, And Nothing But The Hits
YES:
With the concert dollar stretched further than ever, acts on the road have to make sure their show is strong enough to guarantee butts in the seats. The sure-fire solution? Unroll all those classic hits on the red carpet, lacquer them with a fresh coat of paint, and show those fans what it was like in an era when records actually sold. Just ask Eagles, Fleetwood Mac, Leonard Cohen, and even Michael Jackson, some of whom haven't toured in ages, but are capitalizing on baby boomers' big bucks and rocking all the way to the bank. While it's easy to point fingers at the motive, all those acts are promising (and delivering) the golden oldies, which is a generally a high-yield recipe for re-enlightenment and enjoyment, for die-hards and casual appreciators alike.
— Andy Argyrakis
NO:
The jazz credo goes, "First you play for yourself, then you play for the band, and then you play for the audience." Rock 'n' roll, as it stumbles oafishly through middle age, could do with a bout of such selfishness. Golden anthems like "Satisfaction" and "Born To Run" have been rendered meaningless under the guise of giving the people what they want. There's nothing wrong with "the hits" per se, but there's no way Eric Clapton is in the same place now as he was when he recorded "Cocaine." Reinvesting in songs (written in the throes of youth) is totally acceptable; tossing them out like Tootsie Rolls and guitar picks is not. Robert Plant gets it. Musicians are obsessed with protecting their work nowadays, but never are they so negligent than when it comes to how they handle their legacies in concert.
— Steve Forstneger
DOUBLE YOUR PLEASURE
When the Metro turned 25, it brought us back to the spiritual birth of underground rock in Chicago. The Double Door, which turns 15 this year, points to the mid-'90s, when the city's independent spirit hit full steam and Wicker Park's bloom was the envy of a nation. So what does one — who isn't a hispanic teen — do when they want to celebrate una quinceañera? Book the bejesus out of the place, that's what! A bonanza of oversized anniversary shows are on the docket, and the first slate has been announced: OK Go (April 23rd), Local H (May 21st), Lucky Boys Confusion with The Urge's Steve Ewing (May 24th), Th' Legendary Shack Shakers featuring Duane Denison (May 31st), and Smoking Popes (June 5th). As an added bonus, Melvins have disembarked from Seattle to celebrate their silver anniversary on May 18th.
— Steve Forstneger