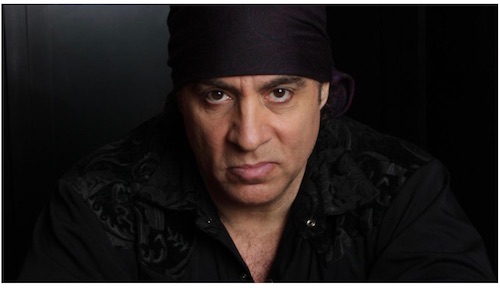 As anyone familiar with his anecdote-spiked DJ sets on his retro-rocking Underground Garage Sirius XM station can attest, Little Steve — AKA E Street Band and Asbury Jukes guitarist Miami Steve Van Zandt — has got stories. LOTS of serpentining stories, probably more than Aesop, Uncle Remus, and Grandpa Simpson combined. So naturally, all the accordant free time that the pandemic lockdown afforded him — plus several months preceding it — has made him even more reflective, to the point where he's put his entire solo back catalog under the box-set microscope, via Rock N Roll Rebel: The Early Work, an exhaustively researched compilation including six vintage albums starting with the classic  Men Without Women 1982 debut with the Disciples-of-Soul and including four discs of bonus tracks — 51 in all — and three extra live DVDs. It's a remarkable collection. All six sets are available as individual releases, as well, charting Van Zandt's fight for Native Americans (Leonard Peltier, Trail of Broken Treaties) and his historic stand against South African apartheid (the all-star protest anthem Sun City), all long before he carved out an illustrious acting career in The Sopranos and Lillehammer. Initially, he started his Little Steven and the Disciples of Soul (with mohawk-haired Plasmatics bassist Jean Beauvoir) while his Boss Bruce Springsteen was otherwise occupied with his home-recorded Nebraska. But his work began to take on a decidedly political life of its own, as this compilation — which ends with his less-hear Born Again Savage effort from 1999 — makes clear. Otherwise, during these strange times, the singer says, "I've been binge-watching Designated Survivor, which is a terrific show — I don't know how I missed it!"
IE: Is that water running in the background?
LITTLE STEVEN: OH, sorry! The dog groomer was just here, and I've been cleaning up afterward. We have a King Charles spaniel — he's a little guy but very furry.
IE: How's the acting career been going lately, pre-pandemic?
LS: Well, I was looking for roles for a while, and I had one thing fall through at the last minute, and that's when I decided, "You know what? Let me go back and spend some time reconnecting with my old music," which I really had abandoned for 20 years without realizing it. So instead of doing this TV show — which I thought I was going to parlay into something permanent before it lost its financing at the last minute —, I saw that as a sign. So I ended up spending the last three years revisiting my old work, and I've got to tell ya, it's been the most productive three years of my life. So we had the Soulfire album, too, then Soulfire—Live, then the Lillehammer score, and now this Rock N Roll Rebel package, and I'd gone 25 years without remastering anything. So I had to really say, "Hold on — wait a minute! Lets' take care of all of this old business here and get everything remastered, and maybe we'll find some extra tracks." And we found over 50.
IE: Were there some gems you'd forgotten about?
LS: Oh, yeah. I'd forgotten about quite a bit of it. But there are some crazy guys that I know, collectors, guys that dig into the archives, and they found four or five songs that I didn't even remember that we're not quite finished, but finished enough to put on the album like Time — these brand-new songs. And the oddest thing was, one of my crazy friends, Richie Russo, found some guys who had a cassette player, and me and Southside Johnny had a blues duo called Southside Johnny and the Kid, and these guys had had this cassette player recording us one night. So we wound up having a whole album of that, and we put one of the songs on this set, "Who Told You," a Little Walter song. But there's a whole album of Southside Johnny and the Kid that we can put out at some point because we just did that for a couple of months, but somebody in the audience happened to catch it.
IE: But you and Bruce used to play together, too, right? Long before you officially joined the E Street Band in 1975?
LS: Yeah. We were both in each other's bands, off and on, from '69 to '73, when he got signed, I guess. For that three or four year period, we were in five, six different bands with each other. He was the lead guitar player in my Sundance Blues Band, and then I played bass with him in Steel Mill. So then I finally joined the E Street Band later, in '75, for the Born to Run tour, so there were some things that we were writing together and some songs that were in various states of composition. And then we put a bunch of songs from my movie on the album because I was going to do a movie instead of a video because videos had just started with MTV, and I thought — weighing the cost — that by the time you did three or four videos, you could have made a movie. So that was the initial idea, but then I never quite found a script, and it never got financed. But we shot some scenes that we'll eventually release someday, and a lot of the music from that ended up on Rock N Roll Rebel.
IE: I remember that your label had the coolest promo items for the second Southside Johnny album — where you were his lead guitarist — and they were silk-jacket replicas of the ones everybody was wearing on the cover.
LS: Yeah! For "This Time It's For Real!" But on my first (Disciples) solo tour, we only had that one album (Men Without Women), and that wasn't quite enough for a whole show, so that was why I was doing some of those old Jukes songs, like "This Time It's For Real," which is on this package live from the Marquee Club in London, where The Who and The Rolling Stones had first played back when they were starting out. So that was fun to capture that live at the Marquee Club.
IE: And then the Disciples started wearing matching embroidered leather dusters, like a gang.
LS: Yeah. And that was the whole idea — to bring back that whole (gang) thing, showing the whole identity of the band.
IE: Did that look ever get you into trouble?
LS: Well, the only time was when we got turned away at Disneyland. In those days, I had a lot of bracelets, necklaces, and earrings, and they actually would not let me into Disneyland. And in my "Rock N Roll Rebel" song — which is the title track of this whole box, and it was gonna be the title of my second album before it became Voice of America, because by that time I'd gotten into politics — I talk about getting turned away from Disneyland.
IE: But it's amazing what you've done with your Underground Garage radio station. You can listen to it for two, three hours straight and not hear a single song you've ever heard before.
LS: Well, we try to mix in the familiar with the less familiar. We're not trying to be obscure. But it depends on how old you are, I guess, and how much music you've heard. But the radio station is actually my proudest achievement, and I even enjoy it myself. And I'm not a record collector, so there's nothing that rare that we play. And I'm proud to say that we've introduced over 1,000 new bands over the last 18 years, and we have over 5,000 songs on our playlist, and every single song is hand-picked by me. But if any of my DJs have a song that they're really passionate about — and I like it — then, of course, we'll add it.
IE: The weirdest thing is, if you look closely at your resume, there are two unaccounted-for years in the early '70s, where you actually gave up on show business to work construction.
LS: Well, I just felt like it was kind of over, and we missed it. I think it was just a feeling. Bruce got signed at that point, and he got in just in time, just under the wire. And the rest of us? We just kind of missed the boat — it was too late. The (New Jersey) Renaissance was over, and the greatest music ever done had been made. I mean, I'd been playing eight straight years by then, and that's a long time, really. It really felt like I'd missed the boat, so I just worked construction for two years.
IE: Which must have been a strange new schedule, after you were used to staying out late every night.
LS: Oh yeah. You were on the job by 6:00 a.m. And I was working the highways, 287, and the turnpikes, using jackhammers, which I couldn't even pick up right now. I just quit the business for a while, and then I broke my finger when I was playing football on the weekend, flag football. I broke my finger on the field, so I joined a band again just to exercise the finger, playing piano. I could play a few chords on the piano, so I joined a band as the keyboardist, and destiny was at work because the drummer for the band I was happened to be the cousin of one of the Dovells, and the Dovells needed a band to go on the road with. And I heard that they were going to Las Vegas, which was an exciting thing to me because I was a gambler when I was a kid. So we became the backing band for the Dovells, which plugged me into what was then called the Oldies Circuit, which was ironic and sad and tragic. The British Invasion had put all of our heroes out of work, and suddenly these guys in their late 30's and early 40's were put out to pasture and called Oldies, which they just hated. So I got the chance to meet all my heroes, all the pioneers, and that got me back in the business. Because from there, I played with the Dovells, I played with Dion, and then I came back home, and we started Southside Johnny and the Asbury Jukes. So it was a broken finger that got me back into the business.
IE: Was it tough to bid farewell to your construction buddies?
LS: No, it wasn't. There were some friendships, but I was really a freak, so I didn't get close to anybody. It was mostly Portuguese people that didn't speak any English, and then a couple of Americans that really didn't like me — they knew I was different, like a hippie freak.
IE: What other idols did you meet?
LS: Literally everybody! That was the height of the Oldies scene, so I met Little Richard, Fats Domino, Chuck Berry, The Drifters, The Four Seasons, The Coasters, The Shirelles, Gary U.S. Bonds.
IE: Did you ever meet Phil Spector?
LS: Yeah. Dion invited me to one of the sessions he did with Phil Spector, and I was so happy to have caught one of those famous Spector sessions. It was one of his last, with the full Wrecking Crew, so I caught one for the song "Born to Be With You," but Dion did a whole album with him.
IE: But what was your all-time high point? Meeting Paul McCartney?
LS: That was one of the biggest moments in my life when Paul came on my stage. He came on to join us with the E Street Band, and then he invited Bruce and me to sit in with him at Madison Square Garden, which was nice. But on the Soulfire tour, we played the Roundhouse in London, and Paul actually came onstage with me. And that was one of the most thrilling moments in my life, to get that kind of endorsement for my music.