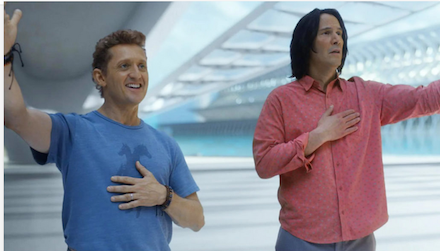 We've waited so long to see a movie on the big screen, and with about 65% of U.S. theaters now open, we finally get the chance – albeit with limited seating capacities, mandatory masks, and strict social distancing guidelines required.
And as promised, Christopher Nolan's long-awaited Tenet will be leading the way as the first "summer" blockbuster hoping to lure film lovers back into theaters. But will this be enough to entice viewers into their local Cineplexes? With that in mind, we also have some new releases via streaming worth checking out in September.
Tenet
Directed by Christopher Nolan
Rated PG-13
September 3 in Theaters
Christopher Nolan's mind-bending spy story is more than just a Hitchcockian tale of espionage, science-fiction, and saving the world. John David Washington stars as "The Protagonist," the unnamed character who finds himself on a journey that defies linear time – the actual inversion of time itself – as he fights to save the world. Also starring Robert Pattinson, Elizabeth Debicki, Dimple Kapadia, Michael Caine, and Kenneth Branagh.
Mulan
Directed by Niki Caro
Rated PG-13
September 4 on Disney Plus
This is the live-action tale of a young girl who sets out to save her ailing father from serving in the Imperial Army by disguising herself as a man as she battles northern invaders in China. Disney is releasing the anticipated film for $30 via their Disney Plus platform. Starring Elizabeth Martin, Liu Yifei, Bill Kong, Jason Reed, Rick Jaffa, Amanda Silver, and Gong Li.
Bill & Ted Face The Music
Directed by Dean Parisot
Rated PG-13
August 27 in Theaters
Whoa! Strange things are afoot at the Circle K, So-crates! If you'd told me 20 years ago that Keanu Reeves and Alex Winter would be back as Bill and Ted in another sequel to Bill & Ted's Excellent Adventure, I would have told you to put down the reefer and seek help. Like totally, it would have been a most excellent idea back in 1992, but one I never thought would happen today. But 2020 has proven to be a giant mindfuck, so maybe we should all jump back into that phone booth and party on with the hapless heroes. The two would-be rockers from San Dimas, California, find themselves as middle-aged dads still trying to crank out a hit song and fulfill their destiny. This time, their children help them save the day.
The Devil All The Time
Directed by Antonio Campos
Rated R
September 16 on Netflix
As this American psychological thriller based on the novel of the same name by Donald Ray Pollock's tagline states, "Some people are just born to be buried." In the backwoods of Knockemstiff, Ohio, sinister characters, including an unholy preacher (Robert Pattinson), a twisted couple (Jason Clarke and Riley Keough), and a crooked sheriff (Sebastian Stan) converge around young Arvin Russell (Tom Holland) as he fights the evil forces that threaten himself and his family.
Enola Holmes
Directed by Harry Bradbeer
Rated PG-13
September 23 on Netflix
Millie Bobby Brown stars as Enola Holmes, the younger sister of famous detective Sherlock Holmes (Henry Cavill) and his brother Mycroft (Sam Claflin). While searching for her missing mother, Eudoria (Helena Bonham Carter), the intrepid teen uses her sleuthing skills to outsmart big brother Sherlock and help a runaway Lord (Louis Patridge).
– Lori Vernon
Category: CinemaScopes, Featured