Jennifer Lopez
United Center, Chicago
Saturday, June 29, 2019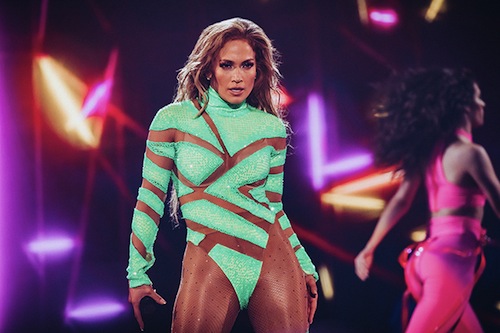 When it comes to all-around entertainers, Jennifer Lopez stands in a transfixing class entirely her own, whether she's bursting out of stereo speakers, sparkling on the silver screen or leaping off a television into the average living room. Yet experiencing J.Lo on stage is the ultimate embodiment of her larger than life personality and flawless dance moves that may very well move mountains, so much so that Saturday's mind-blowing spectacle of a United Center stop prompted an encore on Sunday, June 30 (LiveNation.com).
Dubbed the "It's My Party" Tour, the theme revolved around Lopez turning 50 this summer and also marked her 20th year fusing pop, Latin, R&B and hip-hop as a recording artist. But even if she's sold over 40 million albums, became the first-ever female recipient of the Billboard Icon Award and landed on TIME's "100 Most Influential People" list last year, she's still "Jenny From The Block" and appeared as a down to earth diva alongside a Las Vegas-styled production, dizzying display of costume changes and village of dancers.
Though the balloons in her honor already started flying seconds into "Medicine," she oozed maximum sex appeal by "Love Don't Cost A Thing" and counted money with a pre-taped Cardi B during "Dinero," J.Lo made sure to bring a communal feel to the party. She brought a male fan on stage for some chair-bound teasing throughout a subdued and sensual "If You Had My Love," while letting her vocals come to the forefront for a cover of Sara Bareilles' soaring "Gravity" as she strolled a runaway that gave concertgoers at least a slightly closer view.
Speaking of remakes on the center stage, Lopez fully embodied slain Tejano superstar Selena for "Si Una Vez" just as she did nearly half her lifetime ago in the acclaimed biopic, holding fans in the palm of her hand without a single frill. The superstar returned to the sumptuous visual feast for a pair from the Sia songbook with the dream chaser "Limitless" literally lifting her up to the rafters, while its follow-up "Titanium" found her back on the ground but figuratively flying when her daughter Emme paid her a collaborative visit.
However, the more than two-hour evening wasn't without its flaws, mainly the cumbersome set and wardrobe changes that could've been trimmed for the better with tighter transitions, but the pacing picked up considerable steam by the contagious club cuts "Waiting For Tonight," "Dance Again" and "On The Floor" as neon lights swirled and smoke stacks exploded. For the encore "Let's Get Loud," J.Lo was again airborne on top of a birthday cake as streamers, confetti, pyro and another balloon drop made the arena feel like Times Square at the stroke of midnight on New Year's Eve, and while it all marked another year in her extraordinary life, every aspect of the dazzling performance gave indisputable evidence that age is nothing but a number.
-Review by Andy Argyrakis, Photo by Michael Amico
Category: Uncategorized