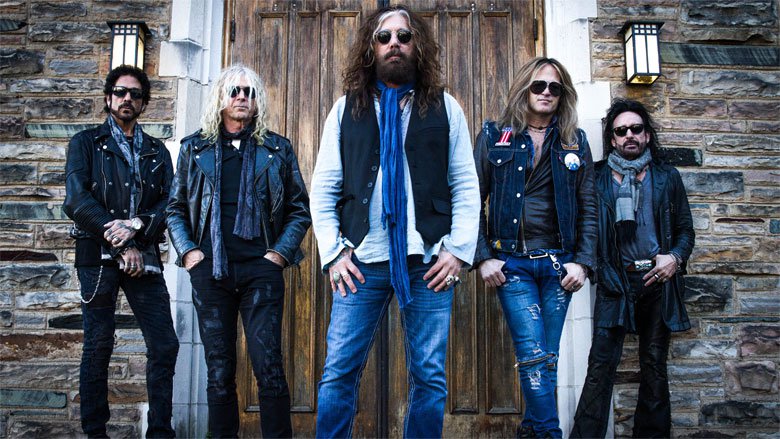 Blasting off like a screaming rocket in 2013, The Dead Daisies (TDD) have watched its fan base explode into a worldwide phenomenon. In just five short years, TDD has released four studio albums, two EPs, and a double live record. The band, featuring guitarist/co-founder David Lowy (Red Phoenix, Mink), John Corabi (ex-Mötley Crüe, The Scream), guitarist Doug Aldrich (Whitesnake, Lion, Dio), bassist Marco Mendoza (Thin Lizzy, Whitesnake) and drummer Deen Castronovo (Journey, Bad English), were already veteran rock warriors before they even got together.
For the next two months, TDD will be headlining North American shows with former TDD member Dizzy Reed's Hookers & Blow as the opening act. They make their way to The Forge in Joliet on Aug. 17. "Chicago was actually one of the first places we played when I played with The Scream," Corabi said during a recent phone interview with IE. "I've got nothing but fond memories of Chicago. The food you guys come up with there is crazy. It's a cardiologist's nirvana! It's a great town, and you have a lot of history with the old Chicago blues sound."
Riding high on the success of Burn it Down (released on April 6 via Spitfire Music), the album features ten scorching tracks that combine elements of retro rock with modern production values. "Without sounding clichéd, we just let the music take us where it's going to go," Corabi admitted. "We kind of went in a little bit of a different direction; it's still old school. We do what we do and allow the record to be what it's going to be."
Corabi was already a proven songwriter in his previous bands before joining TDD. However, now he has five other writers (including producer Marti Frederiksen) who have a proven track record for creating great rock songs. "In most situations — not all — but most situations with bands, there's usually one or two guys who are carrying the weight musically for the band; they're the writers," Corabi said. "All the weight is on their shoulders. But with TDD, as far as Marco, David, Doug, and Deen being great players, they're also great songwriters. Then you add Marti to the mix – there's six of us who are all equally talented songwriters – so there's not ever a shortage of direction or ideas. I could literally show up to do a record with nothing, and I still got five other guys that are going to contribute and carry the weight."
The production on Burn it Down is big, loud, fat and meaty, a sound Frederiksen has perfected over his illustrious career. Plus, this wasn't the first time Frederiksen has worked with the band, and he has since become like a sixth member (as Corabi mentioned).  "Marti just figured out a way to walk a line between retro and modern, and give it the best of both worlds," Corabi said. "He'll sit down and start tinkering. He hears things in a manner where he already knows what he's going to do. I'm really praying that TDD has hopefully found our George Martin, that guy who's going to help us translate all these ideas."
TDD's international acclaim is through the roof, as the band is massively popular in Japan, Brazil, Argentina, Chile, and Mexico. The band members feel a special bond between themselves and their fans, something Corabi attributes to letting the fans peek into every aspect of their lives. "When we get on stage, we're just having fun," he explains. "And I think all that stuff leading up to [the shows] brings the fans in; letting them see the process of us writing and recording Burn it Down and then us at rehearsals for Burn it Down and then the ultimate payoff [of] the show. The band has always been fan-friendly, and we don't charge for meet & greets. The fans are a part of TDD's journey. They're family now, and I think that they thrive on that."
-Kelley Simms
See The Dead Daisies at The Forge in Joliet on Aug. 17.
Category: Stage Buzz