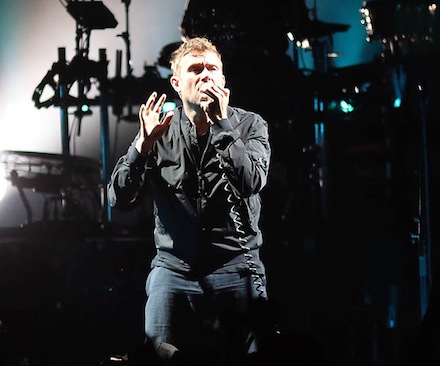 Gorillaz
Huntington Bank Pavilion At Northerly Island, Chicago
Saturday, July 8, 2017
"I've been coming to Chicago since 1990 and you never cease to bewilder me," exclaimed Gorillaz mastermind Damon Albarn to a widely enthusiastic and entirely sold out Huntington Bank Pavilion At Northerly Island on opening night of alternative ensemble's Humanz Tour. While that very well may have been the case, chances are the majority of the lakefront audience wasn't even born back then let alone listening to Blur, though the 49-year-old leader of multiple bands (and periodic solo artist) is arguably even more popular now than the days of duking it out with Oasis (who's Noel Gallagher actually appears on the current studio collection, putting a surreal stalemate on the decades-old rivalry).
Granted, it may have been seven years since last packing up the virtual and incarnate musicians for a road trip of this scale, but Gorillaz and a boatload of guest collaborators more than made up for lost time thanks to nearly two hours' worth of riveting material. While Albarn did some of the singing, swapped out several instruments and directed the six-person background choir, he also had some rotating help from burgeoning locals Vince Staples, Jamie Principle and Hypnotic Brass Ensemble (who also supported), plus fellow opener Little Simz, Anthony Hamilton, Peven Everett, Zebra Katz and Del The Funky Homosapien.
The steady flow of features, along with Jamie Hewlett's unmistakable cartoon art circling above, kept the excitement building rapidly at every eclectic turn. Whether it was straight up alternative rock, hip-hop, rap rock, indie pop or electronica, there was literally something for everyone, further ensuring Gorillaz's place in a culture where genre lines are increasingly blurred.
Then again, the band's been way ahead of that curve too, dating back to the indescribable mega-hit "Clint Eastwood" more than 15 years ago, which naturally popped up in the encore to screams and a massive sing-a-long. Surprisingly, that was the only selection from the troupe's more than seven-times platinum debut project, though Gorillaz cherry-picked pretty much all the gems from this year's Humanz, along with 2010's immensely influential Plastic Beach and the 2005 blockbuster Demon Days.
Given the group's commitment to keeping the creative wheels constantly turning, that meant everything from the industrialized thumps of "Charger," the retro/modern electro-funker "Sex Murder Party," the hauntingly reflective "Busted And Blue," the horn-soaked "Broken" and the groove-saturated "Andromeda" (not all that far removed from an all-out rave). Yet it was the galvanizing guitar/synth rocker "We Got The Power" that drove home Gorillaz and company's overarching message of combatting the world's craziness with fearlessness and banding together to form a love revolution, which as idealistic as that all may sound on paper, perhaps never felt more attainable then in the context of this boundary-shattering entertainment spectacle.
-Review and photos by Andy Argyrakis
Category: IE Photo Gallery, Live Reviews