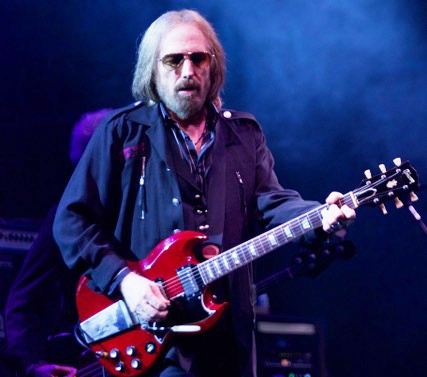 Wrigley Field, Chicago, IL
Thursday, June 29, 2017
Reviewed by Jeff Elbel; Photos by Curt Baran
Tom Petty paused during a deep dive through the Wildflowers album to tell Thursday's sold-out Wrigley Field crowd exactly what it has been like to celebrate 40 years with the Heartbreakers. "I was going to say we're having so much fun on this tour it ought to be illegal," said Petty later. "But it is, in fact, illegal."
After decades in action and steady presence on both mainstream and classic rock radio, Tom Petty and the Heartbreakers qualify as a national treasure. There has been chatter that the band's juggernaut 40th Anniversary Tour could be the group's last major tour. Despite passing retirement age, Tom Petty at 66 never seemed like he was ready to quit. Neither did his incredible band, anchored by founding members Mike Campbell on guitar, Benmont Tench on keyboards, and bassist Ron Blair.
Truly, there were no shortage of great songs to celebrate. "We're going to treat tonight like it's a big old one-sided album, and we're gonna drop the needle all up and down it," said Petty after careening through "Mary Jane's Last Dance." The show began with "Rockin' Around (With You)" from the Heartbreaker's 1976 debut, and ran all the way through 2014's Hypnotic Eye with "Forgotten Man."
Even lesser known songs were dynamite. Campbell blazed through the Led Zeppelin-styled riffs of "I Should Have Known It" from 2010's Mojo, until you could practically see smoke rising from the fretboard of his classic Gibson Les Paul.
The evening was memorable for other reasons, as many people were overheard saying it was the most fun they'd ever had standing outside getting soaked the rain. Country music ace Chris Stapleton's opening set had been hit with an absolute deluge. By the time of the Heartbreakers' set, the torrent had mellowed and it didn't seem to faze much of anyone. When the rain finally quit during the show's final half hour, more cell phones came out to snap pictures during later songs like "Yer So Bad."
English folk duo The Webb Sisters added shimmering harmonies throughout the evening, which were of particular benefit to songs from the Jeff Lynne-produced albums Full Moon Fever and Into the Great Wide Open. Petty and Campbell squared off to begin "Free Fallin'," a song that typically would have ignited tens of thousands of lighters (or cell phone flashlights). The rain may have dampened the lights, but it certainly didn't restrain the magnificent singalong.
There weren't any particularly shocking song selections, but it was special to hear five cuts from the revered Wildflowers  record during what was otherwise billed as a career overview. The band stretched out during "It's Good to Be King," with Petty and Campbell trading solos. Tench's elegant piano elevated "Crawling Back to You." The stage seemed to barely contain the encore set's raging "You Wreck Me."
The rain notwithstanding, there was very little to complain about, barring perhaps the wish for a four-hour show to fit in all of the popular favorites in the Heartbreakers' catalog. The two-hour show drew from nine albums. If the two Mudcrutch albums were included in the canon, that would mean that half of Petty's catalog got skipped. It was a shame not to zoom through "I Need to Know" or revel in the chiming melancholy of "The Waiting," to say nothing of "Breakdown." But it just amounted to evidence of an unprecedented catalog stacked with hits. "Don't Come Around Here No More" was stretched into a psychedelic extravaganza. "You Got Lucky" was grim and dangerous. "I Won't Back Down" became a collective shout of strength and solidarity.
Tench shook the last drops of rain from the wrung-out clouds with his powerful Hammond B3 organ during "Refugee." A snarling "Runnin' Down a Dream" followed to close the main set.
Petty emerged for the encore in a Cubs jersey with his name on the back, and the number 40. "We came here first in 1977, and fell in love with town," he said. "Thank you so much for coming for 40 years." The showstopper was the chime and jangle of the anthemic "American Girl," during which Campbell proved himself for one last time to be one of rock and roll's truly great guitarists – surrounded by one of rock and roll's truly great bands.
Category: Uncategorized