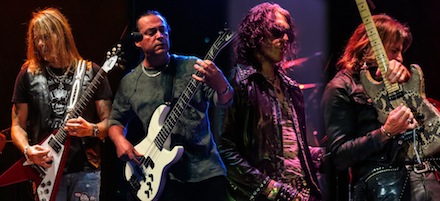 Are you ready to Ratt 'N' Roll again?
The recent court battles between former drummer Bobby Blotzer and the rest
of the members over the use of the RATT band name has finally been determined.
The winners singer Stephen Pearcy, guitarist Warren DeMartini and bassist Juan Croucier, who are now joined by guitarist Carlos Cavazo — who's been with the band in one form or another since 2008 — and new drummer Jimmy DeGrasso, will be hitting the road on their new tour (coming to Concord Music Hall on June 2). The band recently announced that it's also writing material with the current lineup for a new record to be released
sometime in 2018.
Chicago-born DeMartini grew up in River Forest and moved to San Diego in
1974 when he was almost 12 years old. Although he's lived on the West Coast for most of his life, he still considers Chicago home.
Mosh: What do you remember most about living here?
Warren DeMartini: The summers. Back then it was hordes of kids just riding bikes around the neighborhood. That, and great music. The whole British Invasion started peaking when I was about six or seven. I was around all the great music that was going around at the time. I didn't enjoy
the winters though.
Mosh: You replaced Jake E. Lee in 1982, and he actually recommended you. You were 18 years old and attending college at the time. What was that wild ride like?
Warren DeMartini: It was unbelievable, it was like a roller coaster. I was enrolled in college down in San Diego. Jake E Lee had picked my band to open a couple of shows for RATT. So when he moved on, I think opening those shows is what got me the gig in RATT. It was a very quick decision
to give it a try so it was very exciting to say the least.
Mosh: The world was mostly first introduced to RATT in 1984, with the "Round and Round" video that was on heavy rotation on MTV at the time. What do you remember most about comedian Milton Berle, or were those scenes shot separately?
Warren DeMartini: It was all shot separately, but we all got to meet him and it was very memorable. He was very funny. It was someone I never expected to meet. It was the first time we ever made a video so it was a total brand new experience. It was just a completely learn-as-you-go experience.
Mosh: Do you remember your first gig with RATT and where it was?
Warren DeMartini: My first gig was at the Troubadour and that was part of the rush of moving to L.A. and making that decision. I got a call on a Sunday because on the following Friday there was a show booked at the Troubadour. This was before the whole pay-to-play thing happened. If you got to a point where a place like the Troubadour or the Whiskey was booking a band, if you canceled that, that would really be a blow to the band. The thing was to move up (to L.A.), learn the whole set and perform at a well-known club the following Friday. It was quite a new thing for me being just a couple of
months out of high school.
Mosh: So you only had about four or five days to learn the material?
Warren DeMartini: That's right. At night I would work on the songs with Jake and during the day we rehearsed down in Culver City. It was a wild ride.
Mosh: Your Back For More Tour officially begins next week. Are you excited to get back on the road?
Warren DeMartini: We're very excited to be back on the road again. This run coming up will be the third show we've done since we've re-formed. The last two shows were just amazing to be together again and playing these songs again live. So we're really looking forward to it.
Mosh: Were those warmup shows in L.A., (which led to pictures surfacing on Blabbermouth) inevitably moving toward this reunion that's happening now?
Warren DeMartini: Yeah it was. We were basically in kind of a holding pattern waiting for the court to decide the name rights. So for that show we didn't know who had the right to use the name so we just went on as the Very Special Guests. That was really fun to do because they managed to keep it a secret right up until we walked on.
Mosh: You'll be playing Concord Music Hall on June 2. As your home away from home, what do you like best about playing in Chicago?
Warren DeMartini: It feels like coming home. I still feel like I'm from Chicago even though I've lived most of my life on the West coast. There's a familiarity that I notice as I get closer and closer to the area. It's always an event for me and a memorable one.
For the full interview, pick IE at your local music venue, coffee shop, record store or read our mobile edition…
See RATT at Concord Music Hall on Friday,June 2 at 7 pm
– Kelley Simms
Category: Stage Buzz