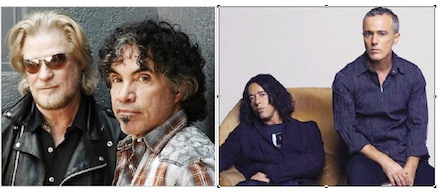 If you graduated high school in the 80s, loved your radio, and wanted your MTV, Allstate Arena was the place to be on Monday night. Judging by the packed hall, word had gotten around. Two disparate but defining bands from the era joined forces for a satisfying night of music and memories. Tears for Fears represented the moody alternative-pop side, while Daryl Hall and John Oates brought their deep catalog of soulful hits from the world of mainstream rock and pop.
TEARS FOR FEARS
Tears for Fears wasted no time, offering the crowd their biggest US hit "Everybody Wants to Rule the World" as soon as the house lights went down. After the kaleidoscopic pop of "Sowing the Seeds of Love," singer/guitarist Roland Orzabal greeted the Chicago crowd, all of whom he decreed to be extremely sexy. Later, he admitted it was the band's first time in town for many years. Looking at seats filled to the rafters, he added the unanswered question, "Why?"
Founding bassist/vocalist Curt Smith introduced a run of significant early material. "How many people know our first album?" he asked. The answering roar suggested that more than a handful in the room still had their copies of 1983's The Hurting. The band followed with the propulsive and angular "Change" and the gloomy perfection of "Mad World" as Smith took lead vocal.
With a "Penny Lane" bounce in Smith's bass line, the title cut from 2004's Everybody Loves a Happy Ending enjoyed strong performance and respectful response, one of two songs (along with "Secret World") to represent what remains the band's most recent release. Singer/guitarist Roland Orzabal later teased the crowd by mentioning "the new album," referring to a project that has been underway since 2013. Although the group didn't perform a fresh single, Orzabal did lead the band through an impassioned cover of Radiohead's "Creep" that got the crowd singing.
"Pale Shelter" was a spine-tingling duet that made the most of Orzabal and Smith's complementary musical personalities. Smith's plain-sung and pure tenor connected to influential touchstones like New Order's Bernard Sumner, while Orzabal's rich croon swooped from David Bowie's baritone range before soaring to soulful heights.
The melodic gem "Break it Down Again" had been a hit from 1993's Elemental, the first of two Tears for Fears albums recorded without Smith. At United Center, the song benefitted nicely from the addition of Smith's answer vocal in the chorus. After Orzabal left the "time flies" coda of Songs from the Big Chair's "Head Over Heels" to the crowd, the band left the stage.
Tears for Fears returned for an encore amid a starry scene of twinkling cell phone lights. Smith introduced four younger band members, including a keyboardist from Rosemont, IL who was playing on home turf. "I'll bet you have no idea what's coming next," he said afterward, as the band began the grim pulse of Cold War-era protest single "Shout." Orzabal lashed into the song's familiar guitar solo.
DARYL HALL and JOHN OATES
Daryl Hall and John Oates also got straight to business, spinning a nearly-uninterrupted string of popular singles spiked with a deep cut for true-blue fans. The set began with "Adult Education." Next was "Maneater," the first of several songs to feature the band's not-so-secret weapon, saxophonist Charlie "Mr. Casual" DeChant. The veteran player's tenure reaches 41 years back to 1976's Bigger Than Both of Us, the album featuring signature song "Rich Girl." DeChant emerged often from his position on the back riser with his sparkling gold jacket and gleaming tenor saxophone. Prowling the rim of the stage for wailing solos and sparring with Oates, he made the most of his position as a fan favorite.
And the hits kept coming. "Out of Touch" from 1984's Big Bam Boom led to "Did it in a Minute" from Private Eyes, followed by "Say it isn't So" from the collection Rock 'n' Soul Part 1. Five songs into their set, the duo had played five top-ten singles and two number ones.
Oates introduced the next smash as one of the all-time great rock and roll songs, and praised classic songwriting team Barry Man and Cynthia Weil. "We recorded it in 1980-something," he said. Oates then led the duet of The Righteous Brothers' "You've Lost That Lovin' Feelin'," and an arena-sized choir sang the choruses. Guitarist Shane Theriot from the Live at Daryl's House band dug into solos that G.E. Smith relished 37 years ago.
Hall was in fine voice, showing what he learned as a young Temptations fan on the silky come-on "One on One." He ranged from a supple soul croon to a frenzied blues shout that elicited screams of approval from fans. "How about if we go back to the '70s," asked Oates afterward. "Fantastic sexual era," replied Hall, cheekily. "You guys don't even know." "She's Gone" from 1973 sophomore album Abandoned Luncheonette glided upon a deliciously restrained soul groove, and exploded into rafter-splitting four-part harmony at the climactic key change.
Hall traded his guitar for a grand piano while performing "Sara Smile." Afterward, he draped his arms over the keys and exulted in the applause. "Now, that feels right," he said, beaming.
Soon, it was time for the diehard fans. "We're gonna play a song that we haven't played in years," said Hall. "This song goes out to those three War Babies fans," joked Oates. "It was an assault on music," Hall continued with a smirk, "but not this one. This is a great song. It's one of John's." The group crafted a sultry groove for "Is It a Star," influenced by Marvin Gaye songs like "Inner City Blues." Oates peeled off a sparking solo, followed by a prog-friendly keyboard solo that Keith Emerson would have approved.
Next was an extended romp through "I Can't Go For That," spiced by DeChant's fluid flute melody. Hall led call-and-response during a rowdy string of "hell no's." He remained at his electric piano for the funky pop of "You Make My Dreams" from 1980's Voices. Afterward, Hall and Oates waved their goodbyes and dashed offstage.
The band returned quickly for a white-hot encore of three additional chart-toppers. Number one singles "Rich Girl," "Kiss On My List" and "Private Eyes" were played back-to-back-to-back, a one-two-three knockout combination to conclude the show.
-Review by Jeff Elbel, Photos by Curt Baran
SET LIST: Tears for Fears
Everybody Wants to Rule the World
Secret World
Sowing the Seeds of Love
Advice for the Young at Heart
Everybody Loves a Happy Ending
Change
Mad World
Memories Fade
Creep (Radiohead cover)
Pale Shelter
Break it Down
Head Over Heels
— encore —
Shout
SET LIST: Daryl Hall and John Oates
Adult Education
Maneater
Out of Touch
Say It Isn't So
You've Lost That Lovin' Feelin'
One on One
She's Gone
Sara Smile
Wait for Me
Is It a Star
I Can't Go for That (No Can Do)
You Make My Dreams
— encore —
Rich Girl
Kiss on My List
Private Eyes
Category: IE Photo Gallery, Live Reviews