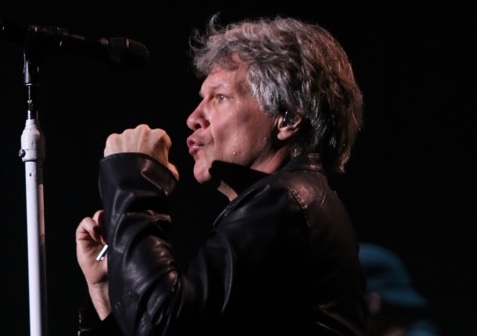 Bon Jovi
United Center, Chicago
Sunday, March 26, 2017
As Bon Jovi kicked off its first concert in Chicago since Soldier Field in 2013 with "This House Is Not For Sale" (the title track from the band's 13th standard studio album), original members Jon Bon Jovi, David Bryan (keyboards) and Tico Torres (drums) seemed to defiantly proclaim to the United Center that no personnel shake-up or changing music industry trends could ever pull the roots out from under them. Granted, this isn't the only time co-founding guitarist/co-songwriter Richie Sambora sat out of a show in the Windy City, but the recent collection is the first without his trademark stylings, while bassist Hugh McDonald and guitarist Phil X have been promoted to full members in his absence.
As a result, this wasn't the Bon Jovi of the '80s or '90s trying to tap back into its glory days, but rather, a retooled line-up (along with touring rhythm guitarist/producer John Shanks and additional percussionist Everett Bradley) looking to construct a fresh chapter that bares more in common with fellow New Jersey god Bruce Springsteen, current contenders like Coldplay or even the occasionally electronic stylings of say Walk The Moon than the days of high hair and all-around excess. While those hoping for strictly a nostalgia trip probably could've named several songs omitted from their wish list throughout the near two-and-a-half-hours that came after, Bon Jovi 2.0 emerged victorious in a concert that could be summarized in the title of its muscular and memorable follow-up "Knockout."
The major oldie "You Give Love A Bad Name" appeared next, but outside of that sole flashback to the days when MTV actually played music videos, the set list was front-loaded with key cuts from the 2000s and many others from This House Is Not For Sale. Along the way, the group's longtime leader exuded his usual charm and ability to command a crowd far younger than his 55 years, playing to both the front of the house and faithful who filled every section behind the stage, while a massive light show further ensured no one felt left out.
Prior to "Roller Coaster," Jon shared a moment of appreciation for still being able to have hit singles over 30 years into the wild ride and continued demonstrating that trend with the not-too-distant remembrances "We Weren't Born To Follow," "Who Says You Can't Go Home" and "It's My Life," all the way back to "Lay Your Hands On Me," "Born To Be My Baby" and "Bad Medicine." Additional sing-a-longs such as the "Keep The Faith," "Wanted Dead Or Alive," "Raise Your Hands" and "Livin' On A Prayer" ensured cross-generational satisfaction, which when blended with the forward-thinking direction of the initial hour, verified that Bon Jovi is indeed back with a vengeance.
-Review by Andy Argyrakis, Photos by Curt Baran
Category: IE Photo Gallery, Live Reviews, Uncategorized