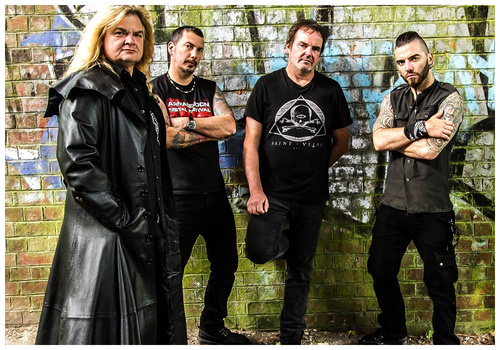 Legendary British heavy metal band Grim Reaper is back. Original vocalist Steve Grimmett reformed the band in 2006 as Steve Grimmett's Grim Reaper, and they've just released their first album of new material in 29 years. Walking In The Shadows combines 12 fiery tracks reminiscent of the band's early roots with a vigorous spirit. Usually band name variations or double usages amount to legalities amongst feuding members. Fortunately, this slight name change was an amicable decision between Grimmett and original Grim Reaper guitarist Nick Bowcott, who both agreed that using the original name minus the other original members wouldn't be a proper reformation. Joined by Ian Nash (guitars) Paul White (drums) and Martin Trail (bass), Grimmett's version of Grim Reaper is firing on all cylinders on their current North American tour, which includes a stop at Tailgaters on Nov. 4.
Mosh: Walking In The Shadows does a great job of capturing the band's early roots. Was it important to have that old-school Grim Reaper spirit while writing these new tracks?
Steve Grimmett: Absolutely. When Ian Nash, the guitarist, and I sat down and discussed about writing a new album, that was paramount that we got that sorted. Because it seemed to us while we were playing live, the reason the kids liked it is because it's anthemic rock, and they could join in and sing along and enjoy themselves with it. So that's how we decided to write, and then the recording was old school as well. We went back to the crowded drum, guitar and bass — all in my studio. And there is no extra sounds in there, what I recorded is what you hear. I think we captured something again and I was quite pleased with the way it came out.
Mosh: Walking In The Shadows is the first new recording since 1987's Rock You To Hell, and the fans have been heavily anticipating it. How's it feel now that it's finally out?
Steve Grimmett: I think when you got a formula, you need to stick with it. I don't like bands that do these massive changes and confuse the fans. Basically, Walking in the Shadows is giving the fans exactly what they want, and that is more Grim Reaper.
Mosh: Although you resurrected the Grim Reaper name in 2006, how come it took this long for new material?
Steve Grimmett: Because we were being asked left, right and center to go and tour. We've toured all over Europe. We toured the States twice without an album, and we toured South America twice without an album. And then, ideas started drying up and the conclusion was because we needed some new material. That's exactly what it is. But it's about time isn't then?
Mosh: I believe half of this band was part of your Steve Grimmett solo band. Was the chemistry already present for this lineup?
Steve Grimmett: The only two that were in my solo band was myself and Ian (Nash) the guitarist. We have a new drummer named Paul White and a new bass player named Martin Trail. Paul White is the best drummer I've ever worked with, and Martin compliments the way Paul plays. We have an absolutely fantastic rhythm section, and when you see us live, you'll know exactly what I'm talking about. The chemistry is 100 percent. We all get along really well; it's four guys having a good laugh and doing what they do best. It's fantastic to be on tour with these guys.
Mosh: Although I can't think of any classic groundbreaking anthems such as "Rock You To Hell" or "See You in Hell" on Walking In The Shadows, there are some that come pretty close. Which track do you think best exemplifies this incarnation of Grim Reaper?
Steve Grimmett: Probably "Walking In The Shadows" is definitely what Grim Reaper is all about; the classic chords, the anthemic hook, the singalong stuff. It's a great song and I love it. In my opinion, a song has to have a hook, and without it, it's really not a good song. I'm really happy with the way things turned out and it looks like most people like it, too. In about 30 reviews, I've had one (reviewer) who gave us a 5 out of 10. The rest of them gave us 7.5, 8, 9 and 10. Going by that, I think we've hit the nail on the head.
Mosh: Fans can't wait to hear the classic Reaper tracks live. What have the live shows been like so far?
Steve Grimmett: We are doing the classic stuff off the first three albums and we're doing six or seven tracks off the new album. It's a pretty good mixture and it's high-energy rock. Come down and party!
Mosh: I still possess a recorded VHS tape of the 1987 MTV Hell On Wheels tour with Grim Reaper, Armored Saint and Helloween. What was that time period like, as I believe that tour really introduced you to North America?
Steve Grimmett: Well, it was actually the "See You In Hell" video that MTV put on. And they were only ever going to play it once. After the initial viewing they put out a questionnaire and they were absolutely inundated with people saying this is what they want. So that's how we introduced ourselves to the States. By the time the Hell On Wheels tour came out on MTV, that was after the tour in 1987. So we had already made our mark in the States by then.
Mosh: Nick (Bowcott) will be joining you on stage for a few select shows. What are your emotions like playing the old stuff together again?
Steve Grimmett: Nick joined us in 2014 in Chicago when we played the Ragnarökkr Fest. I hadn't seen Nick in 27 years  – we've talked – but 27 years just melted away and we were back into the old routine. With him joining us is great, there's no animosity between the two of us. I can't wait to see the guys a few hours before we meet up, play, and then it's basically back to normal.
Mosh: Speaking of Chicago, you'll be here on Nov. 4. How has Chicago treated you over the years?
Steve Grimmett: The Ragnarökkr Fest in 2014 was the first time we've been in the States since 1987, so it was like coming back home. Our fans there really enjoyed it and we love to play for the fans, because without those guys we don't do it. We've played there ever since. Every tour we've done we've played in Chicago, and this time around is no exception. When we get asked to play in places, we like to go because we like to take care of our fans.
Mosh: As an older and influential band, what do you hope fans remember about you years from now?
Steve Grimmett: Touring is the hardest job I've ever done, and I've been in construction and the like. But I love it because I get to get out there and meet the people that are buying your material and the people that love to see you live. And they are the people I look after. Every show we do, we always come out and sign stuff and take pictures with the fans. We always do a meet and greet afterward. Because as I said, these guys are the reason why we do it and the reason that we can do it. So, I'd really like to be remembered for the fact that we took care of our fans.
Steve Grimmett's Grim Reaper appears at Tailgater's on Nov. 4.
Category: Stage Buzz