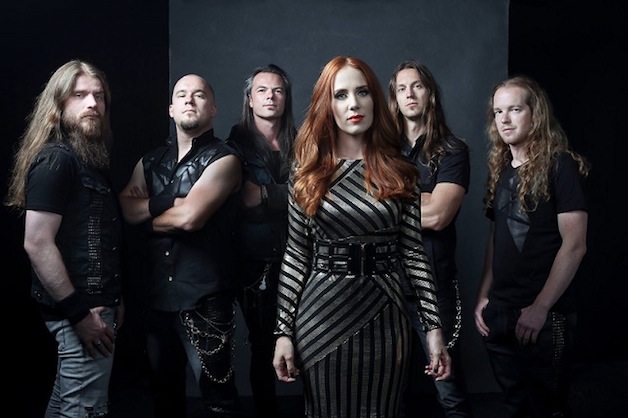 Dutch symphonic metallers Epica return to Chicago via Concord Hall only nine months after their rescheduled North American tour, which was cut short due to a family illness. At the time, the band was already in songwriting mode for its new album, which ultimately became the fantastic The Holographic Principle.
Epica's writing and recording schedule became time consuming, especially when the band took a few touring breaks in the middle of the recording sessions. "The writing took a year and the recording about five months because it was stretched over periods when we were away on tour,"vocalist Simone Simons said. "Some songs had been written years back. Sometimes you put songs to the side because they're not mature yet, then you pick it up again. All five guys had been writing songs so we had this huge heap of songs to choose from, like 26 songs. Then we whittled them down to 18 and then finally the 12 that appear on the album."
Epica's last album, 2014's The Quantum Enigma was met with massive critical acclaim. However, The Holographic Principle blows it out of the water. "We wanted to maintain the level that we started with on The Quantum Enigma," Simons said. "We paid more attention to detail and worked together. Everybody's noses were pointed in the same direction and the process was a lot of fun."
The concept of the record and its title track focuses on the evils of technology, virtual reality and the belief and scientific ability that humans will just become holograms one day. It's a subject that scares Ms. Simons just a little bit. "The title track is basically about the physicists who are doing research on the fact that we might be living in a hologram," she said. "Mark Jansen [co-founder] read about it and thought it was really fascinating.
Virtual reality development and glasses where reality is simulated so perfectly that you cannot be sure what is real anymore. So how can you be sure what we see now is real? Soon people will come to realize that there is indeed a chance that we might live in a hologram. Mark wrote the lyrics and he's more into physics and I am more of a philosopher that questions everything. And also if it's true what the scientists are saying, then it kind of scares me a little bit."
Simons is looking forward to getting back out on the road for their current North American tour, and Chicago is tops on her list. While she loves playing in the Windy City, she really loves our deep dish pizza. "I love pizza and Italian food in general," Simons said with glee. "I'm looking forward to hanging out with Americans and Canadians in general. It's always fun to talk with them because they're open-minded metalhead Americans, even with the whole political disaster going on in America right now. I'm looking forward to spending time over there and to present our new songs. And also I'm curious to hear what the fans think about the new CD. It's always nice to hang out with the fans and have a one-on-one chat with them in real life, instead only on social media."
Epica appears 11/ 8 at Concord Music Hall, Chicago.
Follow us on Twitter and retweet to win a 4 pack of Epica tickets
Category: Stage Buzz