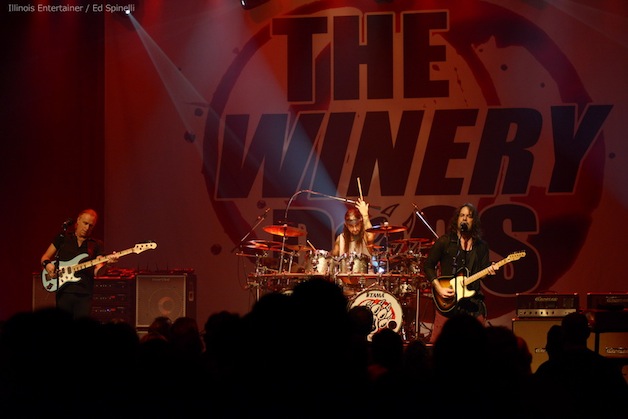 IEs Ed Spinelli (along with contributor Mike Lowe) captured L.A. supergroup – The Winery Dogs (touring in support of their new album Hot Streak ) at The Arcada Theatre Thursday night. The trio – Mike Portnoy, Billy Sheehan and Richie Kotzen – didn't let 'em down.
The Winery Dogs arrived on the Arcada Theatre stage Thursday night launching into "Oblivion" from their current, acclaimed album Hot Streak – setting an aggressive tone for the rest of the night .
All three L.A.-based rock masters meshed in to one powerhouse, wall-of-sound, featuring Ritchie Kotzen's soulful vocals and axe-work, backed by Billy Sheehan's powerful bottom end, and Mike Portnoy's rolling drum work. The band has only become tighter over three years of touring – and they showcased songs from both of Hot Streak and their self-titled debut, playing to the sold-out Arcada crowd .
The Dogs' set split eight songs from each of their aforementioned records, along with several '70s inspired guitar jams from Kotzen, jettisoned by Sheehan's dynamic bass solos, and highlighted by  Portnoy's unique drum solo on toddler "Hello Kitty" drum set. It proves Mr. Portnoy could solo on a kitchen sink if given the chance .
– Words by Mike Lowe, photos by Ed Spinelli
Category: Featured, IE Photo Gallery, Stage Buzz, Weekly