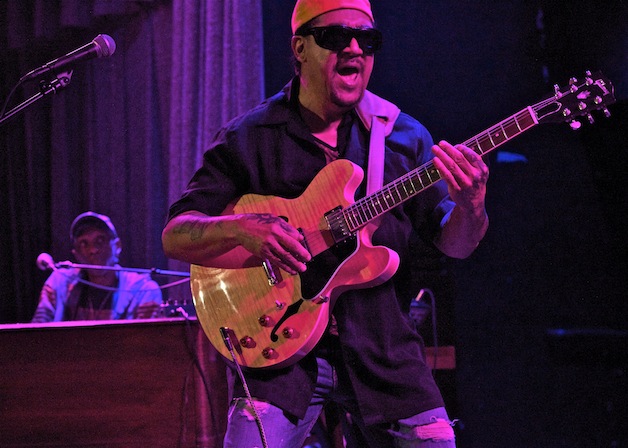 Leo Nocentelli
The Meters Experience
City Winery
October 31, 2015
Guitarist Leo Nocentelli of The Meters gave a master class in New Orleans soul and funk at City Winery Chicago's Halloween evening costume party. The Meters Experience packed extra star power and musical pedigree with Parliament-Funkadelic keyboardist Bernie Worrell as Nocentelli's right-hand man. Two sets of music featured Meters classics like "Fire on the Bayou" and "People Say." Nocentelli's guitar slinked, chopped and shredded along with the deep soul and second line grooves of his rhythm section. Local bassist Pennal Johnson of PJ & Soul anchored the low end on bass.
Nocentelli gave ample time to Worrell, praising the keyboardist as the true architect of the Parlaiment-Funkadelic sound. Aged 71, Worrell shed decades while leading the call and response of "Give Up the Funk" and building to a majestic crescendo in "Flashlight." He coaxed soulful, Gospel-influenced moans from his swirling Hammond B-3 organ, and stuttering electronic funk from his synthesizer.
At the top of the second set, Nocentelli's solo excursion evolved into lengthy improvisational funk jam with the rest of the band. Nocentelli announced that the band would take famous single "Cissy Strut" into new territory, and they did so with style. Different time signatures, complex unison riffs and extended solos were worked into the familiar structure while finding an even deeper groove.
Los Angeles-based drummer and Chicago native Felix "D-Kat" Pollard guested as Worrell led Parliament's "Mothership Connection (Star Child)." The Meters Experience's own exceptional percussionist Jamal Batiste stood to the side, rocking to the beat. The song featured taut, sinewy guitar solos from Nocentelli and truly sick soloing from Worrell in his signature analog synthesizer sound.
"This is how we do it in New Orleans," said Nocentelli as the band began a rollicking sing-along through "Hey Pocky A-Way." Based upon vocal response, the costumed throng came prepared with Mardi Gras spirit for a trip to the Crescent City.
-Review and photos by Jeff Elbel
Category: IE Photo Gallery, Live Reviews, Weekly