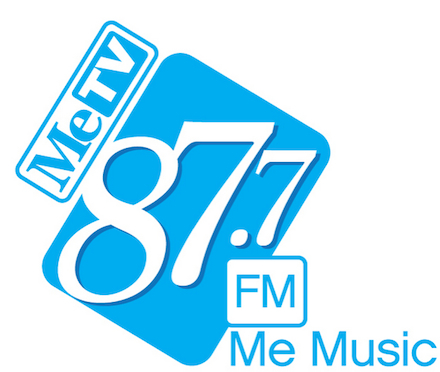 Mark Zander has been around the Chicago radio block. Among his ten stops along the dial, he has hosted nights at The Loop and the old WCKG, and programmed the River 95.9FM in Naperville. But none of those previous gigs are like his current one. He's now the man behind the music at a radio station broadcasting on a low-power television/analog FM radio frequency, attempting to provide a musical companion to a television network. That's a new one.
Zander explains the origin of this unusual operation, MeTV, 87.7FM. "Neil Sabin is the architect of MeTV, the hugely successful retro television network, and he comes from a radio background. He was at WLS and WIND back in the '70s and has radio coursing through his veins. It's always been an idea of his to create this companion to ME-TV on the radio, music from the era of the retro shows Me-TV airs. That's been bubbling under for a long time, and when 87.7 became available (it had previously aired "The Game") through Venture Technologies, he struck a deal and put on this format."
And while Zander has been programming the station since early March, Sabin is still very much involved. "Neil and I come up with the music together," Zander admits. "When I started he handed me a stack of music and said 'This is what we're starting with' and since then he and I have collaborated on adding another third of the library, which is now about 2500 songs and growing."
That's clearly one of the attractions of the station – its long and varied playlist. It's an ear opener for listeners who have been hearing the same songs regurgitated over and over again on oldies radio stations. "We are playing songs that haven't been played on the radio in years, and some that were never played at all. Chicago was starving for something like this. People listening think, 'I know that's Neil Diamond, but I've never heard this one before!'"
And though they are a musical companion piece to a national television brand (Me-TV started in Chicago but is now broadcasting across the country), this radio presentation is very local. "We're a Chicago radio station. You'll hear New Colony Six, Cryan Shames, Ides of March, Mason Profit, Steve Goodman, and we play the band Chicago more than anyone else does. It's always confused me why this city's radio stations haven't been more open to the band that shares a name with the city. We're very much a Chicago station."
Still, it seems like a strange combination to have a hard rock guy like Zander programming a soft-rock station like Me-TV FM. He admits as much with a chuckle. "At first they looked me like, OK here's this rock guy. Is he going to be able to handle playing the Carpenters? Is he going to snicker? I think I surprised them. There are a lot of songs here I like that I've just never admitted I liked – but now I can admit it openly and publicly. (laughs) Yeah, I like "Snowbird" by Anne Murray. Got a problem with that? "
Me-TV FM is a streamlined operation – only two employees are currently employed at the station: Zander and the imaging director Michael Horn. There are a couple of very good reasons for that. The first, is obviously financial. "WGN sank a lot of resources into The Game (the previous resident of this frequency) before they were profitable, and that's one of the reasons they only lasted a year. Weigel Broadcasting (owner of Me-TV) is doing it right – they're starting slow. It's a lean and mean machine and they're giving it time to grow. Nobody does that. Everyone wants results and they want them now. Weigel knows it's not going to work that way, and they are perfectly willing to be patient."
There's also a potential sword hanging over their heads; one that is completely out of their control. The F.C.C. has been asked to make a decision regarding the future of low-powered television signals like this one, and recently put it off again. There was no date set for reconsideration, but there was also no definitive ruling, which means everyone remains in limbo. It's like stay of execution," Zander says, "that seems to be indefinite. They've just decided not to make a decision at this point. It could still happen, but as of right now nothing is set in stone."
So Zander is doing his best to enjoy the moment. He already considers it one of the highlights of his long and storied career. "I love it here. This is a great company. In this world of corporations and committees and having a hard time getting approval for decisions because there are so many levels, this is a breath of fresh air. Our owner, Norm Shapiro's, in the building. Plus I can run into Svengoolie in the hallway – and I have!"
And he's experiencing something else for the very first time in his career. "We've got television commercials running on MeTV, which has been great. It's such an advantage to work for a company that can flip the switch on television commercials that quickly and easily. When I worked at CBS – there was no way that could happen."
Radio executives at the other stations in town have to be a little jealous of that. They may not have an F.C.C. sword hanging over their heads, but when you're in radio, there's always one sword or another. At least this one comes with free television ads.
– Rick Kaempfer