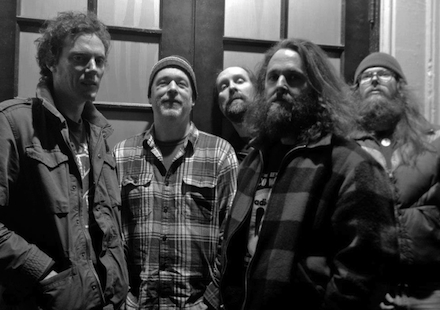 Built To Spill
Untethered Moon
(Warners Bros.)
A Great Lake's worth of ink has already been spilled by scribes (and rightly so) in deference to the guitar playing of Doug Martsch.
What gets criminally ignored in its wake is the Built To Spill front man's ability to craft unconventional pop masterpieces. Untethered Moon, the band's eighth studio record, seems determined to swing the telescope back in the direction of composition.
Songs like "Living Zoo," "All Our Songs," and the first single "Never Be The Same" feel greatly served by the recently refurbished rhythm section of Steve Gere (drums) and Jason Albertini (bass), bringing a heretofore density that hasn't been heard on previous releases. This new canvas has allowed Martsch to further explore melodies that haven't been this supple since the late '90s high-water marks that were the albums Perfect From Now On (1997) and Keep It Like A Secret (1999).
Left concerned that there are no searing guitar solos and feedback freak outs?! Fret not, dear listener. The eight minute plus rager "When I'm Blind" has no intention of apologizing for going all Crazy Horse on your ass.
Appearing: Saturday, May 30th at Metro. Sold Out
7/10
– Curt Baran
Category: Spins