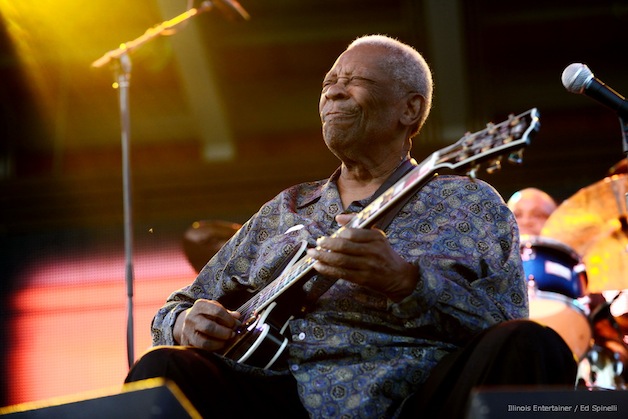 Though his death was not unexpected (considering his health struggles in the last year), B.B. King's death doesn't hurt any less. IE's photo files are several inches deep with photos of B.B., giving us the chance to remember him as he was: a pioneer of the blues. Today, we take a look back at his last appearance in Chicago (in 2012 at House Of Blues), photographed by Ed Spinelli, and Steve Forstneger's live B.B. King review from his 2006 tour also at House Of Blues…
B.B. King
House Of Blues, Chicago
Thursday, February 16, 2006
In what just might be his farewell tour,
B.B. King
exuded nothing but class on Thursday at House Of Blues, never bowing to the indignities of self-congratulation or hinting the blues are anything but alive.
Seated and groaning about diabetes and a body that won't let him do what it used to, King nonetheless guided his band through a 90-minute set spanning the peak 40 or so years of his career, rarely with novelty or nostalgia. Though a number of his interludes were lengthy and grandfatherly — he claimed to need the time to regain strength to play guitar and howl — his set (including "The Thrill Is Gone," "Love Comes To Town," and "Ain't That Just Like A Woman") was as polished as he's ever sounded, and his guitar fills every bit as vicious as they were when he was emerging from Howlin' Wolf and Muddy Waters' tutelage.
He ventured into new, if slightly odd territory in a surreal "You Are My Sunshine," confusing the faithful, though his crack band and guitarist Charlie Dennison kept it from falling over the edge. "Key To The Highway" was a charming traveler's anthem following "How Blue Can You Get"'s brokenhearted call ("I been down-hearted, baby"), but the centerpiece came early with Cecil Grant's "I'm A Good Man But A Poor Man." The occasion underlined its sublime lyrics ("I traveled from town to town/Seems like everybody wanna throw me down . . . but I'm a good man"), making even some of his sturdier classics ("All Over Again," "Rock Me Baby") seem temporarily irrelevant.
King ended the show just as he began: showered with applause, proudly waving back. The difference was he wouldn't be sitting back down again and launching into Ivory Joe Hunter's "I Need You So." He won't be doing that much more at all.
— Steve Forstneger (From February, 2006)
Category: Featured, IE Photo Gallery