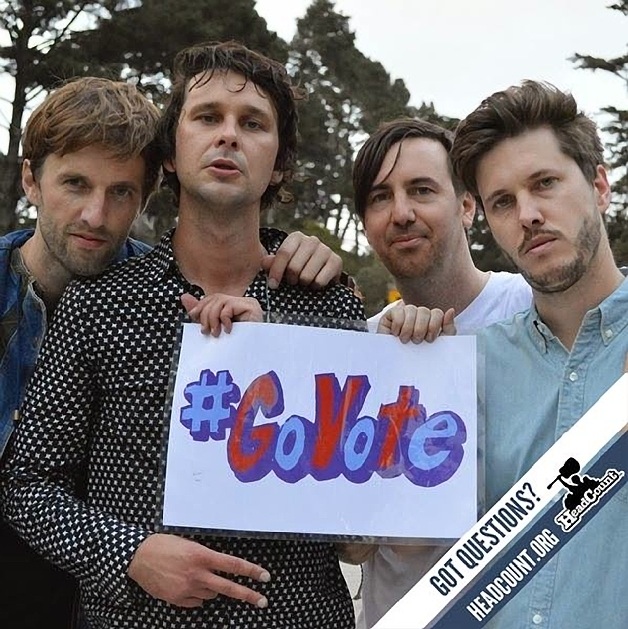 Cut Copy
Mid-term elections are arguably a yawner for voters who only vote during Presidential elections. This year, however, is different with so many close Senate races in play, and a hotly contested Illinois Governor race hanging in the balance…
On Election Day (today), more than 300 entertainers and musicians have partnered with HeadCount.org in a massive get-out-the-vote push, posting photos of themselves to social media urging their fans to "#GoVote." The campaign specifically aims to combat the trend of "drop-off" voters, where half of young voters only cast ballots in Presidential races and then skip the Midterm Elections.
The 303 entertainers involved average over one million social media followers each across Facebook, Twitter and Instagram, totalling more than 350 million. The number of participants and their popularity makes #GoVote one of the largest Election Day social media efforts ever.
"The incumbent Congress is the least popular in history, so we can't leave it to the candidates alone to inspire people," said Marc Brownstein, HeadCount's co-founder and bass player in The Disco Biscuits. "We're trying to get the message across that being dissatisfied is a bad reason not to vote – it's the exact reason why participation is so important."
In Cook County – you may register to vote on November 4th (today) Info is HERE
Whatever you do, please don't stay home – make your voice count – it does make a difference!
HeadCount.org is a non-partisan organization that uses the power of music to register voters and promote participation in democracy.  For more information, please check out HeadCount.org.