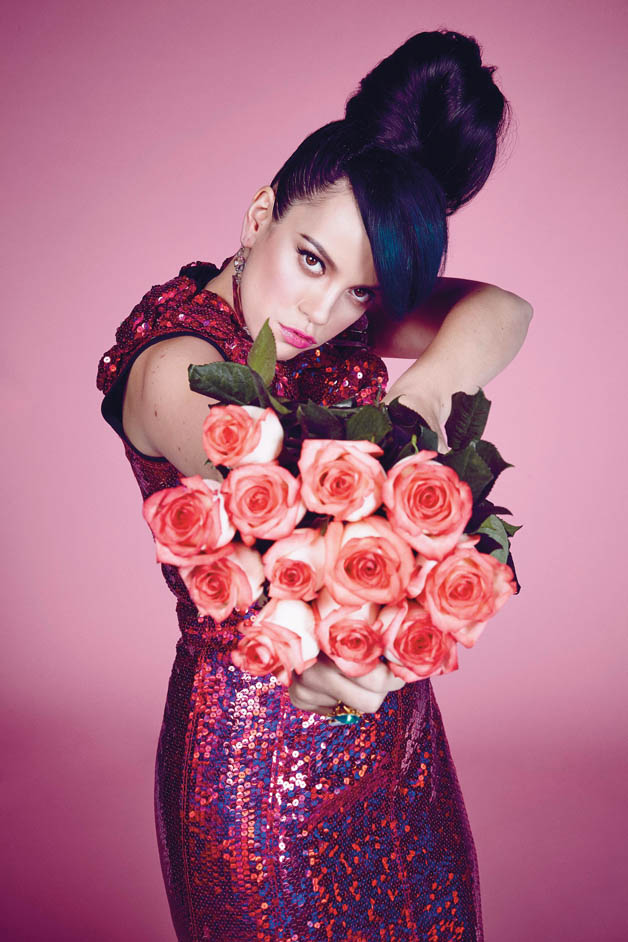 Judging by Lily Allen's quick-witted, riposte-riddled new comeback album Sheezus – her first record in five years, and a feminine twist on Kanye West's self-important Yeezus set from 2013 – the British diva simply does not suffer fools gladly. In song after song, she takes often unflattering lyrical jabs at Rita Ora ("Insincerely Yours"), Kurt Cobain ("Air Balloon"), and – in the title track alone – Lorde, Rihanna, and Katy Perry. "URL Badman" – which opens with the sound of typing, then a mother calling to her adult son 'Alexander! Your dinner's on the table!', skewers every social-media-obsessed loser who takes online celebrity potshots with "I work at home in my parent's basement/ I don't troll, I make statements/ I'm not a cliché sitting in my PJs." And "Hard Out Here" "I suppose I should tell you what this bitch is thinking/ You'll find me in the studio and not in the kitchen/ I won't be bragging 'bout my cars or talking 'bout my chains/ Don't need to shake my ass for you 'cause I've got a brain."
Get it? Good. You're in the club. And privy to the hilarious, often stream-of-consciousness musings of one of popdom's most clever social commentators. Don't quite get Allen's droll wit or venomous barbs?
She doesn't say it in so many words, but she makes it clear enough for even the stupidest detractor to pick up what she's putting down – you can fuck off, then. And be quick about it. When she was criticized in the press for her "Hard Out Here" video – which featured scantily-clad black backup dancers, and moved some to dub it racist – she issued a six-point online rundown of her artistic motivations and why the naysayers were wrong. It was intended to mock rock-video objectification of women, in sexist clips like Robin Thicke's "Blurred Lines," for instance. And she closed with a defiant "Whilst I don't want to offend anyone, I do strive to provoke thought and conversation." In other words, f-ck off. Seriously.
Mention this to Allen, that it just might be possible that knuckleheads don't fathom her, or that she might be too smart for much of her intended audience, and she pauses, then proffers a drawn-out "Wellll…" before demurely adding "I wouldn't like to say that, but maybe you're right. And fools? I'll suffer anybody, really. But I guess I'll have something to say about it. But it is just an opinion, you know. I'm not telling anyone what they should or shouldn't do. Or think. Each to their own, you know?"
But still. Allen can't seem to sidestep controversy. Much of it brought on by her rapier-sharp sense of humor. A few months back, she was strolling through Australia's Gold Coast Airport in Queensland, escorted by the local constabulary. Just for yuks, she thought it would be fun if the officers handcuffed her, arms behind her back, and she dropped to her knees in mock-arrest pose for a fake photo on her Twitter feed.
The zany shot went viral, and wound up getting the cops in trouble for what was viewed as a breach of protocol. "And what's funny about that is how it's my fault," sighs Allen, 29. "You would think that – if anyone knew what the law was – it would be the policemen's. And later, I was accosted at an airport by an Australian news crew, and they were asking me 'What do you think about the internal investigation into your Twitter picture?' And I said 'What do you mean? Someone just called them up, and they said they'd look into it? That's not really an 'investigation'.' But I haven't heard anything from the police, so I'm assuming that it's all made up anyway."
Allen was phoning from the roof of a London hotel, where she was in the middle of one of her daily rituals – reading the London Times from cover to cover, to keep up with all the latest political news. "It's all very Putin-esque today," she says of the issue's stories. "It's all about Putin, and I don't know what's going on – the world is a crazy place right now. But – having been a subject of tabloid culture myself – I know the way that things are reported. And I know that pretty much 90% of the way that things are presented is misconstrued or agenda-ridden. So why would I bother reading that, you know? It's stupid. So I'm reading the London Times instead, of course."
To fully appreciate Allen's likably misanthropic stance, you have to revisit her childhood, and remember that she was raised by showbiz-savvy folks — comedian Keith Allen (of the spurious rock outfit Fat Les) and film producer Alison Owen (of "Sylvia," "Elizabeth" renown). She began acting at age three, then jumped headlong into music in grade school and high school, all while routinely getting expelled for bad behavior. "I was very attention-seeking, and I'd get into fights and drink and smoke and sleep with the guys," she recalled in a 2006 interview for her pop/reggae Capitol debut disc Alright, Still; its dub-echoed single "Smile" had hit #1 on the UK charts, and broken her into the mainstream (courtesy of her clever studio cohorts at the time, Future Cut).
Back then, Allen aired her outspoken views on her MySpace blog, talking smack about Carl Barat, Bob Geldof, Kylie Minogue, and Razorlight's Johnny Borrell. It was more innocent then. "I don't really say anything intentionally trying to hurt anybody's feelings," she swore back then. "But at the same time, I have opinions on people, and I don't really know how to hold back. I never went into this to be a celebrity – I went into it to make music and maybe earn some money. But I've been turned into a column-inch filler back in my home country, and that's not something I really enjoy."
Soon, the singer had her own BBC TV show, "Lily Allen and Friends," But overnight stardom began to take its toll. Long before her delayed sophomore album It's Not Me, It's You hit shelves in 2009, she was photographed drunk and topless at the Cannes Film Festival, and besotted again at the 2008 Glamour Awards, where she sported a dress sewn with headless Bambi figurines and then got into an oath-fueled onstage argument with Elton John. A year later, she would announce that she was through with the music industry – she would not be renewing her recording contract, and she had no plans to issue another album. Instead, she formed her own imprint, In The Name Of (ITNO) with backing from Sony, and began signing and shepherding inventive new artists like the fuzz-rock duo Cults. She even started composing songs for a musical version of "Bridget Jones's Diary." And she changed her stage name for roughly a year to Lily Rose Cooper, under which she appeared on a Pink track, "True Love."
By 2012, Cooper was Allen again, and tweeting about a tentative return to the studio – with longtime collaborator Greg Kurstin – for Album # 3. Along the way, she also got married to a builder and decorator named Sam Cooper, with whom she has had two daughters, Ethel Mary, nearly 3, and Marnie Rose, 1.
Before Sheezus was completed, she cut a cover of Keane's hit "Somewhere Only We Know" for the John Lewis department store's Christmas 2013 commercial. It rocketed the MIA artist right back to the #1 position on the English charts, followed by "Hard Out Here," which climbed to #9. Out of nowhere, Allen was back, with two songs in the Top 10, simultaneously. Sheezus – with a sly cover shot depicting the singer with a pack of corgis, in a sly wink to the Queen of England – finally streeted this May. And she's already building the foundation of its followup.
Today, she admits that she prefers some of the starker, more sonically-adventurous cuts from the Sheezus deluxe-edition bonus disc, like "Who Do You Love?," "Miserable Without Your Love," and the ultimate f-ck-off to snooping gossip hounds, "Wind Your Neck In" (naturally, the Keane track is included). Word even circulated that Allen was displeased with Sheezus, proper, in retrospect. "But that's not true," she clarifies. "I would never have delivered an album if I didn't stand by it, and I do stand by it. But it's kind of a weird record for me, because I was all over the place, hormonally. I was pregnant, and then pregnant again with another baby, and then not pregnant, and my hormones were going crazy. So it's a little schizophrenic, but I love it for those reasons.
"The problems I've had with the album was the release schedule, and their choice of singles," she continues. "With different record companies in different countries releasing different singles at different times. It was a little confused, and that's not usually how I like to present myself. But I think that's probably because of the state of the industry right now." What's going on in the music biz, exactly? Allen sighs, pauses, gets ready to unleash holy hell. "No one's got a fucking clue what they're doing," she says of modern execs. "And I got sick of having conversations with people who were pretending that they do. So it's like 'You know what? Here's the music. Do what you want with it. I'm going to go back into the studio.' And until I'm out of a deal, that's my only choice. So all I can do is keep writing songs, keep handing them over, and just hope for the best. But to be honest, commercial success isn't really what interests me anymore. As long as people buy tickets to my concerts and enjoy themselves, then that's all that counts."
Allen's stage persona is more sobering now. At least a tad. She appeared in New York concert recently, dressed in a baggy jumper embroidered with her name, Lily, on the front, draped over a skirt inlaid with baby bottles, not decapitated forest fauna. Her daughters, she purrs, "are my guides, really – everything I do is for them. And not just in a financial way. I think it's really important to set an example to your kids that you have to work hard in this life. And not just because it puts a roof over your head and food on your table, but because you need it for your own moral fiber. If you're handed something on a plate or you're entitled in this world, you just end up being a very unhappy person. And believe me, I know a lot of them. So both myself and my husband are totally dedicated – not only to each other – but to our work and our children. And I hope that we can carry on that tradition."
The mom hopes she'll set a good example for young female fans, as well. Especially in an era when role models are few and far between, varying from R&B performers like Rihanna jiggling her up-close derriere in videos to shallow "X-Factor"/"American Idol" parrots who chirp other composer's songs with an exaggerated sense of entitlement. Allen wants to say something, but she catches herself. "I, uhh, can't really comment on any of that stuff," she says quietly, taking the trash-free high road. "It has nothing to do with me. Rihanna shakes her ass in front of a camera because she's got a great ass, and that's what she wants to do. And I don't think it's somebody pulling her strings and telling her to do that, you know? I know when I'm on photo shoots, I'll pull a sexy pose if it's on my own terms. But as soon as a male photographer goes 'Put your hand on your breast!' or 'Pull your frock up!' I'm like, 'F-ck off! Go away!' But I have to say, I do not like entitlement."
So the once-scrappy songbird is singing a newer, albeit softer song. She laughs about occasionally being called out for her wild outfits in US Magazine's eternally-prowling Fashion Police section. And she has a zenlike new way of seeing her career that's brought her plenty of inner peace. "People would have you believe that you have to play the game a little in order to succeed," she summarizes. "But what's succeeding? If I sell millions of records, it's not really my success – it's the record company's success. So I really don't care for that stuff. I don't want to be in the tabloids every day, and if I can avoid it, I will,
"But it's a byproduct of what I do. But I guess I'm at a stage now where I'm re-evaluating how I will approach that kind of stuff in the future. But ultimately, I don't care about it. I really don't care about having a presence in tabloid culture. I want my music to be what people talk about…."
-Tom Lanham
Appearing Sept 30 at Riviera Theatre, Chicago