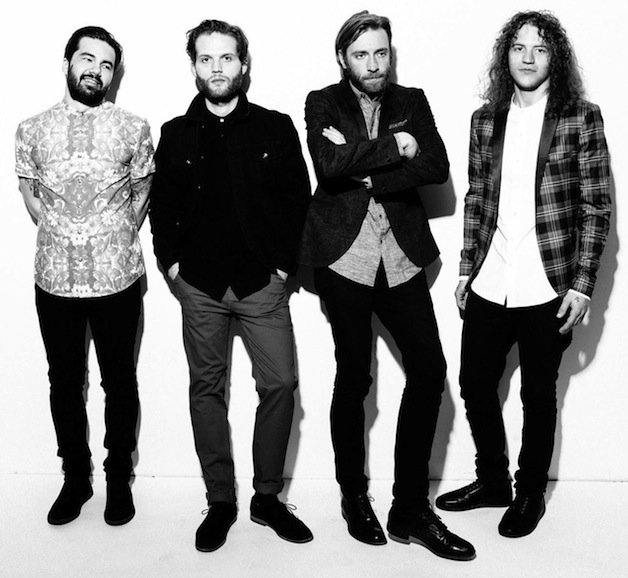 It's understandable that Sean Van Vleet from Empires would have expected that his band's performance on The Late Show With David Letterman wouldn't end up happening. After all, the group is used to aiming high, and then having the rug pulled out from under them.
In 2011, Empires were finalists in Rolling Stone Choose The Cover contest, where artists competed for fan votes to become the magazine's first unsigned cover act. Though they made it to the final four with a strong hometown showing of support, the coveted cover spot would ultimately go to The Sheepdogs. The following summer, Empires landed on the bill for Lollapalooza 2012, only to have their set cancelled due to rain. And though their slot was ultimately rescheduled during the festival, the story ofEmpires so far seems to be one of coming close and almost making it.
"We got offered to play it, and then a week later, he announced his retirement," the frontman recalls about the group's appearance on Letterman. "And, just the way things have gone with us, I'm like, 'Oh, well, I bet that we get booted.' But no. They stuck to it and we played, and it was rad."
It's an accomplishment that it's indicative of where Empires is right now as a band. Early on in 2014, the group posted an update at their official site that informed, in part, "Early on in the year we struck a rich vein of creativity that poured out the "stuff" that would ultimately forge together into a new record we're calling Orphan." Just released, Orphan is a culmination of all of Empires' experiences to date, with the band sounding more effortlessly self-assured than they ever have before. It's also a hell of a record.
On "Lifers," Van Vleet's distinct warble is front and center, distorted over a midtempo slow burner, while "Glow" finds Empires at once both hypnotic and harmonious. The record's title track, meanwhile, is a crooning love song lit up by warm tones, while the driving, building "Hostage" finds the singer admitting "There's a heaven in the chemicals, an angel in the alcohols, burned alive." And "How Good Does It Feel" is the group at their polished garage rock catchiest. An irresistible summer anthem that just exudes sonic victory.
Even before the album dropped, it was evident that the material was catching on with listeners. When I arrived at the The Hideout Block Party to interview Van Vleet in September, I found myself patiently waiting behind a steady stream of fans both new and old who had approached the frontman to chat, take pictures, and gush about the group's energy onstage just moments prior.
The positive reception surrounding Empires' new material isn't lost on Van Vleet, who notes that the group is in a particularly strong place right now. "As a band, we get along better than we ever have before," he informs me when we moved the conversation backstage. "Maybe it's just because we're older, we know how we work. And, creatively, I was actually looking at this today, we're twenty demos into what's next. So, it's an inspiring time, and I think it'd be a mistake, to sort of not be working right now, off the fuel of the inspiration of where we've been and what's going on."
For every milestone that almost happened or got delayed or repurposed, for all their time invested and performances logged, it feels like Empires' moment has finally arrived. With the best album of their career out and a cool new sense of confidence in the group, it seems safe to say the band's best days might just be ahead of them. Which is where Van Vleet is looking.
"The only thing I want to happen is to be doing this in twenty years from now," the singer explains. "That's what I want. If things go really fast in one direction, a lot of times that kind of lays the groundwork for a burnout, or lays the foundation for a crumble. I think that things feel that they're at a really good pace at the moment, and…I think more people are going to start coming to shows. I think people have been. And I've seen it. And I think, if it's ten more people on this record, that's awesome." I tell him I think it'll be a few more than ten people. "I'm being a little facetious, but, y'know," the singer adds, humbly.
Indeed, Van Vleet seems humble and gracious throughout our discussion, and it's clear its not the false modesty put on in interviews by so many artists driven by ego. After all the work put in over the years, all the miles logged and hours in the studio, the group is starting to get the recognition they deserve, with a stronger direction than ever.
"We're sort of surprised, because our whole career, starting in 2007, we've been shrugging, wondering where we're going," Van Vleet recalls. "And I'm not saying that we weren't, when we were doing demos for (Orphan). But it just felt like, instead of wondering where we're going, we kind of know where we're going. We used to think, I think, on earlier records, the question would come up in my brain, 'What are other people gonna think?' That has…I won't say stopped, because I'd be lying to you. But, I think it's significantly diminished. And it's more about just getting into the guts of the songs that we're doing, and…yeah, I don't know, man.  Everything just feels good."
Appearing 10/24 at House Cafe, DeKalb; 12/27 at Lincoln Hall Chicago
– Jaime "Black" de'Medici