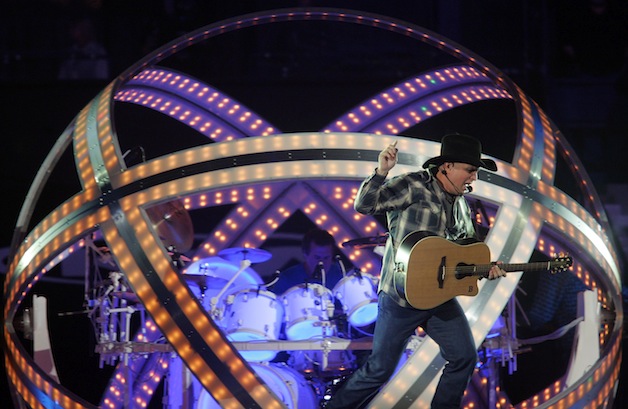 Allstate Arena, Rosemont
Friday, September 5, 2014
 
For all the time spent away from the road, Garth Brooks sure is making up for his semi-retirement years with a groundswell of activity culminating in Chicagoland. Tipping off with a press conference last Thursday, the country turned crossover superstar announced 11 sold out shows at the Allstate Arena, not one but two new albums (slated for fall 2014 and fall 2015), along with the extremely belated launch of his music in the digital format (both on www.garthbrooks.com and in partnership with GhostTunes, a new online music store that may eventually give iTunes a run for its download dough).
With lots to look forward to, fans flocked from literally all over the globe during the first of two shows Friday night, with one guy shouting he road tripped from Des Moines, plus a pretty hearty contingent from Ireland (the original site of this world tour's launch prior to being canceled after clashes with the Dublin City Council). Indeed, it was a cross-cultural melting pot spanning multiple generations, though no matter attendees' ages, it was essentially a word for word sing-a-long through two breathless hours.
Though the brand new song "Man Against Machine" has yet to be released, it connected instantly with a muscle-bound beat and riveting production that laid the ground work for the honky-tonk wallop of "Rodeo." From there, it was an ongoing intersection between the ballads and the arena rockers, with "The River" and "Unanswered Prayers" serving as the sentimental bookends to monster band jams like "Ain't Goin' Down ('Til the Sun Comes Up)" and "The Thunder Rolls."
After debuting the cheerful "People Loving People" (this century's sequel to "We Shall Be Free"), the 52-year-old Brooks tossed on a guitar to accompany his wife and fellow country veteran Trisha Yearwood, 49, nail a handful of her hits wrapped around a firecracker persona. "How Do I Live" boasted a bountiful range and "She's In Love With The Boy" gave some unsuspecting couples in the crowd the chance to have their kiss broadcast on the jumbotron, though her true ace in the hole was a surprise appearance by duet partner Kelly Clarkson for their current empowerment anthem "PrizeFighter."
The script-less night continued with spontaneity as Yearwood invited Clarkson to stay for some poignant vocal volleying through "Walkway Joe," after which the top-selling solo artist of the 20th century wondered if he'd be able to top it. Chances are any artist below Garth's caliber would've been fighting an uphill battle, but a fast and furious rendition of "Callin' Baton Rouge," followed by a deeply soulful "Shameless" made it feel like 1990s all over again (aside from a little extra huffing and puffing). Come "Friends In Low Places," Brooks got a chance to catch his breath when the audience shouted louder than his microphone's volume, while the bittersweet ballad "The Dance" capped off the main portion of the show in all its spine-chilling grandeur.
Had there not been a late show scheduled, the 134 million album mover could've easily gone all night, but after taking a solo acoustic request of the rarity "Ireland" and a snippet of Percy Sledge's "When A Man Loves A Woman," the whole band returned to fittingly close with its leader's very first breakthrough "Much Too Young (To Feel This Damn Old)." Sure, Garth may have aged since he last played this particular building (then the Rosemont Horizon), but even this far into the new millennium, the man who shattered more records than can even be mentioned is just as joyful and electrifying to see on stage as ever before.
Garth Brooks with Trisha Yearwood continue their Allstate Arena residency with various dates and times through Sunday, September 14. For additional details, visit www.ticketmaster.com.
-Andy Argyrakis
Category: Featured, IE Photo Gallery, Stage Buzz, Weekly