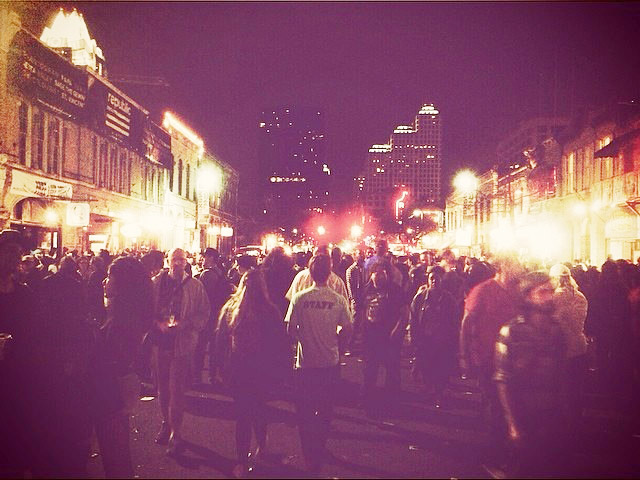 Hillary Bauer and Jaime "Black" de'Medici covered the legendary SXSW Conference for IE in conjunction with Dynasty Podcasts and the City Of Chicago's Choose Chicago office. IE will present these podcasts in 2 parts over the next two weeks as we distribute our April 2014 print and digital issues.
Across all nine days of SXSW, the Dynasty Podcasts team of Jaime "Black" de'Medici and Hillary "Leyla Royale" Bauer were on the ground in Austin, recording interviews with Chicago's finest at the trade show booth, the Chicago Made showcase, and more. What follows are  interviews recorded live at SXSW, with Chicago's up-and-coming artists, behind the scenes industry, and more. Those interviews were produced in conjunction with Illinois Entertainer and Choose Chicago, and can be streamed or downloaded below.
SXSW 2014 Interactive x Music Journal
Powering through nine days of sensory overload that is South By Southwest Conference earlier this month, there were a number of highlights across the multi-faceted conference and festival. By far, the most engaging element of the event was SXSW Interactive, which ran from March 7th through 11th in the Austin Convention Center and nearby hotels.
A result of SX Interactive's rise in profile and popularity, many panels during proved difficult to attend, due to long lines for many of the more in demand discussions. Sessions seemed to be either nearly empty or completely full, with little in between. Popular recurring themes included new strategies in social media, interactive marketing, the future of health and healthcare technology, and how to create a successful startup. Inevitably, social media and marketing panels were filled to the brim. Less crowded and oftentimes more focused were Future 15s, which cut right to the chase in succinct 15 minute presentations. Topics ranged from venture capitalism to how new technology is transforming orchestras.
Particularly noteworthy was a session with Neil deGrasse Tyson. The Cosmos host spoke not just on science & astronomy, but on the importance of fostering curiosity and discovery in ourselves and in our children, in order to better understand the universe around us. Tyson dominated much of the conversation, leaving moderator Christie Nicholson little room to participate before venturing onto another topic. Similarly illuminating was Alexis Ohanian's session, "How to be Awesome Without Their Permission." The Reddit co-founder spoke about his journey and his 2013 book named after the session, with cat memes and Miley Cyrus audio sprinkled into the chat. Yet beyond the fluff was a solid message: don't give up, and if one attempt doesn't work, try something else. It was a message attendees could connect with, given the dizzying rate of change in today's business, marketing, and media realms.
On the SXSW trade show floor, the Chicago Made booth showcased Chicago's creative class, from meet and greets with Brian Shopfel of Uprising Creative and Howard Tullman of 1871, to acoustic performances by Archie Powell of Archie Powell And The Exports and White Mystery. An official Chicago industry networking event was also held on the night of Tuesday, March 11th, featuring an impressive cross section of Chicago media, digital talent, and even special guest Mayor Rahm Emanuel. The industry meetup proceeded the Chicago Made showcase, a night of music featuring an array of the city's finest artists, from rising talent like Probcause and Bonzie, to a (suddenly shortened) headlining set from Chicago superstar Chance The Rapper. Despite the fire marshal interrupting Chance's set due to capacity issues, the majority of the evening went off without a hitch, allowing eager hometown talent to represent in front of the Austin attendees. From a ferociously fun set by Archie Powell and the Exports, drawing from their forthcoming album Back In Black, to a raucous set by the Hood Internet, with live vocals from local MCs Show You Suck and Psalm One aka Hologram Kizzie, the evening showcased the strength and diversity of Chicago's artist community Even a sudden shutdown from the fire fire marshal couldn't undo that.
The music portion of the conference saw a turnover from the likes of 3D printing demos on the downtown streets to a more frenetic and frenzied energy. Lines to enter most any showcase stretched down one or more blocks most nights, and proved to be a common sight at this year's SX. As such, early arrival or endless waiting at most events were trademarks of this year's festival. Deftones frontman Chino Moreno brought his Crosses (†††) project down for a short but sweet set at Mohawk, while synth-laden Norwegian outfit Highasakite  captivated the audience's attention from the first song and never let up. Elsewhere, Chicago natives Valaska played a melancholy set at an unofficial show at Handlebar, delivering a ferocity and intensity that elevated their set.
It's hard to deny that the shape and scope of SXSW is in flux right now, as more companies discover the Interactive conference and more spring breakers flock to the Music festival. Yet there's still a wealth of ideas, content, experiences, and artists to discover – especially over the full course of the annual event's nine days. For those willing to look, there was just as much to discover at SXSW 2014 as ever before.
– Hillary Bauer with Jaime "Black" de'Medici
Archie Powell & The Exports
Archie Powell of Archie Powell & the Exports opens up about the group's upcoming album Back in Black. The frontman shares his thoughts behind the unhinged new songs, as well as SXSW's value as an environment to connect with friends old and new.
"Meeting as many new friends as possible is always kinda my jam at SXSW," Powell confirms. "I'd say my first priority at SX, honestly, above playing my music well to people, and marketing myself, is meeting new friends. That's what I care about the most."
Probcause
Chicago MC Probcause talks about his performance at the Chicago Made SXSW Showcase and how it feels like coming home after being on tour. The rapper also delves into his origins as Probcause and his work as a visual artist, as well as the role Chicago plays in his music being discovered.
"I believe in what I do, and I think that that's allowed me to continue doing it, because I truly believe that I'm doing something that people are gonna be interested in, and that's important for the city of Chicago.
The Uprising Creative
Brian Schopfel, now of The Uprising Creative discusses that company's recent merger with Chicago's Eyes & Ears agency. He talks about what has and hasn't changed with the merger, and the accessibility that comes from having offices in LA, London, and Chicago. Schopfel also reveals the history of the merger, as well as the future of their upcoming projects.
"It allows us to really expand into full identity branding, video, content creation, (and) bigger designing elements of all our campaigns," Schopfel reveals of the merger's advantages.

Bonzie
Singer-songwriter Nina Ferraro of Bonzie discusses her beginnings an artist, dating back to performing at the Taste of Chicago at age 12. The teenage artist also reveals what keeps her in Chicago, the reception around her album Rift Into The Secret of Things, and how she got involved with the Chicago Made showcase at SXSW.
"The first place I played, I told my mom that I wanted to do it, and she was like, 'I'll drive you, but I'm not gonna do it for you. I'll drop you off, but I'm not gonna walk in and get you the gig.'" Ferraro recalls of her youthful DIY beginnings in the music industry.
Part II posts here Monday, March 31st