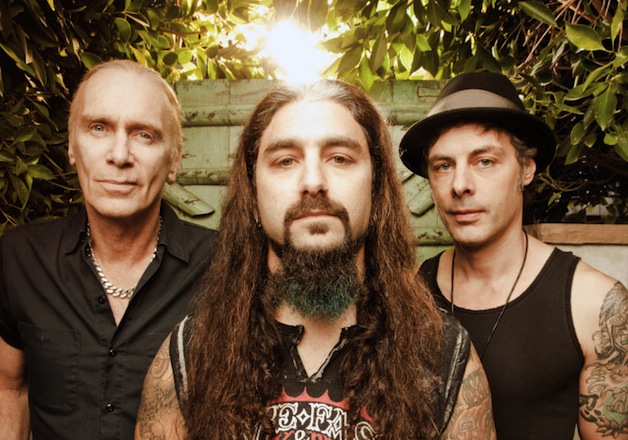 The Winery Dogs is a relatively new power trio consisting of Mike Portnoy (Dream Theatre) on drums, Billy Sheehan (Talas, Mr. Big, Steve Vai) on bass, and Richie Kotzen (Mr. Big, Poison) on guitar and vocals. As with many all-star projects, the supergroup translation does not always work. You have the talent, but fail to come up with the good material. In the case of The Winery Dogs, it's exceptional throughout.  IE's Mark Kadzielawa talks to guitarist/vocalist, Richie Kotzen, about the origins of The Winery Dogs, and their spectacular debut album.
IE: How did you get together with Mike Portnoy and Billy Sheehan to form The Winery Dogs?
Richie Kotzen: Billy and Mike wanted to play together and do something in the trio format. It was Eddie Trunk, the DJ, who approached me to find out if I was interested. The timing was just perfect because I just finished a long cycle for my last record, "24 Hours," which I was touring a lot. I was about to start a new record. The three of us got together in my house, and the first day, we went into my studio, and started playing, and came up with a bunch of ideas, and from there we developed those ideas into songs. And once we had seven or eight of those, we started cutting the record.
IE: Was the chemistry instantaneous?
RK: It was just that first day. I think on that day we recorded three or four ideas, and basically it was the guitar riffs and chord changes, and I went back and finished those off. The first one I remember singing on was "Six Feet Deeper," and "Criminal." These were the first two I sent back. And then we got together again, and continued to work in the same manner. Then I had a bunch of songs that I had previously written, that I brought into the band, and some of them we left alone, and a couple of them we've re-worked, and that's basically it. Once we had it down we decided to start recording, we booked time at my place, and did drums over the course of two weeks. These guys went on tour with another project they have called PSMS. While they were on the road, I basically did all my vocals and guitars, and then Billy came back and did his bass. There was another break, and we got together one last time to do percussion. I had already done a lot of the background vocals, but we still went in and added Billy's voice and Mike's voice to the mix. And that was it, the record was done.
IE: Your album was written and recorded rather quickly, but the quality is superb.
RK: Thanks, I guess when you talk about it, it seems quick, but the reality is, it all happened over the course of a year. Initially, when we got together, it was around a NAMM show, and then I remember the year ended, and suddenly there was another NAMM show, and the record was already recorded. So, it took a year to put this together, but in little blocks.
IE: Your vocals really stand out on the album, yet you're known more as a guitar player. When did you begin to sing?
RK: Well, the first time I ever sang on a record was in 1990 on my second solo record. It was called "Fever Dream," and I realized quickly that it was what I wanted to do. A lot of people who are familiar with me know that my first record was an instrumental record, and that was a nice opportunity to me, but it really wasn't what I wanted to do ultimately on a creative level. As a kid, I always was in bands with singers, and that's what I wanted to do. In the process, I remember when I was writing for that second record, I was sending demos to the label with various singers. And it was actually the record company that suggested that I sing myself. And so, at that point we moved forward. Over the years you obviously grow as a person, and so my writing style grew, and at this point, I don't really put a divide on what I do. I don't consider the guitar separate from the vocals, it's all in one. It's who I am. The first objective for me is writing, and coming up with the material, and the whole creative process. That's the focus, and the vehicle to get that across to people is singing and playing.
IE: Your delivery is very soulful. Who influenced you to sing this way?
RK: I basically listened to the singers that I liked. Paul Rodgers was the guy that I really loved, and the early Rod Stewart stuff. Even R & B singers, I remember Terence Trent D'Arby was my favorite singer for a long time, and I also loved Stevie Wonder. Those were the initial guys that I listened to, and then I kind of went back and listened to Sam & Dave, and Sam Moore, more soul style singers. I love that style of music. These are pretty much the roots for me vocally.
IE: The song, "Regret," is a great example of how diverse The Winery Dogs can be. In a way it's like a key as to where this band can go musically.
RK: I think "Regret" is an interesting track, especially for The Winery Dogs. The perception of what people would expect based on our pasts, and our names, may not be a song like "Regret." I write a lot of songs like that. I mean, my song, "Remember," for example, or a song called "My Angel." I have several of those types of songs because that's the influence I have coming out of the rhythm and blues thing. When we were making a record, I had that song, and I asked the guys in an e-mail if they would be interested in doing a song where I play piano and sing. I played them the song, they liked it, we cut it, and I was very pleased with the way it came out. They approached it exactly the way I would've approached it if I had done it alone. It's also a nice song live. It shows a different side of what we can do.
IE: Considering how accomplished the three of you are in your individual fields, I was afraid the music would suffocate by over the top instrumentation, but it's not the case. You truly focused on the songwriting, and delivered a stunning album.
RK: Well, I think we have enough experience and maturity as musicians to know when to lay back and when not to lay back. I think it's almost common sense. I mean, there are a lot of guys who are very good players, and they can play a lot of things. But it really comes down to what they play, and what they don't play, and when they play it. And I think that's what makes a great musician more so than the actual raw ability of what someone is able to play. That's not necessarily going to add up to something musical that someone would want to listen to. When you play an instrument as long as we have, and you were in enough musical situations that's something that you learn over time. And some people catch on faster than others. But ultimately, that's what it's about; we learn these instruments to play music, not to do something else.
IE: On the contrary, a lot of these songs present themselves as great jam pieces in a live situation.
RK: And we do that live. A lot of the songs have the built in sections where we can stretch them out, and night after night the solos are always different in those jam sessions. I personally don't plan on what I'm gonna play, and just kind of rely on the inspiration of the moment. And sometimes it works, and sometimes it doesn't, but when it does work, you reach a higher level of creativity than you would had you just gone up and played the same thing every night. That's the aspect of music that I really enjoy as it relates to live. It's having that flexibility to be able to go somewhere different musically from show to show.
IE: Power trios were very much a '60s/'70s thing. How did you go about bringing that idea into the 21st Century?
RK: Well, as far as it relates to playing rock, I love that era. I love the late '60s/early '70s. I think that's the best era of rock music. The bands like The Who and The Rolling Stones, and Jimi Hendrix, all the bands really. That's the real, initial wave of rock that just changed everything, and I think that's a big part of my influence. Billy and Mike were influenced by that as well. We didn't discuss any of that, we didn't discuss the direction. It just kind of happened naturally. I think if it was anything other than that. If we went in and planned what kind of record we were gonna make, it wouldn't be as honest as it is. That's another thing about the record that I like, it really just is natural. That's what we sounded like when we played together, and when we recorded, and those were the songs we wrote, and so far we've gotten a great response.
IE: What kind of fans is the band attracting?
RK: Well, obviously we've got our base. Mike Portnoy has a huge fan base from his past activities, so does Billy Sheehan. And I have my fan base as well. All those people are sort of coming together, and our individual fans are still able to enjoy what it was that attracted them to us as individuals. But now, it's in the different context, the recent airplay we've been getting on our single, "Elevate," allows us to reach out to other people that are just general fans of rock. Obviously there is not a lot of records being made the way we made our record, in a sense that three guys get together in the studio, and actually play. A lot of these records these days are great, but they're really made from the producer's standpoint, where you're using technology. We didn't do any of that. That's certainly nothing new, but when you do something that no one else is doing in the current climate, it tends to stand out and sound unique, and that's kind of what's happening here.
IE: There are other projects the three of you are involved at the same time. Will you find enough will to keep The Winery Dogs going?
RK: I think so, and I think that as long as we are enjoying what we're doing, there's no reason why it shouldn't continue. Obviously the record is new, it just came out, and we're in the middle of our tour cycle, and that's been going very well. It's like any other record that comes out. As long as we get the opportunity to play, and we're enjoying what we're doing. I've been a solo artist since I was 18 years old, so obviously I'm gonna make another solo record. Billy has his fusion band, Niacin, and there's no reason why he shouldn't make more records with that. We'll continue to do what we've always done, but now we have this other thing that is very cool, and very exciting, so there's no reason not to do it.
IE: This is your third appearance in the Chicago area since releasing the album. Would you consider Chicago as one of your more faithful audiences? Are there any surprises in store for the Chicago fans?
RK: We are thrilled to return to Chicago again! Chicago was definitely a highlight for the band on our last run. We are working on a few new surprises for this upcoming show! Hope to see you all again very soon!
The Winery Dogs appear at The Arcada Theater on March 27th. Tickets are available here
Category: Featured, Stage Buzz