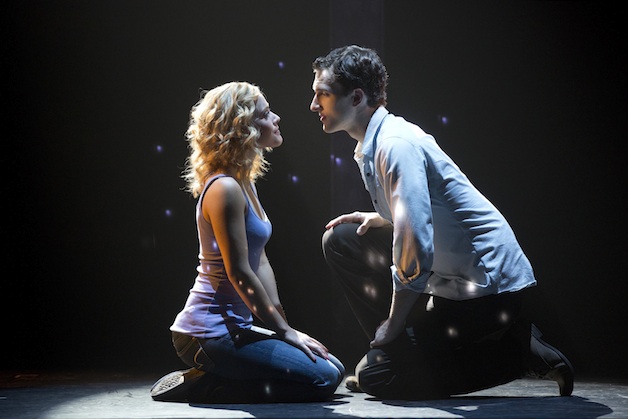 Ghost The Musical
Oriental Theatre, Chicago
When Ghost debuted on the silver screen in 1990 starring Patrick Swayze, Demi Moore and Whoopi Goldberg, it quickly became a touchstone of its generation, and now over two decades down the line, producers are hoping to score similar traction on stage. While the Broadway tour of Ghost The Musical (residing at Chicago's Oriental Theatre through January 19) certainly has some winning elements, there's also a series of faults that might make it an uphill battle at the box office.
In the asset column, the show's soundtrack is ripe with memorable pop tunes, which considering The Righteous Brothers' "Unchained Melody" anchored the movie so many years ago, is absolutely essential. Leading the musical/lyrical charge this round is the multiple Grammy Award winning team of Dave Stewart (Eurythmics, Superheavy) and all-star producer/songwriter Glen Ballard (Alanis Morissette's Jagged Little Pill, Dave Matthews Band's Everyday), whose collaborative chemistry is immediately apparent from the show's opening love song "Here Right Now."
In spite of the music's contagious appeal, the plot they help propel begins as bizarre and ends up pretty ridiculous during Bruce Joel Rubin's modern day screenplay adaptation (which basically pumps the movie full of steroids). It starts believably enough, following the young couple Sam (a banker, played by the commendable Steven Grant Douglas) and Molly (a potter, played by an emotive but vocally limited Katie Postotnik) as they move into their first apartment together, but just a few days later, find their future plans cut short due to unforeseen tragedy.
What seems like a typical mugging over top secret banking information ends up as a murder with a massive behind the scenes set up, taking Sam out of his earthly body and instantly turning him into a supernatural spirit. Of course, a grieving Molly can't hear her recently departed love no matter how loud he screams, which leaves him with no other choice than to tap into the brain of a sketchy psychic named Oda Mae (played by the charismatic Carla R. Stewart) and implore her to give Molly vital information about the murderer.
A mash-up of the power ballads "Suspend My Disbelief" and "I Had A Life" go through Molly's many emotions after being tracked down by the questionable fortune teller, though Postotnik's voice is particularly screechy throughout the highest of high notes on both. Perhaps even more difficult to digest for anyone unable to check reality at the door is Sam's ghostly ability to avenge his murderer and taunt the former bank friend who set him up, even though mere moments earlier he couldn't interact with anybody but Oda Mae.
As the action escalates, so do the visual effects, which come courtesy of Paul Kieve (Hugo,Harry Potter And The Prisoner Of Azkaban). The audience is treated to everything from Sam's ghost walking through a closed door to books falling off shelves, a phone being lifted off its receiver and other production marvels that truly have to be seen to be believed.
Musically, the show hits the ultimate stride when Oda Mae belts out the soulful "I'm Outta Here" (which could have easily been a Eurythmics hit in the vein of "Would I Lie To You?"), followed by Sam and Molly's duet of "Unchained Melody" (where they actually share a tangible slow dance before he's inexplicably beamed back into ghostland). The finale makes the bittersweet story less sorrowful than it could've been (despite the preposterous premise), and while "Ghost The Musical" isn't a total loss thanks to the strong soundtrack and awe-inspiring sights, it didn't exactly move that many attendees to their feet for the opening night's final curtain call.
"Ghost The Musical" continues at the Oriental Theatre through January 19. For additional details and ticket information, HERE
 
– Andy Argyrakis
Category: Featured, Stage Buzz