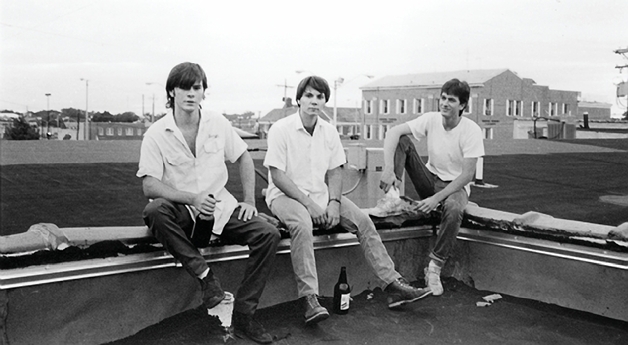 UNCLE TUPELO
No Depression: Legacy Edition
(Legacy)
The first time this album was reissued, it was absolutely necessary because No Depression had been  no available in print for some time. But here we are, almost 25 years since the GREATEST ALT-COUNTRY ALBUM OF ALL TIME was unleashed, and with all this updated context.
Due to the natural progression of things, Uncle Tupelo came to be known as Jeff Tweedy's first band. Alt-country's meaning changed to something far more loosely defined and marketable. (And custom now dictates that we reissue albums about every decade – though that depends largely on David Bowie's whims.)
Having not revisited these songs in several years, immediately striking is how vastly more developed Jay Farrar is than Tweedy in both writing and delivery. The difference set forth personality traits that haunted Tweedy right through the first two Wilco records. A muscular, confident Farrar swaggers invariably with the meaty rockers and somber folk laments, while his counterpart sounds endearingly, yet equally invariably like a kid brother. (Though, of the few tidbits to be gleaned from the demos/outtakes disc are stirrings of Tweedy's ingrained psychedelia.)
Likely, had No Depression come out in 2013, we would still slap it as alt-country and stack it alongside the Slobberbones and Ha Ha Tonkas of the world. But it is almost impossible to imagine that this was the wellspring.
Granted, pre-existing Americana and outlaw country have been folded into the same genre, but were it not for the husky twang in Farrar's pipes you could justifiably assume Uncle Tupelo was from the Pacific Northwest, so grungey are its tones. Despite their fondness for archived, pre-war hillbilly music, more deeply felt is the social-activist folk you'd associate more with Woody Guthrie than The Carter Family. Clearly, that point can be drawn from Wilco's later excursions, but it's also nakedly apparent here. The included cover of "Sin City" – written by country-rock pioneers The Flying Burrito Brothers – is converted unequivocally into a folk song.
No Depression shook the landscape – there's no point denying. But one of the unintended effects of reissues and their glowing, reverential liner notes is that they force us to reevaluate a greatness we are told to assume. But much the way it can be argued that In Utero surpassed Nevermind, Uncle Tupelo would put forth better efforts to say nothing of the band's contemporaries. (And since debuts often bear the fruit of several years' work, such an achievement on a later record is more impressive.) It still deserves acclaim, however, and should be overnighted to all the dreary alt-country bands out there that need a kick in the ass.
Rating: 8 out of 10
– Steve Forstneger