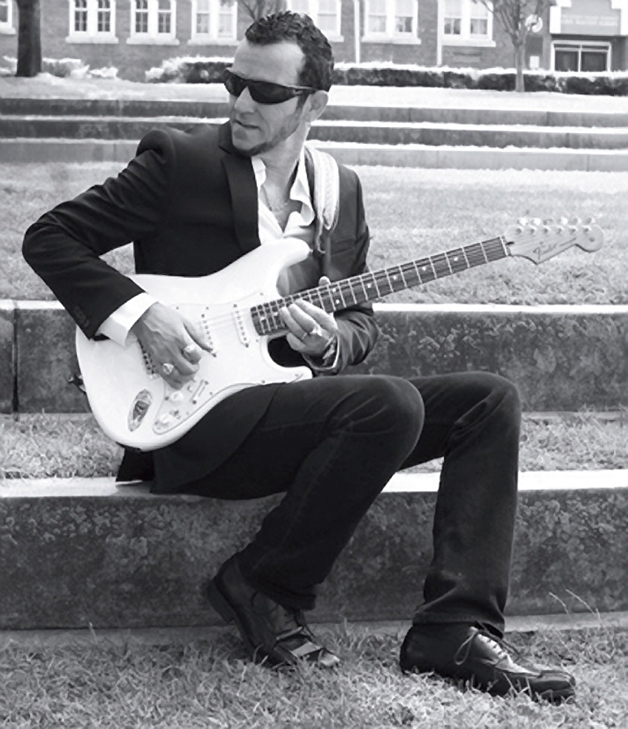 Gary Hoey came onto the guitar scene like a Whirling Dervish.  He was determined and focused on where he wanted to take his career. Almost a quarter of a century later, Hoey is still looking for new avenues to explore.  Most recently he's fulfilled his lifelong ambition to record a blues album; this materialized as Deja Blues. In addition to his regular rock outings, he's enjoyed a successful run touring with annual Christmas show. Needless to say, Gary Hoey is man of many faces, but he always lets his guitar do the talking.
IE:  Your latest album, Deja Blues, ventures into blues territory.  It's a combination of original and cover material.  What inspired you to go in this direction?
GH: Deja Blues is something I wanted to do for a long time.  It's my first full length blues album.  I only did two covers on it, and the rest of the material are my originals.  I was originally thinking about doing an entire album of blues covers, but I felt that was a cop out, I really did.  I started thinking and realized that I must've had a couple of blues tunes in me.  So I wrote a song called 'Almost Over You,' a relationship song, and then 'Boss You Around,' and the title track which is an instrumental.  It's probably my favorite track on the album, even though there are no vocals.  And it just went from there.
IE: When you released your first Christmas album(Ho! Ho! Hoey) back in 1995, did you expect the impact it would have on your career?
GH:  No, I really didn't. I never expected the impact of Ho! Ho! Hoey to be this big.  I made it in my bedroom on an 8-track.  I played all of the instruments, and I played it just for fun, and then it kind of took off.  I really just wanted to take rock 'n' roll and mix it with some Christmas songs.  My Mom told me to make a nice Christmas record, and I told her, 'Mom I can't make a nice Christmas record, it has to rock.'  So I sat down, and the first thing I made was "12 Days Of Christmas." I dropped my tuning down to a D, and I started playing these really evil riffs and then I went into the melody.  It was so funny to me when you mixed the two together.  Then I started adding more riffs, and it turned into what it did.  And I really wouldn't have done another Christmas record, I swear to you, until everybody kept asking me.  The radio stations were requesting it, the fans were coming up to me and asking me when is the next one coming out, and I'm like, 'Next one?'  So here it is, I recorded over 40 Christmas songs, and it's become a yearly thing for almost 20 years now, if you can believe it.  In 2015, it will be 20 years.
IE: How long before the idea of doing a Christmas tour come about?
GH:  After the first few years, I realized it became sort of an annual thing, where I'm expected to come out and do it.  So now, I really couldn't miss a year.  I do a lot of charity events too.  I really do a lot of fundraisers for families, kids, food-toy drives.  For that reason, this morning, I auctioned myself off on a radio station in New Hampshire for an hour long guitar lesson, and it brought in almost $1,100 by the time I left the station.  So this money is going to the local food bank, I'm going in there for free and just giving my time.    And that's why the Christmas thing is a lot of fun.  It's a great thing.
IE: You have nearly 20 albums out, and you're still going strong. That requires a lot of discipline and self-determination.  How would you describe your work ethic?
GH: I think I have almost that many albums. I mean, some of them are re-hashed. The record companies often re-package a lot of my stuff, and sometimes that's annoying.  My work ethic is really not as good as everybody thinks (laughs.)  I don't work well with deadlines, but I have to make myself a lot of deadlines.  So that's what makes me work.  I would hang out all day long, and play guitar, and not get much done.  But I do get a lot of creative ideas this way that I want to put out.  I write a lot of music and then I try to get a concept of the album.  Like the new album, Deja Blues, or Utopia, they both had a concept behind it.  I like to put things together like that.  My work ethic basically comes down to me getting something on my brain, and wanting to complete it by myself.  I do have a lot of little ideas that I record.  I collect them, then I go back to them, I listen to them, pick what I like, and try to finish them.  The problem with a lot of songwriters is that they put a lot of ideas on tape, and then they never go back and develop them.  And that's really where the discipline comes in.  I met a guy recently who told me he had a box full of ideas, but he never seemed to finish a song.  You have to really work with your ideas, if you're digging for gold.
IE: With so many different avenues that you pursued, what are some of the oddest places your music appeared?
GH:  Well, the roller coaster is definitely one.  I never expected that to happen.  I did a song on the Beethoven's 3rd, and a movie called Office Space, which really became a classic since.  A lot of it is just diversity for me, not so much super strange stuff.  I think finding my music in the movies is definitely great.
IE: There was a rumor circulating about you regarding Ozzy Osbourne. Is it true you tried out for Ozzy back in the late 80s?
GH:  Yes it's true. I did audition for Ozzy in the late 80s when he hired Zakk Wylde.  It was right around that time. It was really cool. He came to Boston, and he was on WPTN radio station saying, 'I'm on the road looking for a guitar player.' I called the station, and I literally played over the phone. They liked me enough and asked me to send the demo. Again, I'm a songwriter, I had a coupe originals that I wrote, and I sent them to his manager.  A week or two later I got a call, and they flew me to Los Angeles.  Wow, being a big fan of Black Sabbath and Ozzy, I got in a room and played with Ozzy, Randy Castillo, and Phil Soussan.  I was narrowed to the top five guitar players that they were picking from.  I didn't get the gig obviously, but Ozzy said to me, 'You should move to LA.  If you come out here, you're gonna make it.' So I went home, and I packed my stuff into a U-Haul and drove 3,000 miles, and I had $17,000 saved up to get me started. I moved to LA, and a few years later I signed with Warner Brothers Records.
IE: Had you been chosen to play with Ozzy, you probably would never be able to do all the things you did, especially the Christmas albums.
GH: I don't think so. I think if I joined Ozzy I probably would've never done a Christmas album. I probably wouldn't have half the albums I have. I probably would have looked a lot worse, but I would've been so happy to do it.  It was a dream come true. I would've loved it, I would've thrived in it, I would've completely enjoyed it.
For the full interview, pick-up your copy of IE at Guitar Center or IE's other retail outlets, or view the digital edition online
Gary Hoey appears Thursday (December 12th) at the Arcada Theatre in St. Charles
– Mark Kadzielawa
Category: Featured, Stage Buzz, Weekly