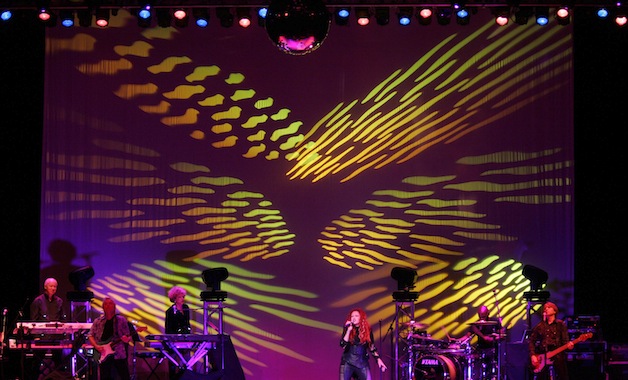 Cyndi Lauper
Chicago Theatre, 11/01/13
Long before Lady Gaga was wearing dresses made of  raw meat and Ke$ha was dropping glitter bombs, Cyndi Lauper was the eccentric pop star with thriftshop outfits, hair that continuously changed colors, and outrageously hooky songs that also possessed underlying substance. Believe it or not, it's been 30 years since her LP, She's So Unusual shook up MTV viewers and pop radio listeners, selling 16 million albums, attracting a Grammy for "Best New Artist" and crowning the singer/songwriter the first female in music history to score four top 10 hits on a debut.
To celebrate the landmark anniversary, the age-defying 60-year-old singer/songwriter took to the always magnificent Chicago Theatre to play the project from front to back. And even if she didn't dig out the bright ruffled dress, dozens of bracelets, those famous fishnets and red high heels from the album cover, she still sported a red head of hair and tight black pants with slits on both sides, while making a pretty convincing case she wasn't just some short-lived gimmick, but an actual artist whose songs have survived much longer than detractors would've predicted.
All anyone had to do was witness the front half of the commemorative set, which practically read like a greatest hits highlight reel. The explosive "Money Changes Everything" immediately solidified Lauper's ability to rock, and before fans could catch their breath, she dove right into "Girls Just Want To Have Fun" in all its celebratory glory (though she did some huffing to reach the highest notes on both). A vibrant cover of Prince's "When You Were Mine" kept the pendulum swinging towards the party, and while "Time After Time" took a contemplative turn, it also had no trouble transcending generations as well.
The second side of the album also started strong thanks to the naughty rocker "She Bop" (apparently recorded shirtless, as she shared during one of her many colorful, albeit digression-filled storytelling segments) and the moving monster ballad "All Through The Night" (enhanced by a spinning disco ball). However, the conclusion of the She's So Unusual set tapered in comparison with the less successful reggae throwback "Witness," the somewhat dated synth-popper "I'll Kiss You" and the out of place ukulele interlude "He's So Unusual." Thankfully, "Yeah Yeah" did a better job perking up the crowd with its B-52's-like quirkiness and the promise Lauper and her limber band would be back for an encore.
The grab bag that followed kicked off with the guilty pleasure goodness of "The Goonies 'R' Good Enough," alongside latter era material like a clubbed up version of "Sex Is In The Heel" (from her recent Tony Award-winning musical "Kinky Boots") and the overlooked contemporary rocker "Shine," two of the night's strongest vocal strides. A cover of Etta James' "At Last" (off her standards collection of the same name) was certainly respectable, although it could never hold a candle to the original, while an early seasonal snippet of "Feels Like Christmas" could've easily been traded for top ten hits like "Change Of Heart" or "I Drove All Night." At least Lauper made sure to turn in "True Colors," her signature song turned all around human rights anthem that was sparsely reframed around merely her lap guitar and a keyboard. Put it all together, and thirty years down the line Lauper still isn't afraid to express herself in pretty much any way she pleases, while continuing to connect with those who fell in love with her left of center authenticity in the first place.
-Review and photo by Andy Argyrakis
Category: Featured, Live Reviews, Weekly