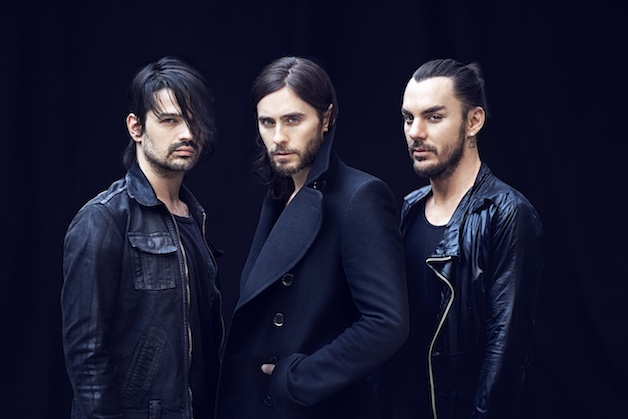 Second Star To The Right
Some thespians dig deep into their method-acting soul for every role. Others, like Jared Leto, really seem to emotionally, mentally, and physically transform into the character they're playing on screen. Such devotion to one's craft does not come easy. But the man commits.
In 1994, Leto started off relatively unassumingly as the heavy-lidded, vaguely dangerous dreamboat that careened through high-schooler Claire Danes' safe suburban existence in TV's cult hit, My So-Called Life. Soon, he was stepping into the track shoes of 1970s runner Steve Prefontaine in 1997's Prefontaine, then playing a pretty boy bare-knuckled boxer in Fight Club, and a cornrow-haired thug in Panic Room, both directed by David Fincher. For his breakout part as skeletal junkie Harry Goldfarb in Darren Aronofsky's Requiem For A Dream, he lost 28 pounds. For 2007's Chapter 27, he so completely assumed the chubby guise of John Lennon assassin Mark David Chapman, he gained 67 ponderous pounds, plus a crippling case of gout in the process.
So when photos of an emaciated, gaunt Leto started showing up in the press recently, only a rookie acolyte would have seriously fretted over his health. Far from ailing, the actor had merely lost himself in another persona – Rayon, an HIV-diagnosed drug addict from the mid-'80s – working alongside Matthew McConaughey and Jennifer Garner in director Jean-Marc Vallée's upcoming Dallas Buyers Club. It's a docudrama based on the life of Texan Ron Woodruff (McConaughey) who – after being given 30 days to live in 1986 – fought modern medicine by starting his own "buyers club" for black market AIDS medications. "I lost a little over 30 pounds," Leto recalls of filming. "It was the first film I'd made in about five years, and I played a transgendered person who was dying of AIDS, and losing weight was part of the process of bringing that character to life."
Leto was fascinated by the real-life heroism of Woodruff. "In 1985 and 1986, there really wasn't a lot of [AIDS] medication around," he says. "So I learned a lot from that role – it was an education and it took me on a journey. And that's one of the things that's nice about making a film like that. It was a really intense commitment, and I'm really glad that I did it. And it was nice to have a little bit of something else to experiment towards the end of making the album. Because when you learn one thing, you know, you apply it to another . . ."
The album in question? Love Lust Faith + Dreams – the Wagnerian, almost apocalyptic new fourth salvo from 30 Seconds To Mars, Leto's decade-old power trio with his older brother, drummer Shannon Leto, and axeman Tomo Milicevic. And it flickers past like some cast-of-thousands epic from yesteryear, opening innocently enough with the jazzy, swinging horns of "Birth," in which Leto croons, "I will save you from yourself." Then "Conquistador" kicks the set into high gear with a monstrous marching riff and meet-the-new-boss lyrics ("This is a fight to the death . . . We are the children of the great empire"). In other words, kneel or be slaughtered.
Lead single "Up In The Air" follows, with a deceptively chirpy whoa-ohh chorus and Leto wondering, "Is this the end?/I feel up in the air/Fucked up on life." He stares long and hard in the mirror on the piano dirge "City Of Angels," time traveling back to his childhood to note, "I'm 17 and looking for a fight/All my life I was never there/Just a ghost running scared." Beneath the furiously-bowed strings of "The Race," he rues past mistakes ("Lessons that I've learned/I promise you, I said never again"); "Pyres Of Varanasi" is awash in sinister cello and violins; "Do Or Die" effervesces up through a haze of flickering synthesizers; and the huge coliseum rocker "Bright Lights" looks somewhat optimistically towards the future ("I've been dreaming of things yet to come/Living, learning, watching, burning, eyes on the sun"). Near the end, a rattlesnake-percussion perambulator called "Northern Lights" finds Leto sitting lotus style, musing, "They don't believe that I have a soul left to be saved." Who knows? Perhaps his truest essence has been caught and trapped on celluloid forever.
What, exactly, is going on throughout this disc? Leto considers it for a moment. "Hmm. Good question, I don't know," he finally replies. "I think that the last album [the aptly-dubbed, Flood and Steve Lillywhite-assisted This Is War] was about conflicts: We had a giant battle with our record company, they sued us for $30 million, we fought them for two years, and subsequently made a film about it as well called Artifact. But it was an album about conflict and survival, and this is an album that's much more reflective. It was made without the burden of a giant war on our shoulders, and it was actually really a lot of fun. It was exactly how it should be."
In a story that's gone on to become an entertainment-industry fable, a beaten-down Leto finally extricated himself from his snafu with Virgin Records and parent label EMI via a little-known statute called the De Havilland Law, a defense first used by renowned actress Olivia de Havilland decades earlier to break a constricting Warner Bros. contract. The reclusive star even contacted Leto, wishing him well in his courtroom endeavors. Oddly, in a no-hard-feelings career move, Leto would re-sign with EMI. And he admits that he feels almost like a completely different person now.
With This Is War, the composer explains, "those songs were written four or five years ago. So you grow a lot in four or five years. We traveled the world, we played over 300 shows [breaking the Guinness World Record for most concerts performed during a single album cycle], and we took all those lessons learned and applied it to this new album. And I think that we all feel like we've made the album of a lifetime – I think it's the best thing we've ever done, and I'm super-excited about it. I think it'll surprise a lot of people."
What are the life lessons he's discussing and singing about on the album? Again, Leto pauses, mulling his answer carefully. "Well, I think just learning and life," he decides. "Growing up and taking what you've learned and applying it and hoping that you become a better version of yourself. I think all of us in the band, I think we all have a greater understanding of who we are as people, as musicians, and for what we have to offer, what we have to say. So there's probably just a greater sense of who we are as 30 Seconds To Mars and less of our influences. And I think I've probably gotten a greater sense of confidence as a songwriter. So I think it's all of those things."
In "Up In The Air," when the singer snarls about feeling The End coming, is he referring to a grand finale for humanity, which seems to have doomed itself to extinction. "I don't think so," he answers, optimistically. "I think that with every end comes a new beginning, and that's kind of how I feel about the album. It feels like a brand new beginning for us. You know, I was in India and I wrote a song called "Pyres Of Varanasi," and it was inspired by a place where they have been cremating bodies on the Ganges river for about 5,000 years. And it's an incredibly intense place – there were bodies being burned everywhere. And there were bodies going through a funeral procession and being left in the river Ganges. And although it's about death, there's something beautiful about it as well and something that makes you think about life itself and how magical life itself can be. I don't necessarily intend those things to be grim, even a title like "Do Or Die." I think "Do Or Die" is more about standing up and living your dreams – it's not necessarily on the dark side."
Then again, Leto adds with a wry cackle, "I guess I just can't write a pop album!"
But he can get brutally honest, especially on "City Of Angels," which is torn directly from his teen years. "It's a very personal song, obviously about a specific place – Los Angeles," he says. "But it could be . . . well, when I was a younger kid, it was New York City – that was the place where I went to make my dreams come true, at that time, to be a painter, an artist.
– Tom Lanham
For the full story, pick up the October or read the digital edition HERE (available 8pm, 10/1/13)

The rest of the October 2013 web edition will post at 10pm tonight 10/1/13