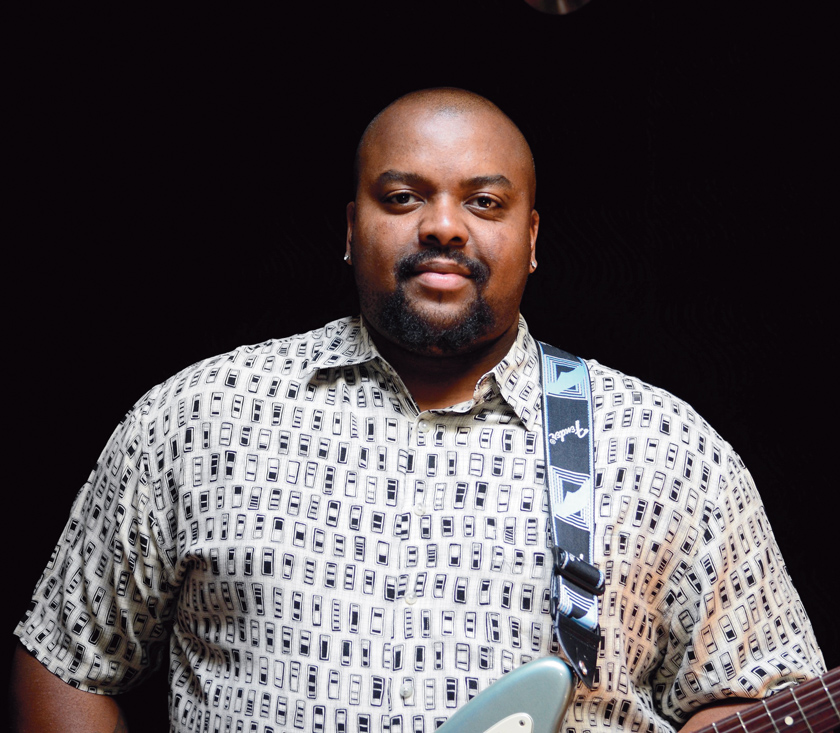 House Of The Rising Sons
The loss of legendary Chicago blues guitarist Magic Slim dealt a damaging blow to the genre, but the release of Daddy Told Me (Blind Pig) heralds a bright spot with Slim's son, Shawn Holt, carrying the torch for his father. The 12-track debut blasts off with a robust cover of Buster Brown's, "Fannie Mae." Holt's vocals boom out of the rockin' blues track, which sets the stage for the rest of the solid offering.
Holt, also called "Lil Slim," started playing the blues at 17, when he joined his father on the road. Famously exacting, Magic Slim didn't admit his son into the band as a Teardrop until earlier this year. The master blues musician must have recognized his son's readiness because shortly after he entered the group, Holt took over lead vocals while his father was hospitalized. With Magic Slim out of commission, he led the Teardrops as the band honored its dates opening for Johnny Winter. During these performances, Holt perfected his own take on his father's energetic sound. Shawn gathered his own version of the Teardrops – guitarist Levi William, bassist Chris Biedron, and drummer Brian "BJ" Jones – to assist on Daddy Told Me. The band offers strong support with hard-driving blues rhythms that honor the Magic Slim And The Teardrops sound.
Penning five original tunes and adding two of his dad's songs among a number of covers, Holt manages to deliver a respectful homage to his father's legacy while carving out individual space for his own talent. He demonstrates particular skill on his own tunes. The title track reveals his eloquent ax playing while illustrating his engaging songwriting: "My daddy told me/Never love a woman twice/When she come back around/Somethin' ain't right/Somethin' ain't right." The dirty licks and commanding delivery on "Hold You Again" are hard to ignore, and the rolling rhythm and hard luck romance on "Love Got Me Walkin'" make it an instant crowd-pleaser. The covers of Magic Slim's tunes stand out, especially with guest John Primer providing nasty guitar licks on "Buddy Buddy Friend" and Holt serving up blistering, authoritative vocals on "Please Don't Dog Me." The group sing-along format of "Down In Virginia" and "Get Your Business Straight" grates, but, overall, Daddy Told Me promises a successful future for Holt And The Teardrops.
Another son of a Chicago blues legend keeps the family business humming along. Lurrie Bell's Blues In My Soul (Delmark) is an outstanding testament to the relevance and inspirational power of the blues. A transcendent collection of Chicago blues classics and three originals, the album finds Bell sounding strong and assured and at the top of his game after years of challenges. Offering up a carefully curated selection of postwar Chicago blues, the album's 14 tracks layout the foundation of the genre, accented by Bell's contemporary take.
On opening track, T-Bone Walker's swinging "Hey Hey Baby," Bell's vocals jauntily dig into the upbeat song. The title song switches to a more contemplative mood, offering an intimate portrait of the musician's current emotional state: "I like what I'm doing today/I feel the blues all the way down in my soul/ . . . I guess I'll always keep thinking about the love I have about my life/The way I feel right now/I think everything will be alright."
Bell spreads his gruff and evocative vocals and soul-grabbing guitar work evenly throughout the album, shining on everything from Big Bill Broonzy's "I Feel So Good" to Sonny Boy Williamson's "My Little Machine." The originals match the covers in energy, with the richly textured and melancholy "24 Hour Blues" paying special tribute to Magic Slim. Bell name checks the late blues great and calls him out as "one of the greatest blues entertainers of our time," with the song and album dedicated to his memory. "Southside To Riverside," referencing the journey to Delmark's studios, supplies an instrumental party of funked-up blues and displays the chops of his stellar band (Roosevelt Purifoy on piano, Melvin Smith on bass, Willie "The Touch" Hayes on drums, and Matthew Skoller on harp). He tops it all off fittingly with a killer version of Otis Spann's "The Blues Never Die." Blues In My Soul stands as a nearly flawless offering of essential Chicago blues listening.
For a taste of rollicking early blues piano, the entertaining reissue of Roosevelt Sykes' The Original Honeydripper (Blind Pig) provides indispensible tracks. For those unfamiliar with the boogie-woogie/country blues hybrid that this pioneering musician played, the disc lays out 14 tracks that span his prolific 60-year career. Considered the father of modern blues piano, Sykes' dazzling skill on the ivories and his effervescent personality are on full display on this live recording from 1977 at the Blind Pig Café in Ann Arbor, Mich.
Kicking off with the '20s-era boogie-woogie of "Cow Cow Blues," the force of his colorful personality and articulate playing slams listeners. Fats Waller's "Honeysuckle Rose" gets an appropriately ribald delivery while Sykes' seminal "Driving Wheel" is rolled out with building intensity.
Playing barrelhouses and levee camps since the age of 15, Sykes developed his signature suggestive and lively style early on, adding a cigar and custom tailored suits to distract from his short fingers, which still sped across the keys more quickly than any other player. Reportedly dubbed "Honeydripper" because people gathered around him like bees wherever he performed, he played pre-war, postwar, and revival blues. Ray Charles famously covered his "Night Time Is The Right Time" and he returns the favor with an energetic version of "What'd I Say." His comical "I'm A Nut" and "Dirty Mother For You" showcase the lighthearted side of the blues. Spiking his freewheeling performance with exaggerated calls of "my, my" and "mercy," Sykes' music is enthralling. He thanks his audience at the end of the set, but it's listeners who should be thankful for such a rich early blues showcase.
Rosalind Cummings-Yeates
Category: Columns, Featured, Monthly, Sweet Home