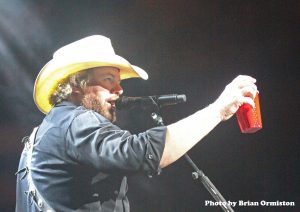 On Monday morning, groggy eyes and garbled voices accompanied many of the 25,000-plus of the Toby Keith faithful who made the trip to Tinley Park's First Midwest Bank Amphitheatre on June 30.
When the house lights went down close to 9 p.m., the aged but always powerful AC/DC classic "You Shook Me All Night Long" introduced a video timed to let the band and Keith get in place. It was more or less a shill for many of his tour sponsors that somehow managed to weave in the "Hammer Down" theme of the tour. Keith started in with "Haven't Had a Drink All Day" and had to power through about 30 seconds of microphone issues. He followed the technical difficulties with staples "American Ride" and "Made In America," giving the crowd free reign over the lyrics.
Early on, he worked the "T" stage extension that jetted into the "pit people." But as the night wore on, somewhere around his new tune "Drinks After Work," that usually deep booming voice started to sound throaty. The requisite crowd interactions between songs became chatty and the multiple toasts given from an ever-present red Solo cup seemed like they covered just about every possible public service sector. Not that this disappointed anyone partying in the crowd, but, clearly, Keith was having a very good time.
At 52, Keith is the big man of country music. The newest Forbes cover story has him pegged around $500 million in career earnings and $65 million in the last 12 months. His shows are normally smooth productions that cover everything from the booze you drink, where you can eat, and the truck that can take you there. In the old days, artists made a little extra scratch off of some concert T-shirts. These days it's the integrated marketing that's helping him afford a cushy Lear 60 jet.
Keith's cult classic "Red Solo Cup" played almost as well as his ode to pal Willie Nelson, "Weed With Willie." It was nearly a two-hour show packed with as much of his discography as you can listen in one night. This performance wasn't going to make it on a live album nor was it his best vocal presentation. It was, however, very entertaining. He finished the night with "American Soldier" and kicked his loyal following to the parking lot to begin their Fourth of July celebrations with "Courtesy Of The Red, White, And Blue (The Angry American)."
Drake White and Kip Moore opened up while Keith was pre-gaming backstage. Drake cranked out an enthusiastic 30-minute set, drinking in all the exposure the big stage offers. Kip Moore, on the other hand, has been doing this for a few years and has some chart credit to prove it. If he isn't on your radar screen, he should be. He pounded through nine songs, but the second one, "Reckless" (Still Growin' Up) was a highlight as well as the closers, "Hey Pretty Girl" and "Somethin' 'Bout A Truck."
— Brian Ormiston
Category: Featured, IE Photo Gallery, Live Reviews, Weekly