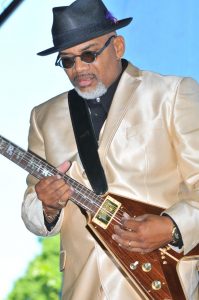 Growing up on the South Side, armed with the gift of gab and a people person demeanor, Toronzo Cannon wanted to be a social worker. A teacher accused him of wearing his feelings on his sleeve and young Toronzo figured he'd channel that sensitivity. Decades later, those same qualities have equipped him with the perfect skills for a modern bluesman.
"I read, I look, I'm left-handed, and I'm observant," Cannon says of his standout songwriting and guitar playing. A CTA bus driver for over 20 years, his keen eyes and ears combine with his emotional awareness to turn bus-scene snippets, friends' situations, and personal experience into the kind of blues tunes that inspire repeat listening. "When I'm on the bus, I take notes at the red light," he says. "I have the notes for the guts of six songs in my pocket right now." His off-kilter, left-handed perspective seems to supply his music with an unexpectedly fresh take that truly represents 21st century blues.
However, being a bluesman wasn't even a consideration for Cannon until he started playing guitar at 22. Although he grew up in the shadows of the iconic Theresa's Lounge, with his uncles regularly joining the jam sessions, Cannon didn't realize those influences until much later.
"My uncle Ricky was a barback who sometimes filled in for bands playing drums and my uncle Peewee was a ladies man who was always at Theresa's," he recalls. "Baldwin's Ice Cream was down the street and we'd go at night to get waffle cones and I'd lean over the bannister [at Theresa's] and see my uncles. I'd hear the blues streaming out, but I didn't really know who was playing." Between those late-night excursions and his grandfather's blues records, Cannon absorbed a blues foundation that would later serve him well.
On his upcoming sophomore release, John The Conquer Root (8/20 on Delmark), the musician illustrates just how well he's learned how to combine all of his talents into one memorable blues package. The blistering opener, "I've Been Doing Fine," serves up a classic blues lament with a twist, showcasing his strong songwriting over his nasty guitar riffs. Toronzo pours out a convincing account of a man whose woman left and how much he likes the experience: "I went to the bank/My account was stacked/When we were together/It was never like that/No more pantyhose hanging in my shower/Smell like a real house/Not potpourri flowers."
"I listen to a lot of blues stations on satellite [radio] and everyone seems to be singing about 'my woman left me,'" he says, explaining his songwriting technique. "I put in a lot more detail to make people flinch and say, 'Ooh, he's looking though my window.' I just take whatever the standard is and go somewhere else. I don't want to go in the same direction; it's too predictable. I ask myself, 'What would a left-handed, Aquarian bluesman do?'"
Apparently, such a bluesman would make sure that his music respected the past while saluting the future with modern-day observances. Another track, "Shine," underscores the point by tackling death – that old blues trope – with an unexpected treatment. A delicate ballad with three separate stories sung by Cannon's Chicago blues comrades Mike Wheeler and Joanna Connor, the song addresses suicide, biracial issues, and Armenian history in one well-structured swoop.
"I was thinking of three different ways that people die," Cannon says of the inspiration for the song. "I don't like my voice in certain settings, like a soft tone, so I asked Mike and Joanna to sing with me. I sing the last story about Armenians. I didn't know that they were the first Christians in a land full of Muslims. They got slaughtered, but it's not so much about religion as it is intolerance. I wrote the story about the biracial issues because I have a biracial daughter and Joanna has two biracial kids. There are three stories cutting into the next in one song. I was inspired by Jimi Hendrix's "Castles Made Of Sand."
Cannon cites Hendrix as a major influence on his songwriting and fretwork. "I used to watch old blues videos to observe how they played because I think in images, and the blues is visual as well as audible. I'd watch videos of Muddy [Waters], Gatemouth Brown, and Snooks Eaglin – this was before YouTube," he says. "Then I came across a video by the guy named Jimi Hendrix. It freaked me out; it hit me in my chest. It was beautiful to look at while you listened to it."
Cannon's dynamic stage presence clearly recalls Hendrix, but he also appreciates the '60s legend's wordplay. "In 'Voodoo Child, (Slight Return),' people listen and think it's all psychedelic, but dig the words," he says. "It was a revolutionary song; 'raising sand' is a Southern term for a fight."
The cultural references and vivid imagery used by Hendrix and bluesmen before and after him are most prominent in the stunning title track of Cannon's album. "John The Conquer Root" throbs with Delta heat and striking blues phrasing. Cannon names Gary Clark Jr. as the main influence for the six-minute tune, and the stinging guitar, eerie harp playing, and haunting tale of working a spell with "a piece of your hair in the palm of my hand," echoes with the essence of the young blues upstart.
At 45, Cannon has dedicated decades of practice and experience to his craft. "I know what I like to hear and I know that it's the major chords that give me goose bumps," he says of his playing style. Although his devoted following comments profusely on his daily thought-provoking statuses on Facebook, he considers himself a humble, if thoroughly modern, bluesman. "I'm just a bus driver who plays the guitar," he says. "I want to do my part to keep the genre alive, especially the Chicago blues genre."
Toronzo Cannon plays July 11 at Kingston Mines (2548 N. Halsted); July 12 at Lee's Unleaded Blues (7401 S. South Chicago); and July 13 at Nick's Beer Garden (1516 N. Milwaukee) in Chicago.
— Rosalind Cummings-Yeates
Category: Columns, Monthly, Sweet Home