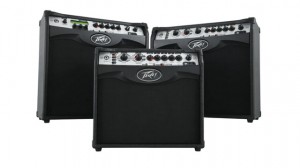 Peavey
VYPYR VIP Series Amps
Following its introduction at the Winter NAMM show in Anaheim, Calif., (where it also took home the event's Best In Show "Gotta Stock It" award) Peavey Electronics is now shipping their next generation line of modeling amplifiers – the awkwardly named (but technically fulfilling) Vypyr VIP series.
While there is an overflow of modeling amps on the market from the industry's most recognizable manufacturers like Line 6, Fender, and Marshall achieving similar tones, Peavey says the new Vypyr does something no other modeling amps have successfully achieved: It's the first amplifier line that offers electric guitar, bass guitar, and acoustic guitar amplifier models in one amp, giving the user the opportunity to plug-in an acoustic or bass guitar (or stick with a single electric guitar) and recreate realistic tones. Using a 32-bit, SHARC processor and Peavey's time-tested TransTube analog circuitry, guitarists have a selection of 70 amp, instrument, stompbox models and rack style effects. Peavey's PowerSponge feature also gives players extra gain to get "over the top" tones on its harder rocking presets.
The amp offers recording capabilities, software and preset editing via its USB bi-directional data and audio port, as well as a MIDI port for use with Peavey's Sanpera foot controllers. It also contains expected features like a built-in chromatic tuner, on-board looper (with Sanpera pedal control), and a headphone out.
The Vypyr VIP series consists of three combos: the 20-Watt VIP 1 (with 8-inch speaker), the 40-Watt VIP 2, and the 100-Watt VIP 3 (both with 12-inch speakers). MSRP starts at $199. More details can be found at peavey.com.
Cort Guitars
KX5 Series
Acclaimed local music designer and Wornstar Clothing CEO Stephen Jensen has teamed up with Northbrook-based Cort Guitars to design the graphics for the newest edition of its KX5 series guitars for both acoustic and electric guitarists. Jensen is most notable from his days as a graphic designer and photographer for the late bassist Dimebag Darrell of Pantera. Since then he's worked with hundreds of well-known bands enhancing their brand.
Besides its industrial graphics, Cort's KX5 FR-TF is a solid basswood body double cutaway guitar featuring white body binding and a Canadian hard maple bolt on neck featuring a 24-fret, rosewood fretboard with a white pearl inlay. The 25-inch scale guitar features black hardware with die cast tuners and a double locking tremolo system with a single volume and single push/pull tone control. It offers a three-way toggle selector for the MB-2F and MB-2R Motherbucker pickups. The guitar comes with the D'Addario EXL 110  strings. Go to cortguitars.com for more info.
Magnetic
Isotope Fixed Wah Pedal
For guitarists that like the classic wah sound on their tone, but don't like to "play with the pedal," Magnetic Effects has your solution. Unlike a traditional large wah pedal where you have to adjust the pedal to find the exact tone you are looking for when performing, the new Isotope allows you to dial in the "sweet spot" using its "Sweep Control" feature. Players can then access this tone by turning the pedal on and off using the foot switch.
A ton of classic rock guitar leads and rhythms were recorded with a wah secured in one position instead of being rocked back and forth. This is commonly referred to as a  "fixed" or '"parked" wah. Isotope says "the sweet spot tone adds a special character to chords and lifts lead guitar solos right out of the mix." The classic "fixed wah" sound has been used in some of the most legendary recordings of all time by guitarists such as Jimi Hendrix, Led Zeppelin's Jimmy Page, and, most famously, T. Rex guitarist Marc Bolan. The Isotope allows you to access those classic tones in a small, more convenient pedal at an MSRP of $99. Details can be found at magneticeffects.com.
— David Gedge