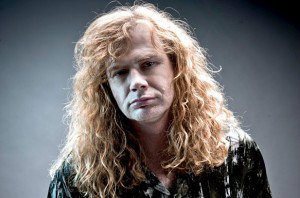 Illinois Entertainer: Your team of publicists just gave me a semi-thorough list of your favorite things. I see you like Mexican food and Ronald Reagan. Someone forgot to ask what your favorite color is.
Dave Mustaine: Silver and black.
IE: It says here your favorite song on Megadeth's new album, Super Collider [Tradecraft/UME], is "Kingmaker." Why is that?
DM: I think that was one of those in-the-moment kind of questions. That record is a living organism, and each day, the songs hit a different part of my personality, my psyche, my id. I like "Kingmaker" because it's aggressive, but by far it's not the most aggressive song on the record. I think "Built For War" is probably the fiercest song on the record. We've already done the 100-million-mile-an-hour, bazillion-note songs, and I think if you can keep it raw and edgy and energetic without it being a blur, that's quite an accomplishment.
IE: You're taking heat for the rock 'n' roll material on the record. To what do you attribute the inability of some thrash metal fans to accept the mid-tempo forays ("Super Collider," "The Blackest Crow," the Thin Lizzy cover "Cold Sweat")?
DM: To each his own. I think that thrash metal fans, when you label them as "thrash metal fans," of course they're not going to want to accept a rock track. It has nothing to do with Megadeth or the greatness of the band and its music. Heavy is heavy. Look how heavy Black Sabbath is, and they're not fast. I think the fastest song they ever did was "Neon Knights" with Ronnie James Dio. It's all relative, I guess. Do I want to play it safe and play the same record for 40 years like some of these old dinosaurs do, or do I want to really try and follow where the music takes me? Because a good song will tell you what it wants. When we were doing "The Blackest Crow," for example, I knew that was going to be a risk. The thing is, in the thrash metal community right now, a lot of these thrash metal fans, God bless 'em, what they think is thrash metal right now really isn't what thrash metal was back in the day. It wasn't about the tempo of the music, it was about what the music was about. It was the lyrical content, it was the energy of the song,  it was the modality of the chord progressions. There were a lot of bands that would just play one note and pedal super, super fast and barely have any movement, and those bands fell by the wayside. You had to have some artistic merit at some point, where the songs had melody, or people would just lump you in with all those other bands that sound the same. I mean, my God, I've been doing this 30 years, you think I would learn something.
IE: Do you find yourself ever thinking about thrash metal in the past tense?
DM: No, absolutely not. I know where I came from. Thrash and speed metal is basically like punk rock with long hair, and for me, I've been signing my autograph with an anarchy symbol for 30-plus years. It's one of those things where people can say what they want about me. I know who I am.
IE: The liner notes to last year's 20th-anniversary edition of Countdown To Extinction describe an album made under curfew during the 1992 Los Angeles riots that followed the police acquittals in the trial for the beating of Rodney King. The notes say bassist David Ellefson kept a gun in his glove compartment. What was the biggest challenge you faced while recording Super Collider?
DM: The most noteworthy challenge probably was just scheduling problems with the guy that was working with me on the record [Chicago producer Johnny K] because he had some other things that he needed to take care of, so he was flying back and forth [to the studio in San Marcos, Calif.]. There was that chain-coming-off-the-bicycle feeling a little bit. But while he was gone, we just kept going. I worked with Cameron Webb, who was the engineer on the project, and most people, when stuff like that happens, they stop. I wasn't about to stop. We were in a creative mode, the juices were flowing, and we just kept soldiering forward.
IE: "Dance In The Rain" features guest vocals by Disturbed frontman and former Chicagoan David Draiman, whose side-project Device is playing its first Chicagoland show at Allstate Arena with Megadeth as part of Gigantour. Have you and Draiman talked about him joining Megadeth onstage for the song?
DM: No, we haven't, but I'm not going to rule anything out. I love David. I think he's a very talented person. I think that our Mayhem tour [in 2011] with Disturbed and Godsmack was really fun, although I lost the use of my left hand during the middle of that tour, and I ended up finishing the tour with just two fingers working. That's kind of the bummer about that thing. The good thing about it was getting to meet him and become friends with him, because a lot really great things have happened out of it so far.
IE: Is it fair to say your vocals are beginning to overshadow your guitar playing? There seems to be a more direct communication with your fans taking place through cautionary tales, warnings.
DM: That's not new. I've been doing that for a long time. I've been trying to share what I've learned. I think that I have a pretty extensive martial art background. I learned a lot of the sayings that come out of the Orient, and one of them was, "A smart man learns from his own mistakes, but a wise man learns from the mistakes of others." Honestly, I've been underworked and overpaid my whole career because I get to play music. I get to play music, I don't work music – I play. And I think the way that I feel good about myself is by sharing [my experiences] . . . I mean, who better to tell somebody the things about alcoholism than somebody who is an alcoholic, you know? If you haven't been through it and you're trying to tell somebody what it's like, it's pretty much like trying to explain an orgasm to a virgin. It just doesn't make sense.
IE: You told "Rockline" that Super Collider is introspective and tries not to alienate listeners with politics. How has the two-party system affected Megadeth in recent years?
DM: I think what has happened is that politics and the liberal media have really infected my message with my music, and no matter what I say, how I say it, it's going to be misinterpreted. So I think probably our time would be better if I answered some other questions. I mean, I would love to talk politics with you, but our country is really in a very precarious position right now, in all the parties: Republican, Democratic, Independent, Green Party. You ask young people, they thought that Ron Paul was the answer, until he said that we're just like the Taliban. I ain't like the Taliban. I don't cut kids' heads off. Who do you believe in? I think the most important thing is: Exercise your right to vote, vote, know what the topics are about, educate yourself, don't listen to all these talking-head celebrities that get up there and endorse politicians and stuff like that. That's them telling you to do what they want. Make your own mind up. I do.
IE: Classic rock bands such as Journey and Styx are saying that making new studio albums is futile. They aren't saying they're hanging up their hats, but they're saying this may be the end of the studio album. Tours used to promote albums, but now albums promote tours. What's your take on this?
DM: A lot of times when guys get old, they lose the fire in their belly. I still feel like I'm a teenager inside. Granted, some days I wake up and my neck, after being fused together, tells me I'm 100. But I still feel really young, and I've never tried to act like I'm above our fans. I still like macaroni and cheese and you may see me rolling through a hamburger drive-thru once in a while because I'm a normal guy. I think that when you get up in your ivory tower, you start taking things for granted. Yeah, you lose sight of it. Who wants to hear from a guy that's driving a Rolls-Royce around what it's like to be 16 and confused?
IE: Megadeth formed 30 years ago. How are you and Ellefson celebrating?
DM: Well, he's sober right now, so I'll probably have a bottle of wine and he'll probably have some chocolate milk or something.
IE: Thirty years from now, what will people like me be asking you?
DM: [Laughs] "Shit, are you still alive?"
Megadeth appears at Allstate Arena (6920 Mannheim) in Rosemont on July 9 and U.S. Cellular Coliseum (101 S. Madison) in Bloomington on July 18 with Black Label Society, Device, Hellyeah, Newsted, and Death Division. Q&A conducted by Mike Meyer.