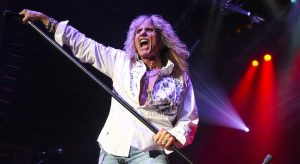 Illinois Entertainer: What made you pick Japan as the site of Whitesnake's new concert collection?
David Coverdale: I didn't. It just turned out that way. Originally, we were just going to release a double audio CD, Made In Britain, then suddenly we were offered a big show in Tokyo. The film quality and the actual show was too good to pass on [resulting in Made In Japan].
IE: You've been on an extensive world tour and the American leg extends all the way until October. Will the setlist on this jaunt through the States mirror that CD/DVD's track listing or do you have a different show in store?
DC: You shall have to see. I never give away what we're going to be playing. I like surprises.
IE: How would you describe Whitesnake's musical direction these days?
DC: All over the place. You call it whatever you want. It's all Whitesnake to me.
IE: Whitesnake achieved massive success in the '80s, in part thanks to MTV putting the band's sexy videos in near-constant rotation. What were the benefits and drawbacks of reaching fans through that medium?
DC: It made Whitesnake a massive global entity. Thankfully, we're still flourishing. Drawbacks? Not according to my lifestyle.
IE: Do you ever regret the outrageous fashion choices you made in the '80s or do you just chalk it up to being typical of the era?
DC: I don't give it a seconds thought.
IE: How did your time in Deep Purple help pave the way for Whitesnake?
DC: Learning from two musical colossi like [Ritchie] Blackmore and [Jon] Lord was the most incredible education I could possibly imagine. It set me up for the amazing journey I'm still on.
IE: Do you ever think we'll see another Coverdale/Page collaboration?
DC: We just had one in London! Pagey came to see us at Wembley. He's just one beautiful man and soul. Love him to bits. We shall have to see. He's busy; I'm busy, but who knows?
IE: Give us a preview of Whitesnake's upcoming Made In Britain double live album.
DC: It's one CD recording during the U.K. Forevermore tour and it kicks serious arse. Drier than the soundtrack CD [at] smaller venues, the second CD is The World Record. Each song was recorded – wait for it – in a different location: Oslo, Sao Paulo, Singapore . . .
IE: If you had to pick a crowning achievement from your entire career thus far, what would it be?
DC: My marriage to Cindy and my two children. My career pales in comparison.
Whitesnake appears at Star Plaza Theatre (800 E. 81st Ave.) in Merrillville, Ind., on July 19. Q&A conducted by Andy Argyrakis.