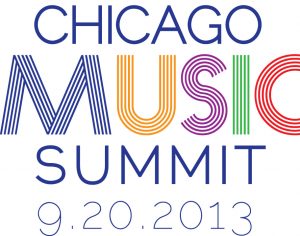 THE SUMMIT
Do you have the guts to put your band's website on a giant screen for a critiquing session with the experts at Bandzoogle (and a room full of fellow artists)? That's just the meat-and-potatoes of one of the professional development panels offered at the inaugural Chicago Music Summit taking place on Sept. 20 at the Chicago Cultural Center. It's the first major event put on by musician Dylan Rice (official title: director of creative industries – music) and David Chavez (program coordinator of creative industries) under the umbrella of the Department of Cultural Affairs and Special Events. Free and open to the public, the summit operates on two tiers: A morning session of panels geared toward local musicians and an evening concert showcase for fans. "Chicago has such a strong, robust DIY movement, and we're seeing bands make it without necessarily having a record deal with a major label," Rice explains. "We just feel like giving the musicians and their teams the tools and resources they need to succeed [that] will help them stay in Chicago." Some familiar faces are involved (Metro's Joe Shanahan and Bloodshot Records' Nan Warshaw give pointers on running a successful music business; Iron And Wine's manager Howard Greynolds talks national touring; and Leo Burnett VP Gabe McDonough advises on how to get your song on TV). Rice reveals Marquis Hill, Pillars And Tongues, and Lucki Eck$ will be among those performing at the Cultural Center and The Shrine, Martyrs, and Red Line Tap will join a larger list of venues (to be announced mid-July) hosting affiliated shows. Register for the panels at ChicagoMusicSummit.org.
FOOD OPTIONAL
While everyone salivates over the list Lollapalooza organizers released of the savory spots responsible for feeding the masses during the three-day festival in Grant Park (Aug. 2 to 4), we have an eensy-teensy confession to make: In all our years of attendance (meaning pretty much every one, minus 2007), we've never purchased a hot meal in Chow Town. Basically, we refrain from eating during festival hours, except for a one-a-day Sno Cone allotment. Yes, one. Usually red. Hear us out fainting nutritionists: The burst of sugar energizes while the ice hydrates, just enough to keep us vertical for a 12-hour stretch. The treat leaves behind a light feeling and we don't waste any band-watching time sitting on a curb manhandling a slice of Lou Malnati's pizza. We're not condoning this diet by any means, just saying you'll find us at the Harris Ice booth. But we understand that foodies have plenty to look forward to, including selections from Bar Toma, Grahamwich, Porkchop, The Smoke Daddy, Franks 'N' Dawgs, Big Fork, Chubby Wieners, and Glazed And Infused. Taste of Chicago (July 10 to 14) is also making it easier to grab grub during the concerts in the Petrillo Music Shell with food trucks. Among the 14: Chicago Cupcake, Bombay Wraps, and Taquero Fusion. So yeah, food is a big deal. And if you don't want to head to the city to fill your belly and ears, try Taste of Lombard (July 2 to 6), Naperville Ribfest (July 3 to 7), Kankakee BBQ Fest (July 12 to 14), and Lake in the Hills' Rockin' Rib Fest (July 11 to 14). Every time a drop of barbecue sauce hits the ground, the makers of Handi-Wipes hear cha-ching!
CH-CH-CHANGES
With all of the recent changes afoot at the Chicago Sun-Times – a gradual rollout of both a print and digital redesign, starting with a curious new nameplate on the print side that reads Chicago Sun-Times.com, and the bloodletting of the entire full-time photography staff, including Pulitzer Prize-winner John H. White, the June 14 departure of pop music critic Thomas Connor squeaked by with little fanfare. Connor, who spent eight years at the paper – first as a features editor – recently received his master's degree in new media communication from the University of Illinois-Chicago and will pursue a Ph.D at the University of California-San Diego in the same field. In a farewell blog post in late June, Connor stressed that he's not giving up on journalism, despite the profession's seemingly murky future. "My own bottom line: I can contribute more to the world – and, hopefully, some of those solutions – by adding to the leadership in communication education and via my own burgeoning research than I ever would by writing another summation of One Direction or the Rolling Stones." Despite the atmosphere at the beleaguered paper (aren't they all, really?), which Connor characterized as a "gawdawfully stressful workplace" in an extended post on his personal Tumblr account ("The Moss Steiger Shift"), his motivations for heading to the left coast are strictly academically-based, although being a stone's throw away from the beach sounds like a dream come true. The paper intends to have staffers pitch in to cover the beat rather than hire a full-timer. We wish him the best and plan on keeping abreast of his movements via Twitter (@thesonginmyhead). You should too.
— Janine Schaults
Category: Uncategorized