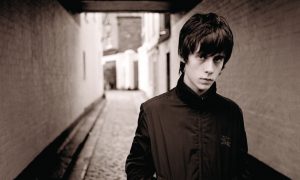 When in Rome, do as the Romans do. The old adage's wisdom isn't lost on 19-year-old English folk-rocker Jake Bugg. Raised in a tough council estate in Nottingham, the kid was first moved to pick up a guitar when he heard Don McLean's vintage "Vincent" on – of all things – the closing credits of a "Simpsons" episode, and he quickly became obsessed with more slapback-echoed American performers from yesteryear. "Buddy Holly is incredible and totally underrated, and I love the Everly Brothers," he purrs of his Yankee influences. "I think their harmonies are probably the best harmonies in the history of music. And I know they were brothers, but it's not just their harmonies – it's the tone of their voices that was just so . . . exact, so that they sounded like something else entirely, I think."
But now that his reverb-drenched self-titled debut has hit No. 1 overseas, sold over 500,000 copies worldwide, and earned him top-flight fans like Noel Gallagher – who recently took him on a Stateside tour as the opening act for his High Flying Birds – this innocent abroad (who once penned a forlorn ode to Kentucky, even though he'd never been there, because "I imagined it was a pretty hard place to live," he says) is starting to feel unusually at home on these shores. Particularly the South, which was home to many of his idols.
Appearing: 8/4 at Lollapalooza in Grant Park and 9/21 at Metro (3730 N. Clark) Chicago.
Over the past few months with his star on the rise, Bugg has played on the same bill with the legendary "Killer" himself, Jerry Lee Lewis; visited the historic home of Elvis Presley, which made him feel like a creepy voyeur; not only dropped by Sun Studio, but actually tracked several demos there; and even spent some time in Nashville attempting to co-write with some of Music Row's best (it was a bust). The rest of his non-concert U.S. time has been spent in California working on his sophomore album at Rick Rubin's Shangri-La Studio. Meanwhile, the chugging opening cut from his album, "Lightning Bolt," is soundtracking the latest TV commercial from Gatorade – the perfect way to raise awareness in the music biz these days.
In Britain, of course, "Lightning Bolt" was already employed in the 2012 Summer Olympics as backing music for a montage clip featuring runner Usain Bolt – a no-brainer, really. But the big breakthrough hit was the jangly single "Two Fingers," wherein Bugg's crackling, rockabilly rasp proffers a salty "fuck you" to his old hometown (the two-finger salute being the U.K. equivalent of our flipped middle digit) with "I hold two fingers up to yesterday/Light a cigarette and smoke it all away/I got out, I got out, I'm alive and I'm here to stay." And he's not just whistling Dixie.
Bugg's bow is loaded with hit after potential hit, with gentle ballads like "Country Song" and "Simple As This," and vibrant rockabilly stompers like "Taste It" and "Seen It All." He's got a shrewd songwriting gift that belies his tender years, easily marking him as the most promising new singer-songwriter of 2013. How would he classify his punk-fueled, but decidedly retro style? "I wanted to take a little bit from each of my favorite eras and idols and try and put it all into one," he says. In addition to the aforementioned Holly and Everlys, "I culled from Donovan, Don McLean, John Martyn, Nick Drake, even The Beatles. The list just goes on, man."
In England, it's often said that there are only two ways out of your gray, dismal existence if you're a lad: You play professional football (see also: soccer) or you form a band. For a while in his early teens, Bugg was planning on the former. "But I came back from football training one day and my uncle had a guitar, and he showed me the basic chords," he recalls. "And I just took it from there. And when I picked up the guitar, that's when I kind of packed it in with football, really."
After high school graduation, Bugg tried college, but got kicked out after only four weeks. "I was studying music, but I hated it," he growls. "I just didn't find anything of the things they were teaching me to be true or relevant to the real music industry, you know? It was just bullshit, man, and it was totally unnecessary. And the people who were teaching you were usually people who'd had a little taste of it themselves, but don't really know how it works. So my worst day there was when they had me designing a poster for a festival. And I thought, 'This isn't teaching us how to become better players or musicians or anything!' It wasn't giving me any insight at all."
Was there a moment when Bugg understood that he had some nascent talent? He guffaws. Not really, he replies. "I never really thought about it – I just kind of got on with it and continued writing. I never once thought, 'Hey! I've got something here!' I never wanted to get complacent, you know? So I'm still continuing, trying to develop my craft. And that's the key. That's what I tell people who want advice from me – I just say, 'You've got to keep writing songs, man. That's the secret to it all!'"
Soon, the BBC invited the singer to play its "Introducing" stage at the sprawling Glastonbury Festival in 2011. Naturally, he stole the show. Then, "Country Song" was chosen for a beer commercial, touting Greene King IPA, and the buzz grew louder. A year later he was hand-picked to open a secret Stone Roses London club gig at The Village Underground, where he not only hung out with Ian "King Monkey" Brown, but one of the evening's guests of honor, a certain Mr. Jimmy Page.
— Tom Lanham
To find out what transpired between Bugg and Plant in their first meeting, click on the issue cover or grab a copy of Illinois Entertainer, available free throughout Chicagoland for the full feature.