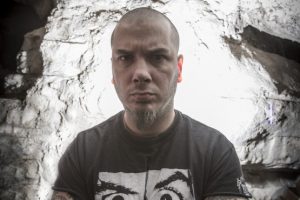 Philip Anselmo has divine retribution in mind as he flushes a toilet to symbolize the arrival of his thoroughly unconventional full-length solo rebirth, Philip H. Anselmo & The Illegals' Walk Through Exits Only (due out 7/16 on Housecore/Megaforce). Only it's not immediately clear that the often-rambling Pantera lightning rod doesn't need, say, five minutes alone before we get started.
"That's the format going down the sewer, Jack!" the vocalist exclaims over the telephone from his house in Folsom, La., where he operates the underground metal label Housecore (Warbeast, Haarp, Housecore Horror Film Festival). Lowering his voice to a subterranean mumble, he comments, "We just had an intimate moment."
Appearing: 8/4 at House of Blues (329 N. Dearborn) Chicago.
Take heed: Those wishing to flex their muscle memory of Pantera in the 1990s might feel more at home in the radio-friendly groove of founding drummer Vinnie Paul's supergroup Hellyeah, whose keg-tapping party metal ("Drink Drank Drunk") rolls into Allstate Arena with Gigantour on July 9. Anselmo heralds "the rise of authentic anti-music" on his album's military-like intro ("Music Media Is My Whore") and delivers a levee-breaking tide of ultimately drowning neo-grindcore with a brute gang of uncompromising punishers (including ex-Superjoint Ritual guitarist Marzi Montazeri and Warbeast drummer Jose Manuel Gonzalez). Only DJs as fearless as the late BBC boundary-pusher John Peel (a proponent of Napalm Death and Dazzling Killmen alike) will deem Philip H. Anselmo & The Illegals radio-friendly. The lead singer who infamously claimed to have died and come back to life after a 1996 heroin overdose is intent on making metal a threat again, regardless of airplay and independent from underground cliques.
"There are cornerstone bands that really make a difference, that really fucking are doing something that, to me, is beneficial and necessary for extreme music," Anselmo explains, a week and a half after bringing his Trouble-worshiping Down to the extreme Maryland Deathfest. "Once that type of cornerstone band gets noticed by other musicians or would-be musicians and new bands coming up, there definitely becomes copycat-type clutter that fucking far outweighs any originality or movement or expression in music at all. You end up with so many bands that look alike, sound alike, have the same ideological principles or nationalistic principles. When you go to listen to a death-metal record, you already kind of have an idea of what the lyrics could possibly be about. I think what I bring to the table is a more realistic premise on existence. I'm writing about real things, not invisible entities and demonic this and that."
On Anselmo's watch, Pantera fed confidence and power to insurgent metalheads who weren't listening to the dominant alternative rock of the 1990s that seemed bent on teaching consumers how to bleed. When the Southern group toured South America for the first time in 1993, in support of the bone-dry thrash baton Vulgar Display Of Power, uncontrollable fanatics tore each other apart in oversold venues, leaving behind "odd piles, five feet high" of black hair on one floor, writes former Pantera bassist Rex Brown in his recently published tell-all, Official Truth, 101 Proof (Da Capo). Anselmo credits a hardcore punk band – not a metal band – for igniting one of the foremost alternatives to alternative rock at the genre's commercial zenith.
"Put it this way: Heavy metal, always been a big fan of fucking, goddamn heavy metal," he maintains, "and I watched it grow from its fucking infancy, and I'm a sucker for songs about Satan and shit like that. I still am, to a certain degree. Eventually, all that shit gets a little bit fucking overdone, trite, boring – any other fucking adjective you want to throw in there. You let a band like Agnostic Front into your life and lyrically, it's more gut level, more street level, more common sense level than mythical, ideological bullshit . . . [Agnostic Front] definitely inspired me, especially [in the] Vulgar Display Of Power days [while] writing stuff like 'A New Level' and shit like that. A huge inspiration."
A Pantera reunion is unlikely, if not impossible, Brown details in his memoir. The 2004 onstage shooting death of Paul's brother, guitarist Dimebag Darrell (playing then in Damageplan after Pantera's collapse around 9/11), remains the main obstacle.
Anselmo reportedly told Metal Hammer magazine in an interview published shortly before the murder that the guitarist "deserves to be beaten severely," citing disagreements the two musicians had when Pantera was still intact. Official Truth, 101 Proof states the drummer barred Anselmo from attending the funeral. According to an episode of "Behind The Music Remastered," authorities determined the shooter, Nathan Gale, thought members of Pantera could read his mind and were stealing his thoughts. In the episode, Anselmo invites his former drummer to beat him up if it would help Pantera move forward.
"Honest to God," Anselmo says now with a sigh, "believe it or not, I've heard about all this. I've read comments. I've seen what people say. I've heard the name 'Zakk Wylde' brought into it. And believe it or not, I've actually spoken with Zakk about this, and he's absolutely open for doing something like this. When I talk to Rex about it, some days he can be negative about it. Some days he can be 'well, maybe' about it. But honestly, Vince [Vinnie Paul] won't talk to me. He won't talk to Rex. He's the captain of his own ship right now. And there's really nothing we can do about that. If he doesn't want to talk to us, then he doesn't want to talk to us, and that's the end of that. But for me personally, dude, I feel like the fact that Vince is shutting us out, it's honestly doing an injustice to the fans.
— Mike Meyer
Read the entire story here through our partners at ShadeTree, or grab a copy available free throughout Chicagoland.