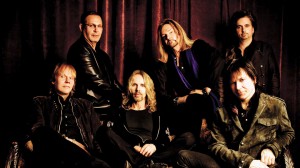 Before "Smells Like Teen Spirit" became a decade-defining anthem, a particularly shimmery form of hard rock – not alternative rock – was the sound of the 1990s. Slaughter, Damn Yankees, and "Cherry Pie" dominated FM airwaves in 1990, and the last blasts of the Aqua Net '80s would stand tall and crisp until the wisdom of Pearl Jam and Nirvana shamed rockers into buying new collections on the promise of 1991's Ten and Nevermind.
Nestled in that sticky-sweet class of '90 was a newly relaunched Styx, whose Edge Of The Century compact disc married the day's neon hooks with an uplifting brand of pomp that sold countless millions through the 1970s and early '80s. It was the last Styx studio album to appear on a major label, but judging from the pop-metal blitz still sacking MTV deep into '91 (Firehouse, Extreme) and even '92 (Saigon Kick), the glammy version of Styx (with Dennis DeYoung calling the shots while splitting lead vocals with nasal newbie Glen Burtnik) ducked out a bit too soon.
Appearing: 7/3 at Knoch Park (812 S. West St.) in Naperville for Ribfest.
A&M dropped Styx after Edge Of The Century ran its course "because the artists were asking to renew their contract and asking for a ridiculous amount of money," says lead guitarist/vocalist James "J.Y." Young, chuckling in Tulsa, Okla., before one of the Chicago band's estimated 110 concerts per year. Young and original bassist Chuck Panozzo (who now works part-time) are the only members in the current lineup who played on Edge (drummer John Panozzo died in '96; Burtnik left in '03; and Young hasn't spoken with DeYoung since '99). "They would have given us, say, a Brian Urlacher deal, but Urlacher didn't want that deal. So they just let him go," he continues. "That's kind of what happened for us. And I believe that the people we chose to represent us actually had another deal that they were negotiating at the same time with A&M that didn't go the way A&M liked, so they sort of punished our representative by letting us go. But we were asking for an awful lot."
The Edge reunion notably lacked lead vocalist/guitarist Tommy Shaw, who, at the time, was harmonizing his way up the charts in his Damn Yankees supergroup with Ted Nugent and Jack Blades of Night Ranger. Shaw is back in Styx these days as the tour heads through the Plains states with the Motor City Madman himself. Young bristles playfully at the subject of Damn Yankees. Styx's hardest-rocking original member says if the pop-metal years had gone the way he and Shaw were once discussing, Burtnik wouldn't have been brought in at all. Damn Yankees, he argues, should have never been born.
"What happened in the late '80s is that we had broken up in '83 [after the divisive Kilroy Was Here], and the Panozzo brothers and myself were trying to get the band back together. Tommy was interested in getting the band back together, but Dennis," he hesitates, "Dennis didn't even want to talk about it. And Tommy had already made three solo records, and he was interested in and needed to get out and do his next project . . . Tommy got fed up with waiting for Dennis. They put him in a room with Nugent and Jack Blades, and they were starting to generate a little heat. And ultimately, Tommy made a commitment to a man with loaded firearms and a crossbow [laughs]. And then Dennis' third [solo] album came out and flopped, so he wanted Tommy to come back, but Tommy had already committed."
Besides, "Damn Yankees was probably even softer than I would have gone," the South Sider behind the sizzling, sneering "Miss America" adds.
Edge's biggest hit came from a DeYoung ballad that appeared on the album as the churchgoing cousin to the previous lineup's simple "Babe" (which, according to "Behind The Music," Damn Yankees had been mocking onstage with Shaw feigning its familar intro and Nugent then smashing Shaw's guitar). During the Gulf War, radio played an unofficial "Show Me The Way" overdubbed with political and military leaders comparing Saddam Hussein to Adolf Hitler, a child begging for her father, and shout-outs to various members of the armed forces in Saudi Arabia. Young acknowledges the Desert Storm mix wasn't the group's idea, but "it really resonated, and this was a way to let people connect with their feelings about what was going on around them," so an official version was created. "I think it's one of Dennis' best songs," he concedes.
Young knows that when Styx takes the stage, the fans before him will have crossed one hell of a river. At age 63, he has witnessed what they've endured: indignities, losses, wars. There's a heaviness amplifying each performance having little to do with metal – a heaviness doomed to repeat, it seems. Times change, members change, but it's through their voices that dusty psalms move.
— Mike Meyer
Read the entire story here through our partners at ShadeTree, or grab a copy available free throughout Chicagoland.