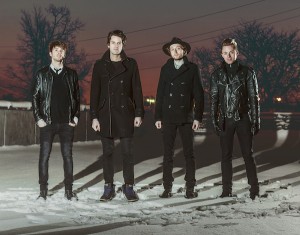 Secret Colours' drummer Justin Frederick saunters in to Kuma's Corner with a left hand that has seen better days. Red and puffy, his extremity bears a navy marker line designating the area of the calamity like a state border on a map. In the middle, a nick in his skin stands out like a capital star. Waiting for a table at the metal-themed Avondale burger joint on a delightfully breezy afternoon after the lunch rush with bandmates Dave Stach (guitar) and Tommy Evans (vocals, chief songwriter), the 25-year-old graciously puts this writer to ease about his non-contagious (whew!) condition.
Still pale and slightly wobbly from infection, Frederick recounts the vicious cat attack before a performance at a DIY space at Cermak and Michigan that landed him in the hospital. Forget about fuzzy cat beards and Grumpy Cat memes, this feline was in it for the kill. "This was a full-on, 'I don't like you. I'm biting you.' It wasn't playful. There's nothing playful about it," he asserts. "I was just in the worst mood the whole time – just feeling sick. I could barely move my hand."
Appearing: 6/8 at Empty Bottle (1035 N. Western) Chicago.
Once seated out back on the shaded patio, the jokes begin to fly over bacon-draped mounds of beef about the dangers of cat saliva. "Cats are like similar to zombies?" Evans playfully asks before referencing rock's best-known act to feature a one-armed drummer. "I was like, 'What's he gonna do?' We're gonna turn into Def Leppard." Stach recalls their publicist passing along a video of Ted Nugent's "Cat Scratch Fever" once Frederick was given the all-clear.
It's just the sort of teasing tomfoolery you'd expect from buddies going as far back as high school in Geneva (well, not too far since everyone is above the legal drinking limit, but not quite in the quarter-life crisis zone yet). Secret Colours formed in 2009 (Our first show was 09-09-09," Stach happily offers), released a reverb-drenched psychedelic self-titled debut in 2010, and delivered the palate-cleansing EP3 in 2012, which contained the intoxicating single "Faust." The song dangerously revs along like a cyclist zipping up Lake Shore Drive without a helmet. It also appears on the band's smooth sophomore full-length Peach, recorded with Brian Deck (Modest Mouse, Iron And Wine). Since entering the studio, the band looks and sounds completely different.
Original bassist Dylan Olson quit to attend grad school in North Carolina; Evans' one-time girlfriend and keyboardist/backup singer Margaret Albright left to pursue a law degree in Los Angeles; and late-addition guitarist Nate Wiese pulled an audible and is "figuring things out." Gold Motel guitarist Eric Hehr jumped into the fray to complete the current foursome. As far as lineup changes go, this game of musical chairs progressed seamlessly. "It's been super tame as far as the band relationship goes," Frederick admits, "which is good."
Eager to move forward as a taut quartet, Secret Colours hopes to start recording another album this summer, using the songs they've managed to eek out since Hehr entered the fold. Live, these recent  and favored compositions will comingle with altered versions of the tracks on Peach. "It's gonna be strange for us, 'cause we're gonna be playing this album out and Margaret and Dylan are on the album," Evans admits with his cherub face hiding behind a thick pair of Ray-Bans. "We're gonna be playing all those songs that we recorded with a different lineup. We have a lot of catching up to do."
Surmounting the task becomes easier, thanks to Deck's tutelage. The famed producer and former Red Red Meat drummer cracked the whip during the Peach sessions and also in a lengthy period of pre-production. Stach remembers his no-nonsense attitude and demands for multiple takes of the same riff until reaching perfection. "In the moment, I wanted to throw my guitar out the window," he says, the memory still fresh. The band considered such strict attention to detail a foreign concept after recording their debut in a friend's apartment on a whim and just cruising along with the attitude of, "Oh, we're a psychedelic band. That sounds bad? Just throw some more reverb on it. Just put some crazy delay on there. It will sound fine," Stach relays.
In the end, the guitarist characterizes Deck as "brutal" yet, in the same breath, gives him all the credit. "He pushed us to be the best we could be."
The album showcases Secret Colours' newfound maturity while signaling a shift away from the "grody noise" groups affiliated with the genre use as a calling card. "Psychedelic is just like an all-encompassing term people like to use. If it's out there and it's groovy – it's psychedelic," Stach bemoans. While the band doesn't intend to abandon the scene that put them in Esquire's orbit, they wish to break free from its shackles. Peach serves as a first step.
"I think Peach signifies a transformation. The first one we tried real hard, from the way we dressed to the way we played our instruments. We tried really hard to be somebody else. I was like, 'I have the same pedals as Pete Holmstrom from Dandy Warhols.' I feel like Peach is the beginning of us putting our personal touch on . . . it's far more personal," Stach explains over his second pint of Oberon ale.
"We want to be ourselves now. I think we're trying to get over identity – find ourselves musically and in real life," Evans adds.
Frederick continues the train of thought: "I think we're far enough in the process, like with Peach, that was such a shock, and it's a rewarding process. It taught us a craft that we had never done before . . . but there was still something I truly feel about Peach that was not fully ourselves."
"We weren't quite there yet," Evans interjects. "I used to write songs to be like, 'Oh sweet! This sounds like Blur; this sounds like Oasis.' It's like a way to justify the song and I want everything else [to] sound like that band, and I'm growing out of that thankfully. Lyrically, I'm starting to figure out what I'm writing about instead of just saying, 'Ooh, I love you.'"
Leave the outwardly gushy cooing to Justin Bieber. However, if Evans ever needs to quit his day job (wait, he already did that, as a clerk for an Evanston UPS Store), he can ditch the shades and leather motorcycle jacket for a pair of droopy drawers and a headset mic to impersonate the beleaguered teen icon. Evans gruffly accepts the uncanny resemblance as his lot in life. "It's O.K. I've gotten it for a couple years now. Some guy tried to bum a smoke off me and I told him no and he's like, 'Fuck you, Justin Bieber.' I was like, 'Thanks.'" His girlfriend even tried to soften the blow when a Radio Shack employee joined the chorus of Beliebers on a recent visit by pretending that the service rep actually meant Justin Timberlake. "I was like, "That's nice, but I don't think so,'" Evans shrugs. Without missing a beat, Frederick snickers, "You don't have those curls."
The things one learns with a rolling digital recorder and an inattentive waitress. The band once harbored a desperate crush on Rilo Kiley's Jenny Lewis, although now Alison Brie does the trick. They carry a reputation for crashing the stage during friends' sets to dance. (Video evidence exists on YouTube. Search Secret Colours and The Growlers.) Evans loves Los Angeles while a bird with bowel trouble forever marred Stach's opinion. "Within five minutes of being in L.A., I get shit on. Like, how fitting?" he seethes.
Frederick devoured George R. R. Martin's A Song Of Fire And Ice series "in quick succession." Stach remains content with sticking to the small-screen "Game Of Thrones" adaptation. And Evans shuns reading because of a perceived ineptitude. "In grade school, I was the one listening to audio books while all the other kids were reading. I felt like such a loser. I had to listen to the audio books and follow along," he shares. It's the type of admission unexpected in a setting specifically created to push a flattering image. But that's just this particular frontman's way.
"Tommy lives on planet Tommy," Stach says. "It's not a bad thing. That's how he writes all these songs."
Ground Control to Major Tom, indeed.
— Janine Schaults